Politics
Ayanna Pressley releases a sweeping vision for criminal justice reform
"Our resolution calls for a bold transformation of the status quo."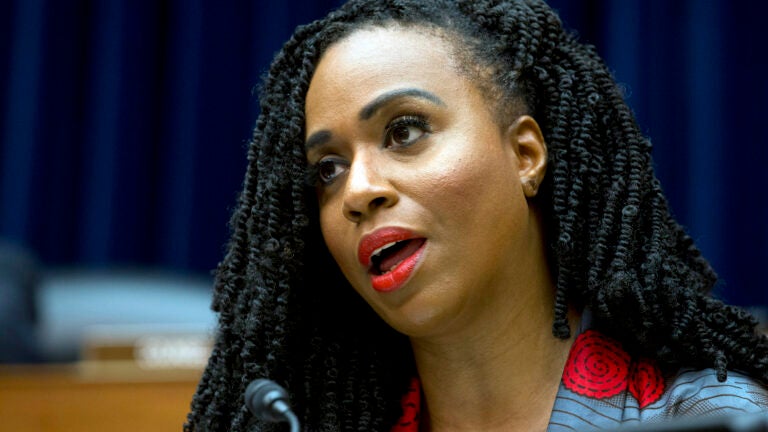 Think of it as a Green New Deal, but for criminal justice reform.
Rep. Ayanna Pressley is unveiling what she characterizes as the most progressive and comprehensive plan for overhauling the legal system. In a resolution Thursday, the Massachusetts congresswoman outlined her vision, which includes abolishing the death penalty, solitary confinement, and money bail, and decriminalizing low-level crimes that she says are the byproduct of poverty.
"Our resolution calls for a bold transformation of the status quo, devoted to dismantling injustices so that the system is smaller, safer, less punitive, and more humane," Pressley said in a statement.
Similar to the Green New Deal resolution introduced at the beginning year, Pressley's resolution, the People's Justice Guarantee, provides a broad framework of general policies and goals. But instead of climate change, it targets mass incarceration and the disproportionately negative effects the system has on low-income and minority communities.
Still, it mirrors the Green New Deal in breadth and political ambition. Pressley's office sees the resolution as providing a blueprint for what the left's criminal justice reform efforts should include and expects subsequent bills aimed at fulfilling its goals. Pressley herself got things rolling earlier this summer with her bill to abolish the federal death penalty.
In a conference call Wednesday, the Dorchester Democrat pointed to statistics illustrating how the United States imprisons a disproportionate number of the world's inmates, such as the finding that nearly every other American adult has seen an immediate family member go to jail. Minorities have also historically been disproportionately jailed compared to their white peers, which Pressley said was evidence of a "racist" and "fundamentally flawed" system.
"As much as we point fingers at the War on Drugs and capital crime policies of the '80s and the '90s, these systemic inequities are rooted in policies that go back much further," she said, citing the country's history of slavery, lynchings, and "black codes."
Pressley said her resolution is centered around five guiding principles: shared power, freedom, equality, safety, and dignity.
"We need to change our criminal justice system to focus on early intervention, prioritize rehabilitation over incarceration and punishment, and provide a clear pathway for formerly incarcerated to reintegrate into society," she said.
The sweeping list of proposed reforms includes abolishing the death penalty and life sentences without the possibility parole. It also proposes a cap on prison sentences for all crimes, though Pressley's resolution doesn't suggest a specific amount of time.
The resolution additionally calls for states to reform their sentencing laws and bolster diversion programs — and for the federal government to provide grants to states that establish an alternate pretrial system to money bail, which Pressley says unfairly impacts lower-income people. The legislation would also get rid of court fees and fines on those without the ability to pay them.
Pressley also wants the government to stop prosecuting behavior that she says shouldn't require jail time. The resolution calls for the federal legalization of marijuana and the decriminalization of consensual sex work. Following the lead of progressive prosecutors like Suffolk County District Attorney Rachael Rollins, it would also direct law enforcement officials to decline to criminally prosecute certain low-level offenses, like loitering and theft of "necessity goods."
The resolution seeks to end the transfer of military equipment to local police departments and to redirect law enforcement resources toward solving serious crimes — primarily shootings, homicides, and domestic and sexual violence.
It would also decriminalize border crossings and truancy — two issues that were brief focal points of the Democratic presidential primary.
In the hopes of reducing the recidivism rates of those who do go to jail, Pressley's resolution would promote less harsh prison conditions. The text includes ending solitary confinement and providing "generous" in-person visitation time and phone calls between those in jail and their immediate family members.
It also calls for transgender people to be housed in a facility that confirms with their chosen gender identity, improved "trauma-informed and culturally-responsive" health care for all inmates, and increased educational opportunities.
Pressley called for the removal of restrictions on employment and public services — such as housing, education assistance, and voting — for those released from jail as well.
"When we sentence any person, that is a shared sentence with their families and their communities," she said. "We must look beyond the worst thing they have ever done and center their humanity."
Additionally, the resolution calls for expansive reforms outside the legal system to address the socioeconomic conditions that contribute to crime, including universal health care, a $1 trillion investment in housing, a $15 minimum wage and federal job guarantee, some form of reparations for descendants of slaves, and a slate of gun control reforms.
Pressley says her office worked with more than 20 grassroots groups on the resolution and is planning a series of workshops and roundtables. The resolution was backed by a number of progressive reform advocates, including Rollins and activist and podcast host DeRay McKesson.
Pressley was joined on the conference call Wednesday by several people who had been directly affected by the existing system, including Shujaa Graham, who spent three years on death row in a California prison, following a wrongful conviction for murder in a trial during which prosecutors had worked to exclude all African-American jurors.
"I'm not here because of the system; I'm here today in spite of the system," Graham said, adding that he supports Pressley's resolution.
"These polices can enhance and improve our criminal justice system, and make it a fairer and just system — not just for some individuals, but for all the people of this country," he said.