Politics
What to know about the statewide plastic bag ban being debated this week
Will Massachusetts become the next state to give single-use plastic bags the boot?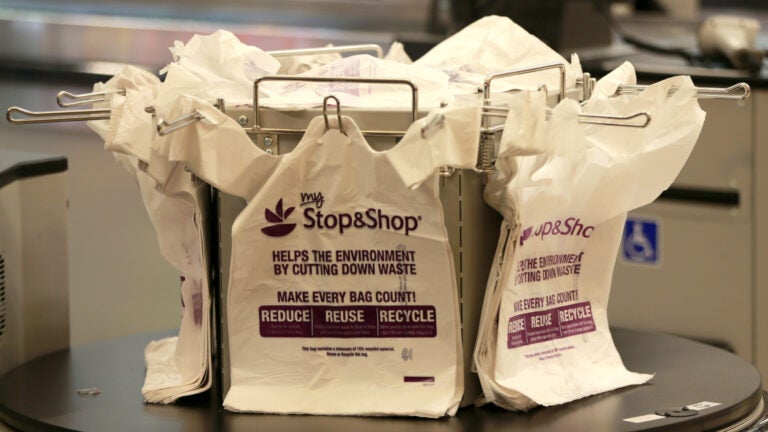 The state Senate is slated to debate a bill this week that would ban all single-use plastic bags from stores across the commonwealth.
The bill, which was announced Monday, would also require retailers to charge a fee of at least 10 cents for recycled paper bags. Five cents of that fee would be used to enforce the plastic bag ban and support recycling efforts. The other five cents would go to the store.
More than 120 cities and towns throughout Massachusetts have already enacted their own versions of a plastic bag ban.
In an October episode of WEEI's "The Greg Hill Show," Gov. Charlie Baker tentatively opposed any statewide ban, saying he prefers to see communities make their own decisions.
"People are handling this in a variety of different ways, and I think I'm inclined to let that be the way this works," he said.
However, he didn't firmly oppose the idea, saying he'd like to see what a bill specifically said before doing so.
"Words matter, and I like to see what they say before I commit, but, conceptually, I don't think that's a good idea," he said of a statewide ban.
Senate President Karen Spilka said she took a personal interest in the ban after seeing a display at the Vancouver Aquarium about sea animals who starved to death because plastic blocked their stomachs.
"While Massachusetts may not be able to tackle the proliferation of plastics worldwide, we can take concrete action at home," Spilka said in a statement. "Implementing a statewide ban on plastic bags, and encouraging the use of reusable bags, is an important first step."
The ban would not affect specific products "where plastic serves an enhanced purpose," according to a release from Spilka's office. That would include products considered likely to leak or produce that needs to be wrapped up to stay fresh.
Small retail shops would also be allowed additional time to comply with the ban, and customers paying with EBT cards would be allowed to use paper bags without paying a fee.
Eight states have banned single-use plastic bags since California pioneered the step in 2014.
The state Senate is scheduled to debate the bill Wednesday.