Politics
After Senate vote, Mass. bill to ban flavored tobacco sales heads to governor's desk
"We must also make it less appealing for young people to take up smoking."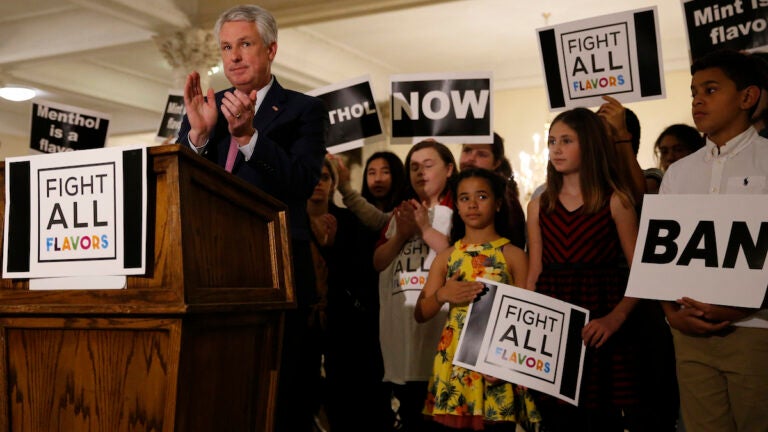 A bill to ban flavored tobacco products, from e-cigarette liquids to menthol cigarettes, landed on Gov. Charlie Baker's desk early Thursday morning after passing the state Senate with strong support.
"An Act Modernizing Tobacco Control," passing the Senate 32-6 on Wednesday night, would prohibit retailers from offering the kind of products lawmakers say the tobacco industry uses to entice children and teenagers.
"For far too long, big tobacco has targeted our kids with flavored products," state Sen. John Keenan, who pushed for the ban alongside state Rep. Danielle Gregoire, said in a statement. "By banning the sale of the flavored products … we are telling big tobacco their days of hooking kids in Massachusetts are over. Hopefully, this effort will serve as a roadmap for the rest of the country."
Specifically, the bill bans the sale of all flavored cigarettes, e-cigarettes, cigars, chewing tobacco, pipe tobacco, and snuff. If signed into law, it also would usher in new regulations on other sales, including an e-cigarette excise tax on distributors at 75 percent of the product's wholesale price.
The bill would also expand health insurance coverage to cover tobacco cessation efforts, such as access to products and counseling, according to Keenan's office.
Officials said "the bill requires coverage of at least one cessation product without prior authorization for MassHealth, Group Insurance Commission, and private insurance members."
Lawmakers say the bill is a critically needed defense to stem the rise of e-cigarette use among Massachusetts youth. About 20 percent of high school students reported using a vaping product in the 2017 Massachusetts Youth Health Survey although officials say these days, that number is closer to 27 percent.
"While we continue to learn more about the dangers of vaping, it is absolutely our responsibility to prevent marketing of vaping products, which we know to be harmful, to our children," Senate President Karen Spilka, an Ashland Democrat, said in a statement. "We must also make it less appealing for young people to take up smoking, which often leads to a lifetime of addiction, serious health consequences, and death. By increasing access to smoking cessation programs, the Senate is reaffirming its commitment to our residents in their efforts to quit smoking and tobacco products altogether."
The state House of Representatives passed the ban last week.
Retailers, however, have decried the bill, arguing that it could potentially drive consumers to the black market while severely harming their small businesses.
In a statement, Jonathan Shaer, executive director of the New England Convenience Store & Energy Marketers Association, said the organization is "disappointed the legislature supports bills that disproportionately impact communities of color and have disastrous implications for public health, public safety, state tax revenue and jobs in the Commonwealth."
"The House and Senate bills claim to address youth vaping, but by including menthol and mint tobacco they target adults and, in particular, minority adults and their communities," Shaer said. "Action to positively impact youth vaping is achievable without banning menthol and mint tobacco – legal, adult products that aren't associated with youth overuse and have no reason to be included in this legislation."
Shaer hopes to see Baker amend the bill by removing the inclusion of menthol and mint tobacco "or, at the very least, delays implementation until the grave concerns we raised have been evaluated," he said.
Baker has 10 days to sign the bill.
Terry MacCormack, Baker's deputy communications director, in a statement to Boston.com Thursday pointed to the administration's efforts to address the national outbreak of vaping-associated lung injuries by instituting a temporary ban on all vape product sales.
"The (Centers for Disease Control and Prevention) has issued a clear warning stating that the outbreak of these vaping-associated lung illnesses and deaths cannot at this time be attributed to a single substance or product and has urged consumers to stop vaping, as medical experts continue to research what is making people sick," MacCormack said. "The governor will carefully review the final legislation on his desk."
Should Baker sign the law as is, flavored e-cigarette sales would be banned immediately, according to the State House News Service. The ban on menthol cigarette sales would take hold on June 1, 2020.