Politics
Shannon Liss-Riordan calls for $6 million cap on campaign spending in Senate race with Markey and Kennedy
"We can talk about money in politics, or we can actually do something about it."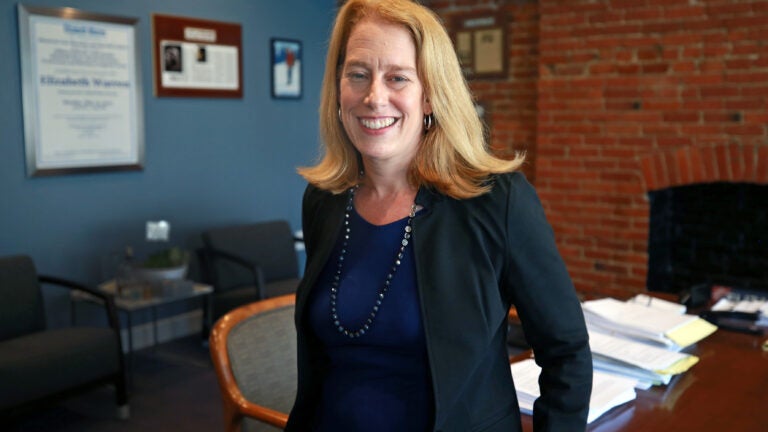 The early months of the Democratic primary race for Sen. Ed Markey's seat have often been consumed by arguments more about process than actual policy.
First, the Massachusetts senator challenged his primary opponents to a debate on climate change. Then, Rep. Joe Kennedy III responded in turn by calling for a "people's pledge" to block outside spending in the race (the two candidates also clashed over accepting donations from corporate PACs).
Now, it's Shannon Liss-Riordan's turn.
Liss-Riordan — the prominent Brookline labor attorney who first announced her primary campaign in May — has called for the campaigns to agree to a $6 million spending limit in the 2020 primary race, testing her well-heeled opponents' rhetoric about reducing the influence of money in politics.
"Voters deserve a race run on the issues, not one where the candidate who raises the most money from lobbyists and special interests is able to walk away with a U.S. Senate seat," Liss-Riodan said in a statement.
Such a self-imposed spending cap would be virtually unprecedented in modern American politics, though it does have a history in Massachusetts. When Republican Gov. Bill Weld ran against incumbent Democratic Sen. John Kerry in 1996, the two fellow millionaires agreed that neither's campaign would spend more than $6.9 million in the general election.
Now running for Kerry's old seat in the 2020 primary, Liss-Riordan's challenge is undoubtably self-serving to a degree. While the 50-year-old lawyer has loaned her campaign $3 million, her campaign trails her two nationally known opponents in the fundraising race. According to the most recent campaign finance reports last month, Markey and Kennedy had $4.4 million and $4.2 million, respectively, to spend on their campaigns; Liss-Riordan's team had $2.8 million.
However, Liss-Riordan says the spending limit would also address concerns among Democrats that the fiercely fought primary race could divert funds from races in swing states, where party control over the Senate, House, and governor's offices are at stake.
"While I don't necessarily subscribe to that thinking, my proposal is a solution to that concern," she said. "Let's set the spending limit at $6 million, a number that both Senator Markey and Congressman Kennedy are very close to having in the bank – if they don't already. This would mean they would not need to continue to aggressively court wealthy donors, who can then direct their resources to Maine, New Hampshire and elsewhere."
Liss-Riordan's plans to call for a spending cap were first reported earlier this month by WGBH.
The voluntary limit would only apply to the Democratic primary race, her campaign confirmed Monday. A spokesman for Liss-Riordan's campaign said they contacted the Markey and Kennedy campaigns about the proposal around noon Monday.
Kennedy spokeswoman Emily Kaufman said they were reviewing it and stressed that a people's pledge "must be the foundation of any effort to limit the influence of outside money in the primary race." Without a people's pledge, third-party groups would still be able to spend unlimited amounts in the race, even if there were limits on direct expenditures by the campaigns. In September, a coalition of environmental groups announced plans to spend $5 million to support Markey. The Green New Deal co-author and incumbent senator is also poised to receive financial help from the Democratic Senatorial Campaign Committee.
A Liss-Riordan campaign spokesperson expressed confidence that "all campaigns" will agree to a people's pledge, but said she would still be willing to agree to a standalone spending cap.
"We can't imagine why any candidate would want to be known as the one standing in way of the Pledge, and eagerly seeking the support of millions of dollars in outside special interest money," the spokesperson said. "That said, this proposal does stand on its own, and Shannon would absolutely still favor a spending cap, even if no People's Pledge was agreed to."
Markey's campaign did not immediately respond to requests for comment Monday afternoon.
"We can talk about money in politics, or we can actually do something about it," Liss-Riordan said in her statement. "Let's do something about it."