Politics
Here's what Michael Dukakis says it'll take to fix Boston's traffic crisis
"Let's just get the damn public transportation system working well."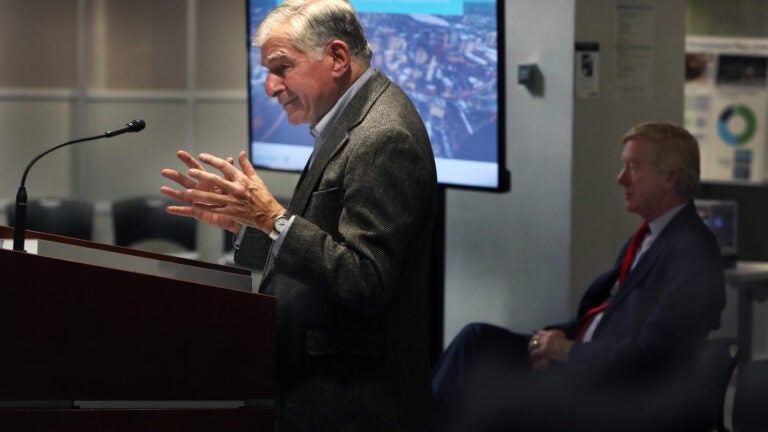 Michael Dukakis says Massachusetts doesn't need congestion pricing or any big tax increases. To improve the state's transportation system, the former Democratic governor and presidential nominee says it comes down to leadership.
After reading The Boston Globe's recent Spotlight series on the region's traffic congestion, Dukakis called for a change in the current administration's priorities — and perhaps also personnel.
"The answer is clear in my judgment: Don't spend any more money on highways," Dukakis told Boston.com in an interview Monday night, following a wide-ranging Brookline event during which he cautioned his preferred presidential candidate, Sen. Elizabeth Warren, against running too far to the left on health care and politely asked that neighbors resist the urge to leave Thanksgiving turkey carcasses at his house this year ("Please don't. No more turkey carcasses").
"I've been fighting highways since the 1960s," said the 86-year-old former governor. "This city would have been paved over if we let these guys do what they wanted to do. And by the time I left office, we had the best public transportation system in the country."
Dukakis touted improvements to the MBTA during his time in office, including new cars and the Red Line extension to Alewife. But he said the transit system was neglected by subsequent administrations, amid projects like the Big Dig. Now, amid the region's congestion crisis, Dukakis says a simple, renewed focus on the MBTA could good a long way toward increasing ridership and freeing up the roads.
The MBTA's oversight board recently approved a longterm plan to make the commuter rail more frequent, accessible, and integrated into the larger mass transit system. However, the vision left out any mention of the long-proposed underground rail link between North and South stations, which Dukakis believes is critical.
"How can you talk about a regional rail system with a one-mile hole in the middle?" he asked, rhetorically.
"We've got to turn the T into a top-notch transit system," Dukakis said. "And sorry, we've had administration after administration not paying attention to this."
To mitigate the financial and economic impacts of traffic congestion, some drivers will need to be persuaded to switch to mass transit. And while the recent Spotlight series found that drivers often need strong incentives to change their commuting habits, Dukakis dismissed the notion that drivers are deeply wedded to their cars.
"They're not," he said. "That's nonsense. Some people gotta drive and one of the ways you get them to support investment in public transportation is to prove to them that if you do the investment in public transportation their auto commute will be better."
Dukakis said he supports incremental 3-cent increases to the gas tax every three years, but said proposals like increased tolls in high-traffic areas or surcharges on commercial parking spaces aren't necessary.
"I don't think you need any of that," Dukakis said. "For one thing, it's politically difficult. And for another, let's just get the damn public transportation system working well."
To do that, he suggested changes were needed among the state's highest-ranking transportation officials.
"Charlie Baker is an intelligent guy," Dukakis said. "Doesn't he understand the single most important ingredient in the quality of public services is the people you pick to run them?"
While he was generally complimentary of current Transportation Secretary Stephanie Pollack (who worked for Northeastern's Dukakis Center for Urban and Regional Policy) and MBTA General Manager Steve Poftak, the Brookline native said someone with experience running a large public organization — not necessarily a transit expert — was need oversee and implement the transformation of the system.
"Get yourself a first-rate CEO and get to work," he said.
Dukakis also spoke nostalgically about the work done by his former transportation secretary, Fred Salvucci. Dukakis said none of the current officials could match up and that he would be looking for someone who did, if he were Baker.
"There are other Salvuccis," Dukakis said.