Politics
Marty Walsh has a 'bold' idea to improve traffic congestion, and it's from Los Angeles
"We have to think bold here in Massachusetts, and I don't think we think bold enough."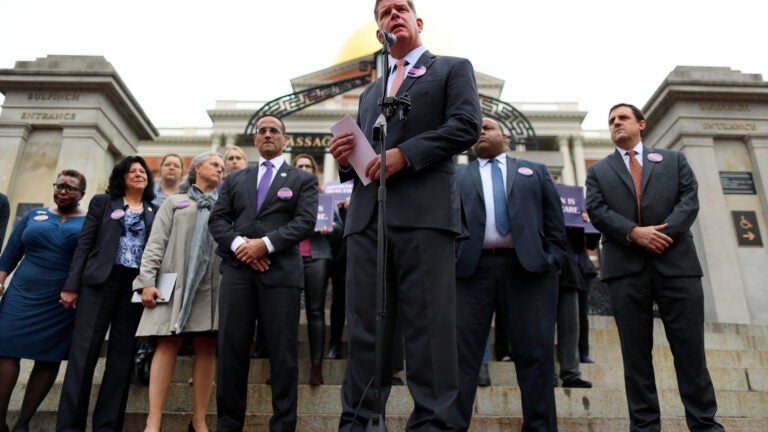 Mayor Marty Walsh visited Los Angeles for the first time last week and came back trumpeting an idea for addressing traffic congestion.
"We need to start looking bold," Walsh said during an interview last week on WGBH. "We need to start looking beyond the gas tax or this tax or that tax."
Rather, taking a page from Boston's cross-country rival, he suggested the focus should turn to the sales tax and that officials should let voters decide.
Walsh cited a 2016 ballot question in Los Angeles County, known as Measure M, that asked voters if they would be willing to increase their sales tax by a half cent in order to funnel $120 billion into multimodal transportation projects over the next 40 years. The measure needed to be approved by a two-thirds supermajority to pass. Nevertheless, more than 70 percent of Los Angeles County voters voted yes.
"That's a bold idea," Walsh said in a separate podcast interview published Tuesday with CommonWealth magazine. "We have to think bold here in Massachusetts, and I don't think we think bold enough."
During his Greater Boston Chamber of Commerce-sponsored trip to Los Angeles, the Dorchester Democrat said he still experienced significant traffic in the sprawling California metropolis. But he said the projects via Measure M promise to ease traffic congestion through expanding rail and bus options and improving connectivity within the system.
"We have to tell a story to people why we would need something like that," Walsh told WGBH. "But I think that's a bold idea that we should be maybe exploring to see if that's something we should be doing and having the voters vote on a referendum."
Massachusetts cities and towns currently are not allowed to hold local or regional ballot measures to raise and retain revenue, but Walsh says he supports popular legislation that would allow them to for the purposes of increasing local transportation funding. If the Boston area was able to pass such a measure, he says it could help encourage drivers to get off the road.
"If people felt that they could drive in the suburbs to a commuter rail station, park their car for low money, get on the commuter rail, come into Boston, and know that when they're ready to leave at 5 o'clock or 6 o'clock to be home for a soccer game at 6 o'clock, they can get there," Walsh told CommonWealth. "And I don't think the confidence is there yet."
However, it's unclear whether improving public transit alone is enough to change driver behavior; the results in Los Angeles County have been less than conclusive. Measure M was the fourth local ballot question since 1980 to raise the county's sales tax by a half cent to devote at least a plurality of revenue to transit. And yet, over the last four decades, public transit ridership in Los Angeles Country has continued to decline.
Mike Manville, a UCLA urban planning professor and Reading native, published a paper earlier this year suggesting that voter support for those ballot measures wasn't tied to individuals' intentions to subsequently use their improved transit options — particularly when rhetoric around the efforts suggested that road congestion would also get better as a result. In the case of Measure M in particular, Manville also found that support was strongly associated with political identity in the deep-blue region.
"When transit becomes a box that Democrats will reliably check, it gains votes," he wrote. "But the more these votes are indicative of Democratic identity, the less likely they are to suggest anything about travel behavior. Similarly, linking rail transit to traffic reduction strongly implies that transit will benefit people in their role as drivers. This again is powerful politically; regions like Los Angeles have far more drivers than transit riders, and as this report has shown, drivers are much more likely to vote."
To meaningfully reduce congestion and increase public transit ridership, Manville wrote that substantial evidence from other cities shows that congestion pricing — a more politically difficult policy — may be necessary.
During his WGBH interview, Walsh said that some form of a congestion charge is "an idea that we should talk about." He noted that city officials recently traveled to London to look at the British capital's congestion charge. Gov. Charlie Baker's administration has opposed the idea over logistical and equity concerns, though Walsh said he understands it poses the dual benefits of both deterring people from driving and raising revenue for mass transit options.
"If that's the tax that can raise the most amount of money, then we should look at it," Walsh said. "Again, I think we need to be bold."