Politics
John Kerry says he likes Elizabeth Warren and Deval Patrick. He's endorsing Joe Biden.
"I don't endorse lightly."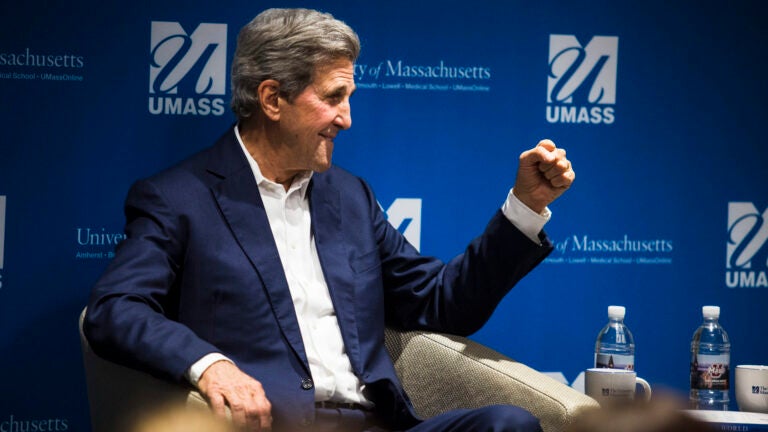 John Kerry says he's a fan of Sen. Elizabeth Warren and Deval Patrick.
But in the Democratic presidential primary race, he's endorsing Joe Biden.
The former Massachusetts senator, U.S. secretary of state, and 2004 Democratic presidential nominee announced his decision in a lengthy statement Thursday.
"There's never been a time more urgent for leadership at home that can work for the middle class and tackle existential issues like climate change where we are moving dangerously backwards," Kerry said. "Joe is uniquely the person running for president who can beat Donald Trump and get to work on day one at home and in the world with no time to waste."
Kerry will campaign with Biden starting Friday in Iowa. Here's his full endorsement statement: pic.twitter.com/8t9dvf6s4r

— Adam Kelsey (@adamkelsey) December 5, 2019
Kerry also tweeted that he would be campaigning for the former vice president Friday in Iowa, which he won during the state's 2004 primary caucuses. It's the second major endorsement that Biden has received from a former member of President Barack Obama's administration, following that of former Agriculture Secretary Tom Vilsack last month.
"I don't endorse lightly," Kerry said, citing his decades of experience working with Biden in the Senate and Obama's cabinet on everything from nuclear proliferation to climate change to domestic issues, like gun safety and immigration.
"I'm not endorsing Joe because I've known him for so long, but because I know him so well: he'll be ready on day one to put back together the country and the world that Donald Trump has broken apart," Kerry said in his tweet.
In an interview with the Washington Post, the 75-year-old said his decision wasn't meant as a slight toward the fellow Bay Staters in the race.
"I like Elizabeth enormously," he said. "I worked very hard to help her win her seat. And I like Deval. I worked closely with him as governor. I just think Joe is the person for the moment."
Since leaving office, Kerry has been a vocal critic of Trump's often-unilateral approach to international affairs — particularly relating to the Republican president's decision to withdraw from the Iran nuclear deal and the Paris climate agreement, both of which Kerry helped negotiate. In January, he said Trump should "resign." And this past month, Kerry launched a star-studded coalition to push for action to address climate change.
Kerry's endorsement comes as Biden's poll numbers in early primary states have been trending downward, though the 77-year-old Delaware Democrat is still considered the favorite for the nomination. Asked by the Post about Biden's missteps during the Democratic debates, Kerry dismissed them as insignificant
"Who hasn't done that, over a lifetime?" he said. "He is just honest, straightforward. He's a Joe that represents the middle class of America and understands them, I think, in ways that will reach way beyond Donald Trump in a general election."