Politics
Elizabeth Warren is calling for a 'Blue New Deal,' too
Here's what that means.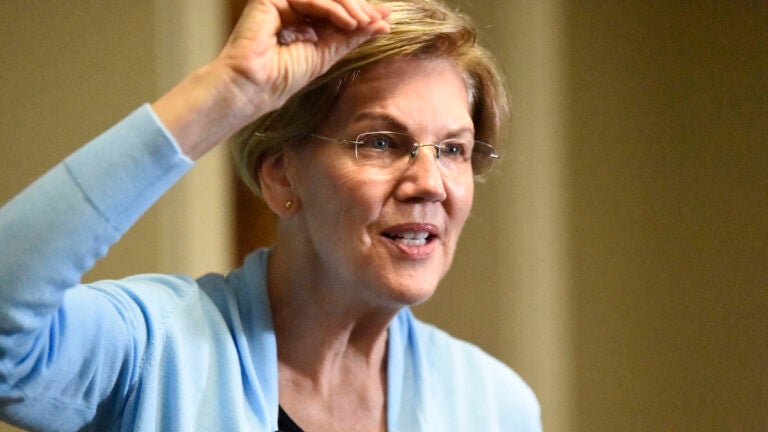 Sen. Elizabeth Warren has long supported a Green New Deal. Now, she's also calling for a "Blue New Deal" to go with it.
"As we pursue climate justice, we must not lose sight of the 71% of our planet covered by the ocean," the Massachusetts senator and Democratic presidential candidate wrote Tuesday, releasing her plan for a Blue New Deal. "While the ocean is severely threatened, it can also be a major part of the climate solution – from providing new sources of clean energy to supporting a new future of ocean farming."
The term "Blue New Deal" first began circulating this past summer, after a trio of marine experts raised concerns that the ocean was being "overlooked" by the Green New Deal resolution to mitigate climate change and invest in clean energy. Warren first voiced support for the concept in September, after one of its advocates, Connecticut ocean farmer Bren Smith, asked her about a "Blue New Deal" during a CNN town hall.
"I like that," Warren exclaimed, noting the local impacts of climate change for fishermen in Massachusetts.
"What's your plan for a blue new deal for those of us working on the ocean?" a #ClimateTownHall participant asked.

Sen. Elizabeth Warren: "He's got it exactly right. We need a blue new deal as well. … We count on our oceans for life."https://t.co/dnpuftMu76 pic.twitter.com/fmcC6bMXw2

— CNN (@CNN) September 5, 2019
"The lobsters moved to Maine because it's too warm in the waters and the food for them doesn't grow appropriately, and so on," she said. "I talk to folks who fish commercially off our shores, down by New Bedford, up by Gloucester. You know what they tell me? They keep pulling stuff up that they don't even know what it is."
As Warren noted, warming waters have dramatically affected catches up and down the Atlantic coast. Some lobstermen fear that waters off Maine are getting too warm.
But the Blue New Deal goes far beyond lobsters, or even fishermen.
In her new plan, Warren outlines how she would protect the seas — which are warming faster than the atmosphere — and the $300 billion "blue economy" from the effects of climate change and other environmental threats — and use the oceans' resources to combat global warming.
Warren said she would expand offshore renewable energy, streamlining permits for offshore wind farms and investing in the future viability of "wave energy." At the same time, she said her administration would only provide financial incentives for projects that give their workers prevailing wages and collective bargaining rights. Warren, who has faulted President Donald Trump's administration for delaying a planned wind farm off Martha's Vineyard, said officials must take into account the environmental impacts of such projects. But she stressed that her administration wouldn't let "visual and aesthetic impacts" be a basis for denying offshore wind energy permits.
"The climate crisis is too urgent to let the ultra-wealthy complain about wind turbines getting in the way of their ocean views," Warren wrote.
Her plan also calls for expanding federal support for land-based farmers to ocean farmers as well, noting the promise of seaweed to absorb carbon and, potentially, be used for biofuel, like ethanol.
"In the future, we might power our cars and airplanes on the algae grown in our seas," Warren wrote.
Warren said she would work toward electrifying the country's ports to reduce the effects of air pollution on those people who work and live near them.
Her plan also calls for protecting ocean habitats. Warren says she would expand protected marine areas and create a "domestic blue carbon program" to support natural carbon sequestration by reefs and other ocean organisms.
Warren reiterated her pledge in April to sign an executive order implementing a moratorium on future offshore drilling and said Tuesday she would work to phase out existing offshore drilling rigs, due to their negative impact on local environments and coastal economies. As she looks to transition the industry toward wind energy instead, Warren said her administration would provide job training to oil rig workers who look to switch, as well as early retirement benefits for those who don't.
As an original co-sponsor of the Green New Deal — which outlines a framework for transforming the U.S. economy in order to eliminate the country's carbon footprint — Warren said that economic justice goes "hand in hand" with environmental justice, including for those who make their livelihood in and around the ocean.
"The task before us is significant, but I am confident that America is up to the challenge — both at home and around the world — to conserve and sustainably use the oceans, seas and marine resources for sustainable development," she wrote.