Politics
Elizabeth Warren's opponents say she used to be a 'corporate lawyer.' Here's what she actually did.
The Massachusetts senator got involved when there was "an important bankruptcy principle at stake," even if it at times that meant going to bat for big companies.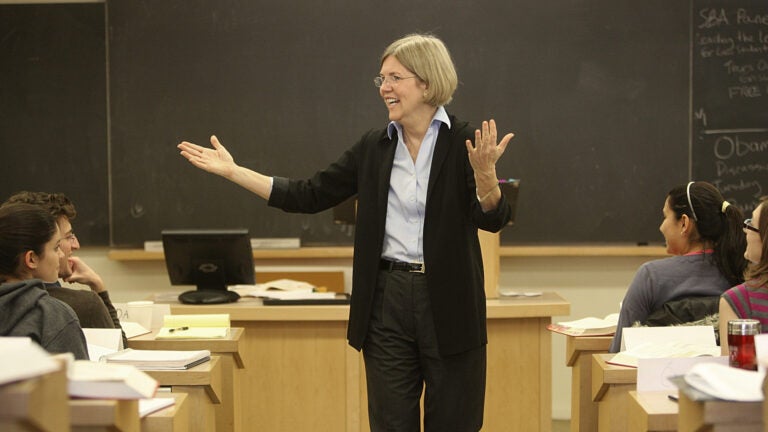 Sen. Elizabeth Warren often rails against big corporate executives on the campaign trail. But during her days as a bankruptcy law professor, she took side jobs for a number of them.
The Massachusetts senator recently disclosed making nearly $2 million from dozens of private legal cases over the course of three decades, amid aspersions cast upon the work by some of her rivals in the Democratic presidential primary race — particularly Pete Buttigieg.
Her clients included big oil executives, insurance companies, and chemical corporations. But she also represented asbestos victims and consumers targeted by overly aggressive debt collection. In each case, Warren's campaign says she wasn't working for a specific outcome but to uphold the principles of bankruptcy law, a system she has called "mind-numbingly complex" yet critical for determining "the fairest outcome possible in a totally unfair situation."
"I was one of the country's leading experts in bankruptcy," Warren told reporters Monday in Las Vegas. "I got involved in cases from time to time because I thought there was an important bankruptcy principle at stake."
The fact that the Cambridge Democrat and former Harvard Law professor was at times hired by big corporations — and made thousands of dollars doing so — has been something her political opponents have seized upon in an attempt to undermine her reputation as a populist consumer advocate.
During her first Senate race in 2012, her general election opponent, Republican Sen. Scott Brown, accused Warren of being a "hired gun." And Vermont Sen. Bernie Sanders, a fellow Democratic presidential candidate, even made a rare, veiled dig at his longtime progressive ally and friend in October, noting that he "never worked for a corporation myself."
However, the Warren campaign's disclosure of the amount of money she made came amid a back-and-forth over transparency with Buttigieg, the mayor of South Bend, Indiana, after months of simmering tensions between the two campaigns.
When Warren — whose campaign has sworn off traditional big-money fundraisers — called on Buttigieg last week to open his fundraisers to the news media and release the names of the "bundlers" raising money for him, the 38-year-old mayor's campaign shot back, challenging Warren to make public "the decades of tax returns she's hiding from her work as a corporate lawyer."
Warren's campaign, which had already made public her tax returns going back to 2008, isn't going that far, given the 70-year-old's long career in academia.
But they did release a list Sunday night showing the amount of money she made on dozens of previous legal cases. According to her campaign, the list provides a more specific breakdown than her yearly tax filings would have shown. Accounting for all but five cases for which the campaign said they couldn't find any records, Warren made about $1.9 million from her private legal work.
"If Democrats are going to defeat Donald Trump, or whoever the Republican Party might replace him with, we must nominate a candidate who can create the most robust possible contrast against Republicans on conflicts of interest and corruption issues," Warren spokeswoman Kristen Orthman said in a statement. "Elizabeth does not sell access to her time — no closed door big dollar fundraisers, no bundling program, no perks or promises to any wealthy donor."
Many of the details of the past jobs were already known. Warren's campaign first released a list in May describing 56 cases on which she moonlighted from 1985 to 2009, while teaching at the University of Pennsylvania Law School and then Harvard Law School. Legal experts told the Washington Post at the time that the cases mostly aligned with Warren's liberal politics; it's also common for law professors to take on such outside work.
The most money Warren made from a single client was $212,335 representing the insurance company Travelers from 2008 to 2010 in a sprawling legal case that dated back to the 1980s — which she disclosed as a Senate candidate in 2012.
During the three-year span, Warren defended a settlement that established a $500 million trust to be divided among thousands of asbestos-poisoning victims. In return for setting up the trust, Travelers was seeking permanent immunity from lawsuits related to the bankrupt asbestos manufacturer, Johns Manville, which the company had insured. The Boston Globe reported in 2012 that most victims were initially on Warren's side and she successfully defended the settlement before the Supreme Court. However, after Warren left the case, a separate court ruling let Travelers off the hook for paying the multi-million-dollar settlement, while keeping its immunity against future lawsuits.
The next highest amount Warren earned on a private case, according to her disclosures, was $186,859.59 representing the department store chain Bergner's through bankruptcy. Her campaign says the work ensured that the company "could stay alive and pay its creditors."
According to the Post, records for several other asbestos-related cases showed Warren's compensation rate was $675 an hour, which "was at or below market rate for her level of experience and was less than what some law firm partners charged to work on the same matters."
Still, some of her other work for big corporate clients has come under recent scrutiny as the progressive senator runs for president.
In July, the Post published a follow-up piece focusing on Warren's work for Dow Corning, a subsidiary of Dow Chemical that faced thousands of lawsuits over ruptured silicone-gel breast implants. Warren's campaign says she worked to "ensure adequate compensation" for those who claimed injury from the breast implants after Dow Corning declared bankruptcy and helped set up a $2.35 billion compensation fund. However, according to the Post, Warren's expertise was also used to limit the liability of Dow Corning's larger parent company. According to Warren's campaign, she earned $19,942 from the case.
In October, a New York Times report similarly spotlighted two cases in which she represented a steel conglomerate and a real estate company, respectively, that had emerged from bankruptcies. In both cases, the companies were (ultimately unsuccessfully) fighting new laws that made them retroactively liable for new claims that they said should have been resolved during their bankruptcies. Warren made nearly $40,000 combined for her work on the two cases.
"Bankruptcy law is about coming up with the fairest outcome possible in a difficult situation and trying to help individuals and businesses get a fresh start," says her campaign website, which notes that the system "inevitably pits sympathetic interests against each other."
In the case of LTV steel, Warren argued that a new law requiring the company to make additional payouts to former coal miners "threatens to erode" the bankruptcy system's ability to address those claims, according to the Times. Defending the real estate firm CMC Heartland, she wrote a 1996 memo published this week by the Post arguing that the company shouldn't be liable for cleaning up a polluted rail yard in Washington state that it had sold post-bankruptcy, which a new environmental law required. Warren's campaign told the Post that the debate was about "which company would pay" for the cleanup, as opposed to "the merits of environmental laws, which she strongly supports."
Warren's explanations of her past work haven't stopped the attacks from Buttigieg's campaign. But some fellow experts in her field have come to her defense.
Max Kennerly, a prominent Philadelphia trial lawyer, says that working to make sure claims were completely dealt with in the bankruptcy arena reduced the likelihood that "later lawyering" by those with financial backing could have influenced the result. Even if Warren's work at times also aligned with the interests of large companies, Kennerly argued they were in the service of a broader principle that ultimately advantaged regular citizens, given that the "vast majority of bankruptcies are personal bankruptcies."
"What Warren was doing is (1) why mesothelioma victims can still get compensation despite asbestos company bankruptcies and (2) why debt collectors can't keep chasing people after bankruptcy," he tweeted. "Both are pro-consumer."