Politics
Joe Kennedy III is speaking out about safe injection sites. Here's why.
The Massachusetts congressman visited the area often referred to as "Methadone Mile" earlier this fall. He thinks the status quo shows why supervised consumption facilities aren't such a radical idea.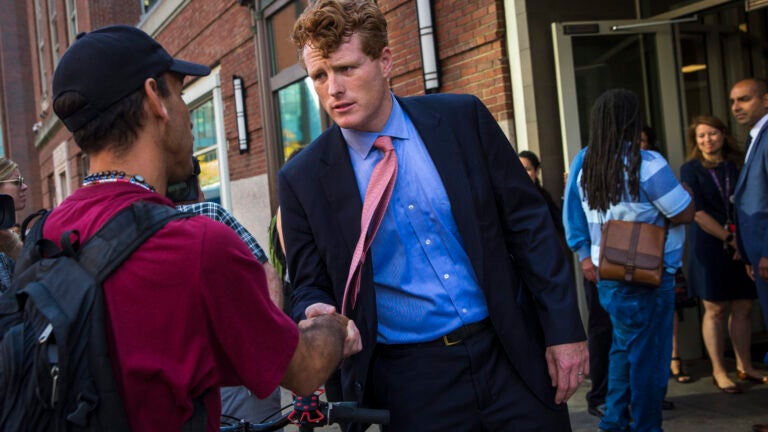 Rep. Joe Kennedy III says his support for safe injection facilities is nothing new, but one recent experience particularly elucidates why he's now speaking up on the subject.
A few days after launching his Senate primary campaign in September, the Massachusetts congressman visited the area around Massachusetts Avenue and Melnea Cass Boulevard in Boston that has become known as "Methadone Mile" due to its rampant, open drug use. There, he witnessed people in the throes of opioid addiction just steps away from clinics like the city's Health Care for the Homeless Program. To a certain degree, the clinic doors felt like an arbitrary barrier.
"I was at the corner of Mass. and Cass now about two months ago, and there were people using drugs on the sidewalk, who could shoot up on the sidewalk and then walk inside," Kennedy told Boston.com in an interview Wednesday.
"Once they cross those doors, the staff there will do everything they can to make sure they don't overdose or die," he added. "But if they do it outside, they're not treating them."
Kennedy announced his support for the creation of safe injection sites in Massachusetts in a letter Tuesday to the state's U.S. attorney, Andrew Lelling, who has pushed back against the local supporters of the idea.
The facilities — which exist in other countries and are being considered by some U.S. cities — provide a controlled, clean setting for those struggling with addiction to use illegal drugs obtained elsewhere under the supervision of trained staff. Research suggests that they reduce overdoses, decrease the spread of communicable diseases, and promote access to health services.
Lelling has opposed the idea alongside Gov. Charlie Baker and warned in January that "any effort to open an injection site in Massachusetts will be met with federal enforcement." The two Republicans have raised methodological questions about the research showing that the facilities effectively address long-term addiction.
But with state lawmakers considering legislation to pilot the country's first safe injection sites, Kennedy is urging Lelling to reconsider his hardline posture and allow Massachusetts to incorporate the facilities into its harm reduction strategy when it comes to the opioid epidemic.
"We cannot allow fear mongering and stigma to stand in the way of evidence based, effective ideas to reduce deaths and overdoses," the Newton Democrat wrote. "Safe injection facilities not only connect vulnerable populations with treatment resources, they reduce risky injection behaviors and benefit our public health."
In February, the state's Harm Reduction Commission released a report recommending that Massachusetts create at least one safe injection site on a trial basis to address substance use disorder.
Kennedy is joining his two Democratic opponents in the Senate primary in publicly supporting the facilities; as the State House News Service reported Tuesday, incumbent Sen. Ed Markey has supported them since at least 2017 and Brookline labor attorney Shannon Liss-Riordan has mentioned her support for supervised injection sites as part of her stump speech.
Asked about the timing of his announcement this week, Kennedy said he wanted to add his voice to a debate happening "not just in Massachusetts, but around the country," especially after a federal judge ruled in October that a planned supervised injection site in Philadelphia would not violate federal law.
"I've been asked about it before, publicly," Kennedy said. "I don't think anybody ever really picked up my comments on it. This was an opportunity, particularly given the recent court decision and the fact of that this is a debate that is coming — you've obviously seen it start to play out in Massachusetts — that it was worth adding my voice to the discussion."
The 39-year-old noted that mental health and addiction have been among his "major areas of focus in Congress," as well as one of the reasons he ran for office. As a congressman, the former assistant district attorney has also come to support marijuana legalization, despite his continued concerns about its impact on those prone to abuse, especially adolescents.
With safe injection sites, Kennedy says the evidence is "clear." Despite the efforts to address areas like Methadone Mile, Kennedy says that if "the reality is that we're more or less OK with people using drugs on the sidewalks," then he thinks it's appropriate for the  government to set up facilities to simply make sure "people who are using are not going to die."
"And that's what this is about," Kennedy said.