Politics
Megan Rapinoe is endorsing Elizabeth Warren for president
"I just don't think we can get to a better place by walking this moderate line."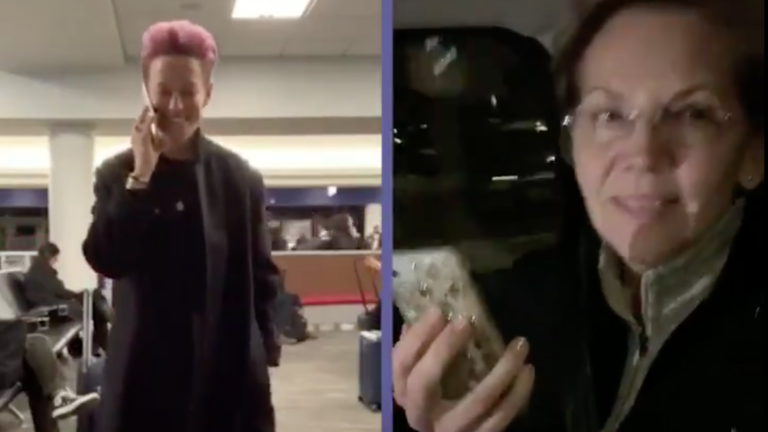 Like the United State women's national team, Sen. Elizabeth Warren now has Megan Rapinoe on her wing.
In an Instagram post Friday afternoon, the American soccer star announced she's supporting Warren in the Democratic presidential primary race.
"I truly believe the best things in life are a result of being bold and being real," Rapinoe wrote. "This extends to every part of my life and nothing feels more relevant and real than this election. I'm proud to endorse @elizabethwarren today, for being bold, for being real, for listening to ALL of us, and for being prepared to navigate the unique challenges we face today as a country."
The announcement comes just a few days after the purple-haired 34-year-old and vocal critic of President Donald Trump was named the 2019 Sportsperson of the Year by Sports Illustrated after leading the United States to the team's fourth women's World Cup title. She also appeared Thursday at a conference in Boston.
Rapinoe's post featured a video of her talking on the phone with Warren in one of the Massachusetts senator's trademark cold calls to her grassroots supporters. During the nearly two-minute clip of their conversation, Rapinoe reiterated her specific support for Warren's ambitious progressive policy platform.
"I just think that it's amazing," she said of Warren's campaign. "It's big. It's bold. I just don't think we can get to a better place by walking this moderate line, so I appreciate you being out front and being big and bold with that."
Rapinoe had previously donated $1,000 to Sen. Kamala Harris's presidential campaign and reportedly attended a September fundraiser for the California Democrat (Harris dropped out of the race earlier this month).
Now on "Team Warren," the Reign FC captain said Friday that "we have to build a system that takes everybody into account by listening to everybody."
The official endorsement comes just a day after Warren gave a speech in New Hampshire highlighting her populist economic message and criticizing her more moderate opponents, like Joe Biden and Pete Buttigieg. The Cambridge Democrat congratulated Rapinoe on a "remarkable" year and praised the two-time champion for leading the country "on the field" and "off the field."
Rapinoe made international waves during the World Cup this past summer for refusing to back down from her criticism of Trump ahead of the tournament's knock-out round. She went on to score three goals in the following three do-or-die games and won the tournament's Golden Ball award for best player, as well as its Golden Boot award for top goalscorer.
"We have a little saying we have on the national team that we like to say — I don't know if you can cuss out here, but it's LFG," Rapinoe told Warren in the video posted Friday, referring to the profane motivational catchphrase that has also become popular in New England.
"Alright, Megan," Warren laughed. "You and me, LFG."