Politics
Massachusetts is leading an effort to curb vehicle emissions. It comes with a price.
Supporters acknowledge the plan will result in higher gas prices. They also say the benefits are worth it.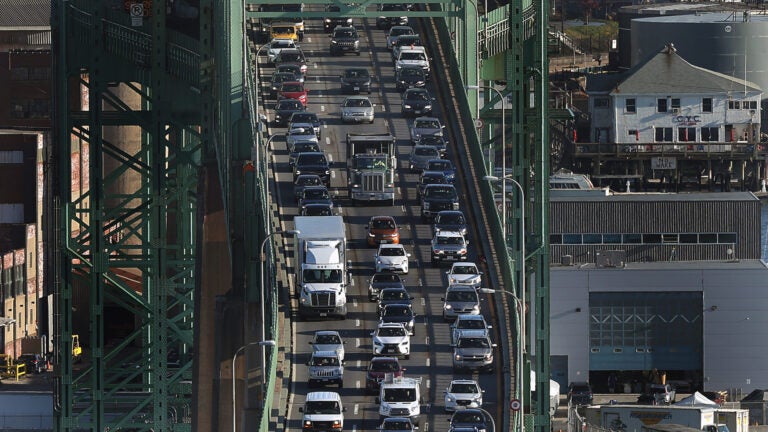 In the absence of federal action, nearly a dozen Northeastern states, including Massachusetts, and Washington, D.C., are pushing a plan of their own to address the pressing issue of climate change.
The regional effort, known as the Transportation and Climate Initiative, is being led by Gov. Charlie Baker's administration and proposes a two-pronged strategy to curb greenhouse gas emissions, by requiring local fuel distributors to buy permits for contributing to carbon pollution and using the revenue to invest in more sustainable transportation options.
"Transportation has to be a big part of the solution to climate change," Kathleen Theoharides, the secretary of energy and environmental affairs for Massachusetts and chair of the TCI leadership team, said during a conference call Tuesday.
The plan will also test how much residents are willing to stomach a relatively modest increase in gas prices in order to take on climate change.
Recent polling has shown high public support, at least in Massachusetts, for the concept behind TCI. That was before officials unveiled their initial estimates Tuesday of the tangible impact of the plan. According to their modeling, the regional effort would result in a 5 to 17 cent per-gallon increase in the price of gas. But in return, TCI supporters say consumers would get a myriad of benefits, including billions of dollars in transportation funding, improved public health benefits, and — perhaps more importantly — hundreds of millions in avoided climate-related costs.
Backers of the regional plan say that tradeoff is more than worth it.
What exactly is TCI?
The bipartisan, regional effort represents a "cap-and-invest" approach to staving off the worst predicted effects of global warming and — in addition to Massachusetts — originally included Connecticut, Delaware, Maine, Maryland, New Hampshire, New Jersey, New York, Pennsylvania, Rhode Island, Vermont, and Virginia. Along with D.C., the 13 jurisdictions account for a fifth of the U.S. population and have an economy about the size of Japan's.
While each state needs to individually enter the agreement, TCI would set a cap on the amount of vehicle emissions throughout the region and make fuel companies pay for a permit — or allowance — to cover the carbon dioxide emissions they produce. Most allowances would be auctioned off, and each jurisdiction's allowance budget would be based on a percentage of the regional cap.
Modeled after the Regional Greenhouse Gas Initiative, a similar, market-based Northeastern initiative focused on reducing emissions in the power sector, TCI's emissions cap would also decline over time.
The plan also includes an equity provision, committing participants to expand low-carbon mobility options in urban, suburban, and rural communities, particularly those that have been underserved and "disproportionately adversely affected by climate change and transportation pollution."
Officials say the program could begin as early as 2022 — with emissions reduction goals set for 2032.
What difference would it make?
TCI leaders released a draft agreement known as a "memorandum of understanding" Tuesday, as well as models projecting the plan's actual effects.
According to their estimates, the current baseline is a 19 percent reduction in regional emissions from on-road transportation fuels from 2022 to 2032, due to increasing vehicle fuel efficiency, emissions standards, and the increased adoption of electric cars. However, TCI leaders also warned that the reduction could actually be as low as 6 percent, due to President Donald Trump's plans to roll back federal emissions standards, as well as the possibility of future decreases in the price of oil.
Theoharides says that TCI could "lock in" and even "accelerate" the region's current projected emissions reductions.
The group modeled three different cap scenarios reducing emissions by 20 percent, 22 percent, or 25 percent. TCI leaders say that if fuel companies decide to pass on the costs of the buy allowances under the cap-and-invest program to consumers, those three scenarios would cause the price of a gallon of gas to go up 5 cents, 9 cents, and 17 cents, respectively.
In other words, the cost of filling up one's tank could increase by around a dollar or two. Officials noted that those increases would be well within the historic ups and downs of gas prices, as well as the cost variations between states.
On the other hand, TCI supporters argue the plan would make a meaningful dent in emissions and fund up to $7 billion in sustainable transit initiatives. Baker's administration has estimated that Massachusetts could get up to $500 million.
Under the most impactful 25 percent reduction scenario, officials say the plan would result in a modest economic boost — increasing the region's gross domestic product by .05 percent and jobs by .02 percent. Ultimately, states would individually decide how to use the new revenue, whether it be for improving public transit, electrifying public vehicles, or making streets more pedestrian and cyclist friendly.
On the health side, supporters say the plan could result in more than 1,000 fewer asthma cases and premature deaths due to air pollution. In total, they said the monetized public health benefits added up to between $3 billion and $10 billion, depending on the cap scenario.
Emphasizing that the fundamental purpose of TCI is to address global warming, officials said the emissions reductions under the plan could result in $249 million to $892 million in avoided climate-related costs in the region from 2022 to 2032.
How it's playing?
With one original participant in the agreement? Not well.
Shortly after the estimates of TCI's impact were unveiled, New Hampshire Gov. Chris Sununu announced that his state would no longer be participating, likening the plan to a gas tax increase. In a series of tweets, Sununu said he wouldn't "force Granite Staters to pay more for their gas just to subsidize other state's crumbling infrastructure."
"Under this scheme, NH drivers would be forced to pay a significant new gas tax with little environmental benefit to NH," the Republican governor wrote. "Rural communities would be left at a severe disadvantage if we participated in the TCI, as drivers will bear the brunt of the artificially higher gas prices."
We are already taking substantial steps to curb our carbon emissions, & this initiative, if enacted, would institute a new gas tax by up to 17 cents per gallon while only achieving minimal results. This program is a financial boondoggle and the people of NH will never support it.

— Chris Sununu (@GovChrisSununu) December 17, 2019
In response to Sununu's announcement, the Baker administration noted the TCI was built on "regional, bipartisan collaboration of states seeking to address the challenges of climate change."
"The Commonwealth looks forward to working with other regional leaders to identify practical, market-based solutions to reduce transportation emissions while growing the regional economy and significantly improving public health," Anisha Chakrabarti, the governor's deputy communications director, said in a statement. "The Administration is pleased by the robust participation by Northeast and Mid-Atlantic states throughout the program's ongoing development process and by the broad coalition of support from members of both the business and environmental communities."
Massachusetts Fiscal Alliance, a conservative political group, has opposed the effort on similar grounds as Sununu, railing against TCI as too expensive for the level of reductions it says it would achieve. In a statement Tuesday, the group's program director, Paul Gangi, contended that it would have less of an impact than the existing initiatives, like fuel efficiency standards and increased electric car adoption.
Transportation and environmental activists said Tuesday the opposition to such collaborative action is shortsighted.
"In the face of the Trump Administration's disastrous attempts to pump the brakes on cleaning up transportation across the nation, we applaud Governor Baker's leadership in developing a regional approach to reduce transportation emissions and invest in solutions to move away from the outdated, dirty, health-harming status quo," Deb Pasternak, the director of the Sierra Club's Massachusetts chapter, said in a statement, urging the Bay State governor to back a "strong cap on emissions" to ensure it raises the necessary funds.
That sentiment was echoed by progressive groups up and down the Atlantic coast. Chris Dempsey, the director of Transportation for Massachusetts, said that TCI would "stand as a model for the rest of the nation." Kenneth Kimmell, the president of the Union of Concerned Scientists, praised the remaining participants for "rising to the challenge."
"If the states proceed with these policies, they'll significantly reduce carbon pollution from the transportation sector, the largest source of carbon emissions in the region, improve public health and make transportation cleaner, more affordable and more reliable," Kimmell said. "Today's memorandum of understanding offers us a path forward, putting a program in place that states can continue to review and build on."
In Massachusetts, a WBUR poll last month found that 62 percent of voters support the concept of charging gasoline distributors a fee based on the amount of pollution their fuels produce and using the money to fund public transit. The same poll found that a majority of Bay State voters oppose a 15 cent gas tax hike.
What comes next?
TCI officials are soliciting public feedback on the plan through Feb. 28 and, after conducting additional modeling, are planning to release a final memorandum sometime next spring.
However, following Sununu's announcement, it's unclear if any other states will withdraw; Vermont Gov. Phil Scott, a Republican, has also previously suggested that he's not on board with the concept. Maine and New York are also technically TCI "observers," since they weren't part of original 2018 pledge to pursue the agreement (though neither state, which are both led by Democrats, has expressed opposition).
A number of other states, however, are expected to require legislative approval to formally join the agreement — but not necessarily Massachusetts.
Theoharides told reporters in October that the administration believes it has "significant authority" on the matter under a 2008 climate change law. As the Boston Herald recently reported, some Republican state lawmakers are speaking out against allowing Baker to sign off without the Legislature's approval. However, top Democratic leaders appear to agree with the administration's stance.
At an event Monday in Boston, the state's transportation secretary, Stephanie Pollack, said getting everyone on board was just a "first step" toward addressing the climate problem, amid "discouraging" news internationally.
A round of United Nations climate talks ended in discord and with a reportedly meager compromise Sunday, after negotiators fought to get the world's largest carbon emitters to take more aggressive actions. Smaller countries accused the several larger peers — including the United States, which is slated to withdraw from the Paris climate agreement next year — to playing a counterproductive role.
In Boston, Pollack acknowledged that the TCI was just one "tool" to address the esclating global crisis.
"We have a long way to go, very little time to do it, and we don't yet necessarily have the political will to operate at the scale and pace that we know we need to really achieve what we all know we owe ourselves, our children and grandchildren, and the planet," she said.