2020 Election
Elizabeth Warren's campaign announced their quarterly fundraising totals — before the quarter ended
The campaign says they "probably won't" raise as much as last quarter.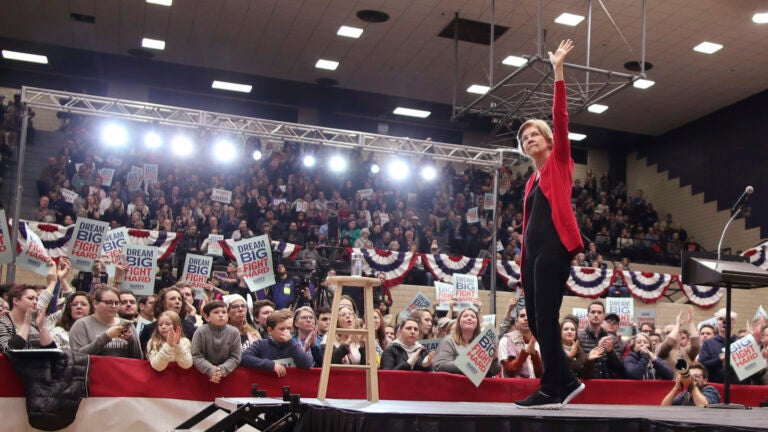 Political campaigns have gone to increasingly desperate-sounding lengths in their efforts to wring a few bucks from supporters. Sen. Elizabeth Warren's team says it's doing "something different."
"Something a little risky."
In an email to supporters Friday, the Massachusetts senator's presidential campaign announced their fourth-quarter fundraising haul — more than four days before the end of the filing period. With roughly 109 hours to spare, Warren's campaign said it had raised "a little over $17 million" since the beginning of October, which was more than 30 percent less than their third-quarter totals.
"That's a good chunk behind where we were at this time last quarter," the campaign admitted, later adding that they "probably won't" raise as much as during Warren's summer surge.
White House candidates typically aren't required to file their quarterly fundraising totals until 15 days after the end of the three-month period, though year-end reports are due at the end of January. Most campaigns announce their final fundraising numbers between the end of the quarter and the federal filing deadline in the hopes of shaping (i.e. spinning) the subsequent coverage.
Given the dip in donations, Warren's early announcement Friday certainly plays into that strategy. Amid her ascent to the top-tier of Democratic primary candidates, her campaign raised $24.6 million in the third quarter, which was the second most in the field, just slightly behind Vermont Sen. Bernie Sanders.
But a lot has changed since then. Amid the swell of criticism targeting her ambitious platform from more moderate candidates and contentious debate dustups with South Bend, Indiana Mayor Pete Buttgieg, Warren has seen her support plateau, if not decline, in both national and early-voting state polls in recent months.
The newly released fundraising numbers mirror that dip in momentum. But the early announcement also allows Warren to make a more urgent plea for donations.
The email — with the subject line "re: Fundraising gap" — set a $20 million goal for the quarter, which would be slight more than the $19.1 million they raised during the second quarter. It also warned that missing that target could derail the campaign's 50-state organizing strategy, which has been based predominantly on small-donor fundraising.
"We have until midnight on December 31 to get things going," the campaign wrote.
And in that respect, the appeal for more donations Friday wasn't so different from the others after all.