Politics
Warren slows, Biden rebounds: What we know about the 2020 money race today
Tuesday's quarterly fundraising deadline is the last before the nominating contests begin.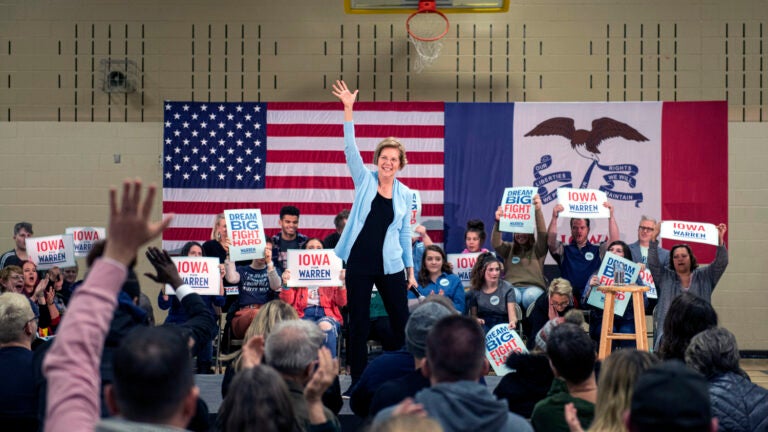 Sen. Elizabeth Warren's slip in the 2020 primary polls has been accompanied by a dip in donations, with her campaign setting a rare public goal: aiming to raise $20 million for the fourth quarter of 2019 ending Tuesday, or about 20% less than what she raised in the previous three-month period.
Former Vice President Joe Biden, meanwhile, has rebounded from a weak third quarter, in which he raised only $15.7 million and spent $2 million more than he took in. Now his campaign is trying to assert his front-runner status in the Democratic primary, pushing in the final 48 hours of the year to post "our biggest fundraising quarter yet," as Biden wrote in an email Sunday, by topping the $21.5 million he raised last spring.
The shifting financial fortunes of Warren and Biden illustrate the unsettled nature of the Democratic presidential contest heading into 2020, with four candidates — Biden, Warren of Massachusetts, Sen. Bernie Sanders of Vermont and Mayor Pete Buttigieg of South Bend, Indiana — battling for position in the top tier of polling and seeking to bolster their treasuries ahead of the final sprint to the Iowa caucuses and beyond.
Sanders is expected to remain a financial pacesetter in the 2020 contest. He is pressing toward a goal of 5 million contributions by the end of the year and announced Monday that he was at nearly 4.9 million. If Sanders has maintained the average size of his donations from the spring and summer, $18, the numbers suggest he has already raised about $26 million in the fourth quarter, more than any Democratic candidate has raised in any quarter this year.
No other 2020 candidate has announced reaching 3 million donations.
Buttigieg is closing in on 2 million donations (he has more than 1.95 million, according to campaign emails). That means he has already received more than 700,000 donations this quarter — by far more than in any such period this year. Buttigieg raised $19.1 million and $24.6 million in the previous two quarters.
The impending quarterly deadline Tuesday is critical for the campaigns as they urge their supporters to help them finish the year on a strong note. It is also the last time before the nominating contests begin that they will be required to open the books on their finances, with full reports to be released Jan. 15.
While the top-line figures for money raised are significant, the campaigns' cash situation — how much they have in the bank for ads, organizers and field programs — is more crucial now that voting begins in less than 40 days.
And despite Biden's turnaround on the fundraising front — he raised more in just October and November than he had the previous three months — he entered the fall with only a fraction of the cash of his leading rivals. His $9 million in the bank Sept. 30 trailed Buttigieg by $14.4 million, Warren by $16.7 million and Sanders by $24.7 million, gaps he is unlikely to substantially close.
That is perhaps one reason Biden reversed himself in late October and blessed his supporters' forming a super PAC, which has already begun airing television ads in Iowa. (His campaign has said he reversed his stance because of anti-Biden ads funded by President Donald Trump.)
It has been a turbulent three months in the fundraising world as one of the race's stronger fundraisers, Sen. Kamala Harris of California, dropped out unexpectedly in early December, sparking a frenzy among other campaigns for her mostly California-based team of financiers. Former Mayor Michael Bloomberg of New York also entered the race and began to spend his multibillion-dollar personal fortune on an enormous nationwide television ad campaign, reshaping the financial landscape beyond the early-voting states where another billionaire, Tom Steyer, has been flooding the airwaves.
Besides the race's four polling leaders, Andrew Yang, the businessman who has surprised political observers with his staying power and a devoted online following he affectionately calls the Yang Gang, is expected to be the only other contender to crack $10 million raised in the fourth quarter.
"We expect to raise more than $12.5 million, at least 25% more than the previous quarter," said S.Y. Lee, a spokesman for Yang.
How candidates are raising their money — and whom they solicit for contributions — has become a central point of contention in the primary in recent weeks, with Sanders and Warren touting their independence from the traditional world of big contributors while hitting Biden and Buttigieg for their reliance on wealthy donors.
"For far too long, the wealthy and the powerful have used their money to buy our candidates and our elections," said Tim Tagaris, a senior adviser to Sanders. "And what Bernie Sanders is proving — for the first time — is that one can run for president without begging them for their money."
Warren, who like Sanders has decided not to make appeals to big donors at traditional fundraisers, has called for her rivals to disclose their lists of "bundlers," who have gathered campaign checks for them. In turn, Warren has been pressed about the $10 million she transferred to her presidential campaign from her 2018 Senate bid, when she was still courting such large contributors.
Both Biden and Buttigieg recently did disclose their bundlers, with Buttigieg eventually sharing the names of more than 100 people or couples who had gathered at least $25,000 and Biden disclosing more than 200. Biden appeared to time his release to minimize attention, revealing the names of his top fundraisers late on the Friday evening after Christmas.
Biden has seen some of the bundlers for his former rivals who have left the race — especially Harris but also former Rep. Beto O'Rourke of Texas — gravitate toward him as he continues to lead in national polling. Former Harris supporters now backing Biden include John Emerson, an investment executive in California; two influential New York finance-world fundraisers, Marc Lasry and Blair Effron; and Alex Heckler, an attorney in Florida.
"As the field narrows, we're seeing Democrats coalesce and rally around Vice President Biden," said Kate Bedingfield, a deputy campaign manager for Biden. "Voters want a candidate who can bring people together and defeat Donald Trump, and a sense of urgency about that as we approach voting is clearly driving a new wave of support."
Wade Randlett, a fundraiser for Biden in the San Francisco Bay Area, said concerns over Biden's cash had been overblown and that "if money were the majority driver of success we'd be talking about a Bloomberg-Steyer ticket."
"Money matters because you need to have enough," Randlett said. "And we are definitely going to have enough to prosecute a campaign in all 50 states through the primaries."
Warren was the No. 2 fundraiser in the field in the third quarter, when she raised $24.6 million. But her campaign said Friday that she was "a good chunk behind" that mark this time, with a little more than $17 million collected with four days left in the quarter.
"It will be nearly impossible to match last quarter at this point. But we need to start closing the gap," read one Warren solicitation for donations.
For the first time in the campaign, Warren also signed an email to the list of a group that supports her, the Progressive Change Campaign Committee, which split the proceeds between her and the organization.
In addition to his goal of receiving 2 million total donations, Buttigieg's campaign set a $750,000 target in the final 48 hours of the quarter. Buttigieg recently told The Des Moines Register's editorial board that "the average contribution was coming in around 30 bucks" to his campaign — which, given that he has more than 700,000 contributions this quarter, would mean that he will raise more than $20 million.
Beyond the end of the year, Buttigieg's campaign is expecting at least a small windfall in early January from Wall Street, where he has become a popular figure, as some donors are waiting to avoid running afoul of laws restricting contributions to those who oversee public pensions (Buttigieg will then no longer be mayor).
Two other candidates who have struggled relative to the leaders to raise money and garner attention are hoping to finish 2019 on a high note.
Sen. Cory Booker of New Jersey, who missed the December debate because of the polling threshold, said two weeks ago that he needed to raise $800,000 to have his best quarter of the year. His previous high was $6 million. He had raised $641,000 of the $800,000 goal as of early Monday, according to a campaign fundraising email.
Sen. Amy Klobuchar of Minnesota announced she had raised $1 million in the 24 hours after the most recent debate and also said she had already raised more than in the last quarter, when she raised $4.8 million. Her campaign said this could be her best quarter of the campaign; her previous high was $5.2 million.