Politics
Ayanna Pressley described the difficulties — and importance — of coming forward as a sexual assault survivor
"They would feel outraged at the line of questioning, and I would feel deeply vulnerable."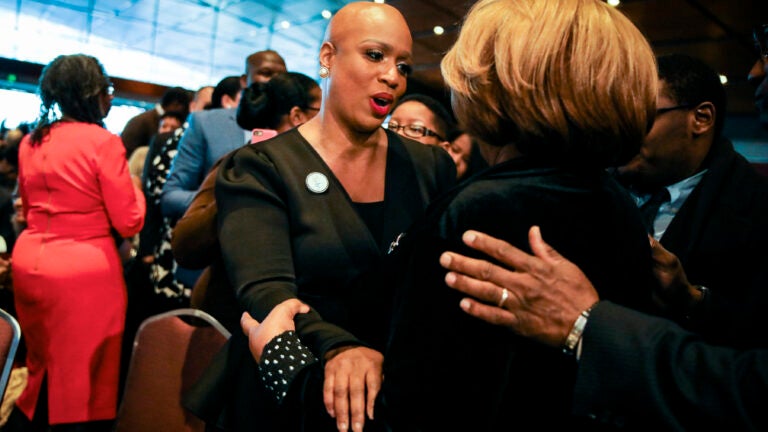 Rep. Ayanna Pressley hopes sharing her story as a sexual assault survivor helps end the stigma around the dramatically underreported crime.
That doesn't mean it's been easy. But she says it's worth it.
In a book released Tuesday, the Massachusetts congresswoman opened up about some of the difficulties she's encountered as a prominent survivor of sexual assault.
Pressley, who says she was sexually abused as a child and raped as a student at Boston University, first came forward with her college account as a Boston city councilor in 2011. The 45-year-old Democrat has since declined to discuss the details of the attack. And in an excerpt of the new anthology "Believe Me: How Trusting Women Can Change the World" published this week by Marie Claire, she elaborated on the reason.
"Survivors should be able to disclose when, how, and to whom they want to," Pressley wrote, explaining that "reclaiming my agency over my story" is an integral part of moving forward.
"Assault steals our agency, so reclaiming our agency as we heal is critical," she said. "It does not get easier to disclose. The phrasing comes to me in a way that feels familiar now, but the words cut all the same."
During her 2018 congressional campaign, Pressley said that "well-intended journalists" often asked her questions "that amounted to relitigating the details of my childhood sexual abuse and campus sexual assault."
"I would aim for composure and grace, reminding myself that the public life I have chosen brings with it intrusive questions all the time," Pressley wrote. "Those interviews would be triggering and at times very frustrating for me and members of my senior staff who were also survivors. They would feel outraged at the line of questioning, and I would feel deeply vulnerable."
Still, she said the moments harkened back to one of the key reasons for her primary campaign: representation.
"In those moments, I would try to remind myself that this is why we need survivors in positions of power and influence everywhere," Pressley said. "We know that we carry our lived experiences into every space we occupy."
Despite initially struggling to share her own story, Pressley says it has been validating to hear from fellow survivors who say they were able to come forward after hearing her account. As a city councilor, Pressley says she was able to meet with youth victims of sex trafficking at a Boston-area support program. As a congresswoman, she spoke on the House floor in support of a bill that "aims to bring us a step closer to a vision of justice" for those survivors.
"Days after my remarks on the House floor, my chief of staff would tell me, 'I just realized you were the only survivor who spoke on the floor about this bill. Or maybe just the only person to disclose,'" Pressley recalled. "When we liberate ourselves, we liberate others."