Politics
The House passed Ayanna Pressley's credit score reform bill. Here's what it would do.
"American families are finding themselves trapped in cycles of debt, simply for trying to afford basic needs like healthcare and education."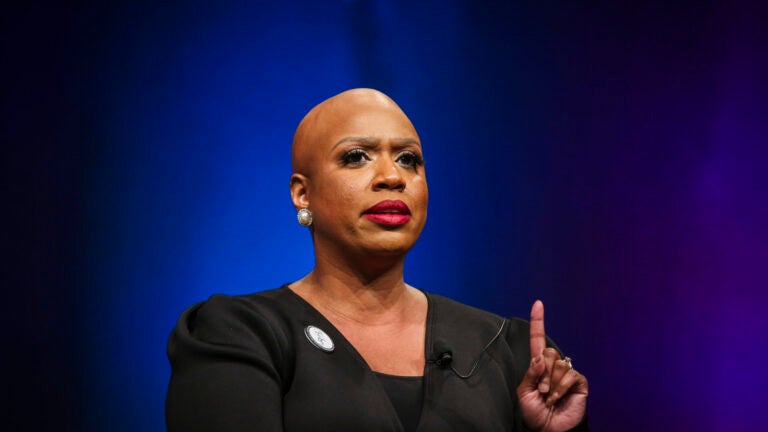 Rep. Ayanna Pressley says she is "thrilled" that the House of Representatives passed her bill to reform the credit report system, though the legislation's future in the Senate is unclear.
The House approved the Comprehensive Credit Reporting Enhancement, Disclosure, Innovation, and Transparency (CREDIT) Act on a mostly party-line vote Wednesday afternoon.
Pressley — who has championed often-arcane financial reform bills during her first term in Congress — says the legislation would address a "fundamentally flawed" system that can impede upward economic mobility in a country where "our credit reports are our reputations."
"When credit reports determine where you can live, work and how much you will have to pay for everything from a car to a college degree, consumers deserve a system that ensures equity, transparency and accountability," the Massachusetts congresswoman said in a statement. "American families are finding themselves trapped in cycles of debt, simply for trying to afford basic needs like healthcare and education."
Pressley also made her first House floor appearance after revealing she had lost her hair due to alopecia to speak in support of the bill Wednesday.
She also later tweeted about the landmark day.
Walking off the floor (w/my talented & dedicated leg team after my bill H.R. 3621 "The Comprehensive Credit Act of 2020" passed the House earlier today) like the lawmaking #alopecian I am. #changeisontheway #consumerprotection P.S. Ty for creating new hair loss #barbie, #Mattel pic.twitter.com/xV62a3U79x

— Ayanna Pressley (@AyannaPressley) January 30, 2020
The Comprehensive CREDIT Act includes measures to make it easier for the estimated 20 percent of consumers who have a "potentially material error" on their credit report to seek corrections; limit the use of credit scores for employment purposes; expand the opportunity for student loan borrowers to improve their credit scores; restore credit to victims of predatory agencies; ban the reporting of debt incurred from "medically necessary procedures" and delay the reporting of other medical debt; shorten the time that most adverse credit information stays on a report from seven years to four years, and from 10 years to seven years in the case of a bankruptcy; and bolster the Consumer Financial Protection Bureau's oversight of the industry.
According to CFPB data, the watchdog agency has received more than 326,000 complaints against credit reporting agencies since 2012, which accounts for nearly 22 percent of the total complaints filed during that time period.
According to Pressley's office, the Comprehensive CREDIT Act comprises tenets of several other bills introduced by fellow members of the House Financial Services Committee. However, the Boston Democrat authored the student loan-focused section of the bill, which would:
Establish a credit rehabilitation process overseen by the CFPB for borrowers facing economic hardship to repair their credit profile.
Prohibit credit reporting agencies from including any information on a credit report relating to a delinquent or defaulted student loan after the borrower makes nine on-time monthly payments.
Provide a grace period for borrowers seeking rehabilitation but experiencing significant financial hardship or other extenuating circumstances such as certain military deployments or residing in an area impacted by a major disaster.
Require private lenders offering repayment plans to borrowers seeking rehabilitation to offer affordable monthly payments and additional assistance.
Student debt has become an increasing burden for students in Massachusetts. A study in 2018 found that the average debt load for Bay State graduates increased by 77 percent between 2004 and 2016, faster than in any other state in the country except Delaware. According to Pressley's office, more than 855,000 borrowers owed a total of $33.3 billion in student debt last year in Massachusetts — and nearly 100,000 are behind on their loans.
"Even if we wipe out all student debt tomorrow, the devastating impact on consumers' credit would remain for years to come," Pressley said in her speech. "For that very reason, we must give folks a real chance at recovery and repair."
The bill passed the Democrat-controlled House by a 221-to-189 margin. With the exception of two moderate Democrats who joined Republicans to vote against the legislation, the vote was divided by party lines.
For the legislation to proceed any further, Democrats will likely have to wait until at least another election. Sen. Mitch McConnell, the Republican-controlled Senate's majority leader, has repeatedly ignored the hundreds of bills passed by House Democrats.
Massachusetts state lawmakers have also recently proposed new protections for student borrowers in the wake of relaxed federal oversight under President Donald Trump.