Politics
Elizabeth Warren submitted a pointed question to John Roberts about his own 'legitimacy'
Roberts did not look pleased.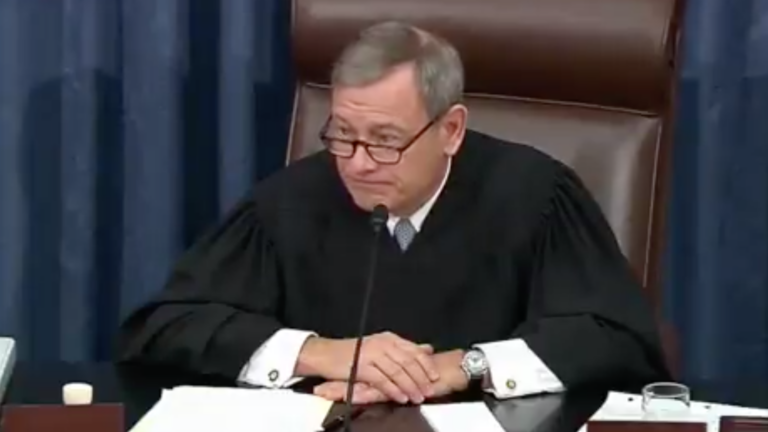 Sen. Elizabeth Warren submitted a pointed question Thursday evening to Supreme Court Chief Justice John Roberts, forcing him, as the presiding officer of the Senate impeachment trial of President Donald Trump, to question his own "legitimacy."
In a question posed to the House managers prosecuting the case against Trump, the Massachusetts senator and Democratic presidential candidate asked about the impact of Republicans' opposition to new witnesses during the Senate trial on the public's view of government — and Roberts himself.
"At a time when large majorities of Americans have lost faith in government, does the fact that the chief justice is presiding over an impeachment trial in which Republican senators have thus far refused to allow witnesses or evidence contribute to the loss of legitimacy of the chief justice, the Supreme Court, and the Constitution?" the question said.
After reading it aloud, Roberts stared on, lips pursed, toward the Democratic side of the chamber for more than five seconds.
Rep. Adam Schiff, the Democrats' lead House impeachment manager, took the question and disagreed with the notion that the way the trial has proceed "contributes to a loss of confidence" in Roberts.
"I think the chief justice has presided admirably," Schiff said.
The California congressman went on to lament the effect of Trump's efforts to get Ukraine to launch an investigation against his political opponents on the United States' international reputation. Still, he said the fact Trump's alleged abuse of power had resulted in an impeachment trial should restore some confidence in government.
"We don't always live up to our ideals, but this trial is part of our constitutional heritage — that we were given the power to impeach the president," Schiff said.
"I don't think a trial without witnesses reflects adversely on the chief justice," he said. "I do think it reflects adversely on us. I think it diminishes the power of this example to the rest of the world, if we cannot have a fair trail in the face of this kind of presidential misconduct."
Schiff added that he did agree with Warren the lack of witnesses allowed in during the Senate impeachment trial would "feed cynicism about this institution." Republicans appear poised to block any new witnesses in a vote Friday, after retiring Tennessee Sen. Lamar Alexander announced that he would join the vast majority to oppose the introduction of any new evidence in the trial.
Ahead of the procedural vote, Warren reiterated the point of her question in a series of tweets Friday morning, noting that public faith in American institutions is already at an all-time low. She said that the expected vote against new evidence "doesn't help."
"Americans deserve to know that the President is using the power of his/her office to work in the nation's interest, not his own personal interest," Warren tweeted. "And they deserve a Senate with the political courage to stand up to a President that has abused his power & corrupted our government."
https://twitter.com/SenWarren/status/1223268766303297537?s=20