Politics
Caroline Kennedy announces she's endorsing Joe Biden
"It's not just policy proposals that are on the ballot."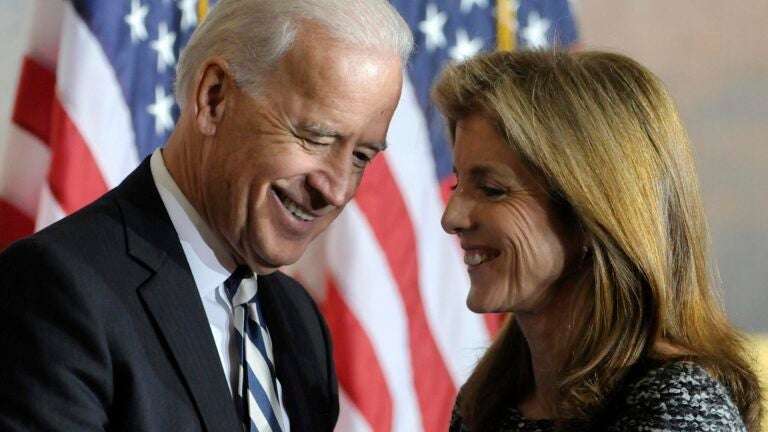 Caroline Kennedy, the former U.S. ambassador to Japan and daughter of President John F. Kennedy, is backing Joe Biden in the 2020 presidential race.
In a Boston Globe opinion piece published Tuesday morning, Kennedy wrote that she was "excited" by the ideas being put forward by the field of Democratic primary candidates. However, she suggested the former vice president was more prepared for the job, as well as the general election task of defeating President Donald Trump.
"It's not just policy proposals that are on the ballot," Kennedy wrote. "Our fundamental values are at stake as never before in my lifetime."
The endorsement came as candidates were still waiting for the results of Monday's Iowa caucuses, due to technical problems with a mobile app that was supposed to help officials report the vote totals.
Kennedy, who endorsed President Barack Obama in the 2008 primary race, along with her uncle Sen. Ted Kennedy, is the latest in a series of well-heeled, former Obama administration diplomats to recently come out in support of Biden, including former secretary of state John Kerry.
The 62-year-old served as ambassador to Japan from 2013 to 2017. Shortly after she was appointed, Kennedy said Biden visited Japan; she juxtaposed the Obama administration's approach to diplomacy with Trump's combustible style.
"[Biden] stepped off Air Force Two wearing his aviator glasses and a big smile," she wrote in the Globe. "He radiated American optimism and generosity of spirit. He made clear that America would always stand by our allies, and that we were committed to keeping the region peaceful and prosperous. He delivered tough messages as well, but he did it in private, with skill and respect. He thanked our diplomats for serving far from home. I saw a leader who was strong but fair, and who had the trust and respect of other countries."
Kennedy added that she supported Biden when Obama was searching for a running mate in 2008 and credited the former vice president for working with her uncle to pass the Affordable Care Act. Additionally, going back to the 1970s, Kennedy said that she and the late Massachusetts senator admired Biden's "character." She added that the former Delaware senator embodied her father's famous words, "Ask not what your country can do for you. Ask what you can do for your country."
"That's what his life of service tells us," Kennedy wrote. "That is what his character and decency reflect. That's why, at this fragile moment for our democracy, Joe Biden is the president we need."