Politics
What has Deval Patrick been up to in New Hampshire? Pitching undecided voters that it's 'not too late.'
It's proving to be a hard sell.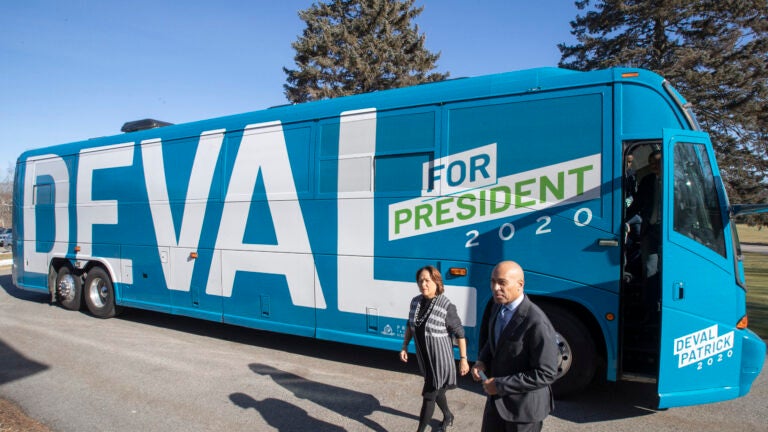 With all eyes on the Iowa caucuses, Deval Patrick virtually had the New Hampshire campaign trail to himself Monday. And the second question the former Massachusetts governor received during an appearance at Dartmouth College in Hanover was a rather straightforward one.
"What the heck?"
It's a question that, in some iteration, Patrick says he gets a lot from New Hampshire voters, many of whom had spent months deliberating over their primary vote, only to get one more choice.
Despite receiving warm receptions from intimate crowds of older residents and college students during stops Monday afternoon at Dartmouth and Colby Sawyer College in New London, the 63-year-old Democrat has repeatedly had to explain why he got into the 2020 primary race so late.
"We really need your vision and your voice," the questioner, Canaan resident Gail Murray, said. "I'm just not sure that a campaign for president at this point and time is the way to do it."
Patrick explains that he was on the verge of announcing his presidential campaign in late 2018, but those plans were put on hold when his wife, Diane, was diagnosed with uterine cancer. Diane is now cancer-free. So, in November, on the belief in the need for a less ideological vision than the one being offered by some leading left-wing candidates, Patrick joined the race to make a last-minute pitch for the type of progressive pragmatism that marked his two terms as governor.
In response to the question about his late entrance, he asks Murray if she's decided who to vote for. She says no.
"Then I'm not too late for you," Patrick replied.
In the midst of a six-day New Hampshire bus tour, Patrick was almost the only presidential candidate with any scheduled appearances in the state Monday. While the rest of the Democratic field was in Iowa, the only other candidate to hold an event in the Granite State was Sen. Michael Bennet, who made it back from the impeachment trial of President Donald Trump in time for a town hall Monday night in Manchester. Even Bill Weld, a fellow former Bay State governor, whose Republican primary bid has focused almost completely on New Hampshire, was in Iowa for caucus night.
Patrick's campaign made the most of the rare opportunity — looping nearly 200 miles Monday from Conway to Hanover to New London to Nashua — before the rest of the primary field returned to New Hampshire en masse from the still-unresolved caucuses. In an interview on his blue-and-green "DEVAL" bus, Patrick emphasized that Murray is hardly the only undecided voter he's met, even with just a week left until the primary.
"I knew it was true when I got in, but even at this late date, the proportion of people who are undecided is huge," Patrick said.
He's not wrong; polls have shown a race in which the majority of Democratic voters have yet to completely settle on a candidate. Still, it's not clear that Patrick has cracked into their final choices. A CBS News poll last month showed that just 5 percent of registered Democratic primary voters in New Hampshire were considering him. Murray says she's still looking at Sens. Bernie Sanders, Elizabeth Warren, and Bennet, and South Bend, Indiana, Mayor Pete Buttigieg. While she largely praised Patrick for his message and civil rights work, he was not on her list.
"To be honest, I think we're too far along," she said.
The sentiment is similar at Colby Sawyer, where Patrick spent an additional 15 minutes to chat with a small group of students following his longer question-and-answer session. Ben Jones, a student at the college from nearby Enfield, said he appreciated Patrick's "realistic" vision. However, he added that his first choices were Sanders and Buttigieg and that he was waiting to see how the caucuses played out in Iowa.
Patrick says that breaking through the feedback loop of public polling as a late entrant is "a hard challenge that's completely artificial."
"Waiting to see where the crowd is going is like herd mentality, and herds sometimes get led right over a cliff," he said.
To those who are still willing to listen, Patrick recites his record in Massachusetts, from leading the state through the economic recession to "ban the box" criminal justice reform to the fivefold increase in renewable energy generation.
"I'm not interested in abstract policy," he often says, in a veiled reference to the more ambitious proposals that have dominated the Democratic conversation for the last year. "I'm interested in where [policy] actually touches people."
During his events, Patrick often talks about "being bold and humble at the same time." He criticized what he characterized as "bullying" and "browbeating" from both parties. Change, he says, requires "bringing people in." In addition to his time as Massachusetts governor, Patrick cites his work at Texaco monitoring the oil company's hiring practices and in the 2018 midterms, in which his super PAC supported Democratic candidates running in swing districts, as examples of engaging people with whom you don't always agree with to get results.
It's an argument that takes aim at Sanders, the primary race's leading progressive candidate, along with Warren. Even if he doesn't support plans as far-reaching as Medicare for All or canceling student debt, Patrick argues he has a more progressive record of accomplishments than Sanders.
"Our politics are very different," Patrick said. "When I talk about others having plans and my having results, he's one of the others."
As president, Patrick says his first efforts would be aimed at engaging Americans who are disaffected with both parties. His first legislative priority is his Democracy Agenda, a slate of structural electoral reforms that include: making it easier to vote (including some form of automatic voter registration and making Election Day a federal holiday); a voluntary national service program offering free college tuition; reducing the influence of wealthy interests in politics; statehood for Washington, D.C., and Puerto Rico; independent congressional redistricting; and abolishing the Electoral College.
"There's a reason why so many people have been giving up on politics, and it goes back to this point about our democracy not producing democratic outcomes," Patrick said.
And as much as he extolls working with those with different ideas, Patrick says it's clear that Republicans "don't believe they can win a fair fight."
"Let's call them out on it," he said. "If their ideas are so good, let's go toe-to-toe, idea-to-idea."
Still, first Patrick has to make his case to Democrats. His campaign effectively skipped the Iowa caucuses, which he said were "not practical, for me," given his late entrance into the race and the resources needed to compete in the larger, rural state.
And while they're not expecting to win New Hampshire next week, Patrick says he does have to "beat expectations." The campaign declined to put a quantifiable threshold or bar on those expectations; polls, artificial as they may be, have consistently shown Patrick hovering at or below 1 percent in the state.
"If I listened to polls, I would not have been governor the first or the second time," he said at Dartmouth.
Asked by a college student what he learned as governor, Patrick said that elected officials have to spend their political capitol, rather than just accumulate it. He notes that his first re-election campaign ad in 2010 explained his decision to raise taxes during his first term.
"You have to be willing to lose," Patrick said.