Politics
Tulsi Gabbard supporters are protesting CNN's candidate town halls in New Hampshire
The Democratic presidential candidate herself, however, did not show up to the demonstration.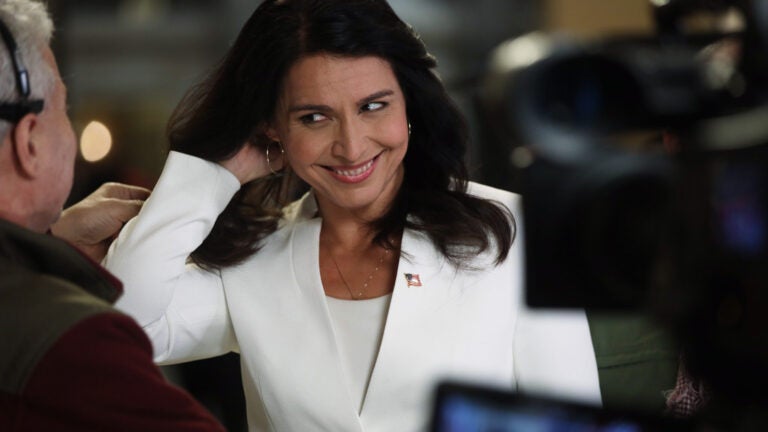 CNN is hosting eight Democratic presidential candidates for primetime town halls in New Hampshire this week, ahead of the state's first-in-the-nation primary Tuesday.
Hawaii Rep. Tulsi Gabbard didn't make the cut — and her supporters are crying foul.
"It's unfair to the voters of New Hampshire and the nation, who are being denied the opportunity to hear directly from a candidate who is challenging the status quo," Gabbard spokesman Cullen Tiernan told Boston.com in a statement.
CNN did not respond to requests for comment. The cable network announced last week that it had invited the seven candidates who had qualified for Friday's primary debate in New Hampshire to participate in the town hall-style TV specials Wednesday and Thursday night at Saint Anselm College.
Gabbard has not qualified for the debate, based on the Democratic National Committee's polling and donor thresholds.
Neither has the eighth town hall participant: Deval Patrick. According to CNN, the former Massachusetts governor, who made a late entrance into the 2020 race this past November, was extended an invitation "as part of the network's commitment to hosting individual town halls with the Democratic presidential candidates." Patrick had not participated in such a town hall.
Gabbard did participate in CNN's first slate of candidate town halls last year. However, her campaign, which has largely focused on New Hampshire, argues that CNN's criteria for inviting candidates to this week's round of town halls is arbitrary. Both nationally and in New Hampshire, recent polling averages show her with higher support than Patrick — even if both are in the single digits.
After complaining about her exclusion last week, Gabbard's campaign announced she would hold a press conference and protest outside Saint Anselm's campus Wednesday afternoon
Only one of those two things came true.
CNN is hosting eight Democratic primary candidates for televised town halls over the next two days. Tulsi Gabbard is not one of them, and her supporters are not happy about it. pic.twitter.com/e3sN2cWPlr

— Nik DeCosta-Klipa (@NikDeCostaKlipa) February 5, 2020
More than 100 supporters, by the campaign's count, lined the road on the outskirts of Manchester, wielding signs and accusing CNN of excluding Gabbard over her anti-interventionist foreign policy views and criticism of the corporate media.
"Once she was pushed below that threshold, CNN had plausible deniability to keep her out of the town halls, even though Deval Patrick, who is polling close to zero percent nationally, including in New Hampshire, was given a town hall, "Dack Rouleau, a Gabbard supporter and Concord resident, told Boston.com at the demonstration, calling the congresswoman "the only serious critic of the military industrial complex in the Democratic Party" and the only candidate willing to stand up for WikiLeaks founder Julian Assange.
Shortly after Rouleau helped lead an energized chant of "Let Tulsi speak" came a twist: Gabbard would not speak.
After several other supporters addressed the group of reporters who had come to cover the press conference, the campaign announced that Gabbard would not be attending the event, despite an earlier media advisory indicating she would. Gabbard had no other publicly scheduled events at the time, but she was busy speaking with other voters, according to the campaign. Her next event was a town hall Wednesday evening in Keene.
A few supporters were overheard venting that it was a missed opportunity for Gabbard not to take advantage of the opportunity to speak directly to the media Wednesday. However, Mary Wilson, a Mont Vernon resident and Gabbard campaign delegate, made the case that the decision was consistent with the theme of Gabbard's campaign.
"I think it's better that we speak up for her, because this is a campaign about all of us," Wilson told Boston.com. "Tulsi always says it isn't about her. We're the ones being shut out."
Gabbard's campaign says they still haven't gotten any response from CNN and that voters "deserve an answer" from the network. Supporters plan to continue demonstrating outside of the CNN town halls Wednesday night.
"Tulsi will continue to conduct town halls throughout New Hampshire and the nation, taking her message directly to the American people," Tiernan said. "Whether CNN or other powerful media outlets keep the American people from hearing this message is up to them."
But as the event Wednesday showed, sometimes it's also up to the campaign.