Politics
Why long-shot White House hopefuls keep showing up to this creaky, New Hampshire basketball court
"You get a feel of what it's like working with this person."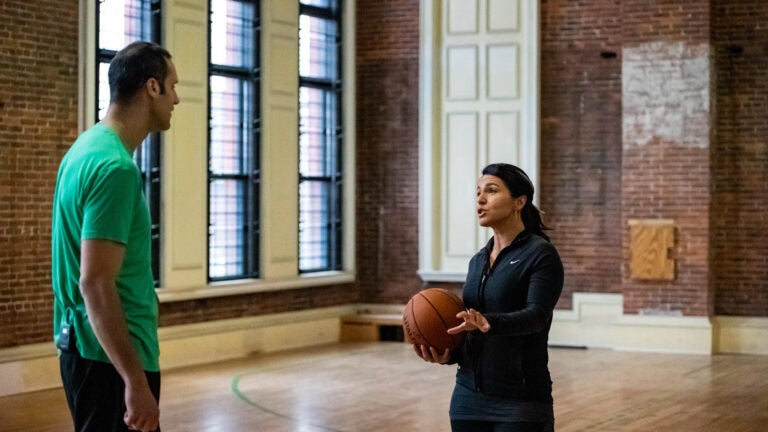 The New Hampshire primary has always come with its quirks and traditions. But this is a new one.
On a recent weekend afternoon, Luke Bonner — the younger brother of former NBA player Matt Bonner and a former professional basketball player himself — is coaching Rep. Tulsi Gabbard, the Hawaii congresswoman and Democratic presidential candidate, the proper fundamentals of a right-handed layup. They're surrounded by a half dozen cameramen, as well as a few Gabbard campaign staffers, on a dilapidated, third-floor basketball court in a nondescript location in downtown Concord.
"Act like there's a string attached from your right elbow to your right knee, so you're jumping off your left foot," Bonner explains, as he demonstrates — and misses — a layup.
"We'll edit that out."
Gabbard isn't the first presidential candidate to visit the mostly vacant building — Bonner insists the exact location be kept secret — to participate in the fledgling video interview show, "Shooting the Sh_t with Luke Bonner." The friendly, shootaround-meets-presidential politics series has hosted three other Democratic primary contenders, two of whom have since dropped out of the race.
Bonner, a 7-foot-tall Concord native who now runs his own sports consultancy firm, says what began as a "really stupid idea" is now something he hopes has staying power.
"The political season here is pretty nonstop," he said.
The conversation with Gabbard, who says she hasn't played much basketball outside the arcade at Dave & Buster's, ranges from her first NBA game at TD Garden to her criticism of the "corporate media" and the Democratic National Committee's handling of the primary debates to her childhood growing up playing tennis and surfing. Bonner plays the role of jovial interviewer-basketball coach, interspersing political questions with jump-shot tips.
While three-pointers remain out of Gabbard's range, the Army National Guard major did eventually make a few baskets from the free-throw line (one theme of the show is "always end on a make"). However, the highlight of the afternoon comes when one of Gabbard's shots ricochets off the rim and hits one of the cameramen in the head.
"I shouldn't be laughing," Gabbard said, laughing.
Bonner's questions aren't quite as hard-hitting, but that's not necessarily the point. It's more the setting — getting media-trained candidates out of their comfort zones — that can prove more revealing.
"It's a microcosm," Bonner said. "You get a feel of what it's like working with this person."
By far the most successful episode was the "Shooting the Sh_t" premiere this past fall with entrepreneur Andrew Yang, which has garnered more than 25,000 views on YouTube. An avid basketball fan, Yang talked about the roots of his campaign's hallmark universal basic income proposal, as well as the complaints about New York Knicks owners James Dolan. The episode also included Bonner somewhat gratuitously dunking on the candidate in an unexpected game of one-on-one.
"I don't really play basketball that much anymore and I missed some shots and he got the ball," Bonner recalled. "I was playing way off of him, and he scored on me. And I got kind of pissed off."
This dunk probably felt cooler to me in real time than it looks on camera. That said, watch ya head, @AndrewYang. #OffMe pic.twitter.com/OYrrMG7ZgA

— Luke Bonner (@LukeyBonner) September 27, 2019
Bonner, who played in college for West Virginia and UMass Amherst, has gone a bit easier on his subsequent interviewees.
The second episode featured former Pennsylvania Rep. Joe Sestak, who stopped in the midst of his short-lived White House campaign's 105-mile walk across New Hampshire and actually showed off pretty good shooting form. In the third episode, Bonner says he struggled to get self-help author Marianne Williamson to even attempt a shot.
"I'm like really tempted to try, but I'm not gonna do it," said Williamson, who arrived wearing platform Converse sneakers.
Only after the entire camera crew agreed to leave the court did she ultimately try and hoisted up a successful shot. The jubilant moment was nonetheless captured by a mounted baseline camera.
None of the top-tier Democratic candidates have been so brave, though Bonner says he has been in touch with the rest of the campaigns. On the top of his wishlist is Sen. Bernie Sanders, who somewhat famously was filmed shooting hoops in the downstairs gym at Concord High School (the alma mater of Bonner's older brother) following the Vermont senator's New Hampshire primary win in 2016. But with less than a week to go until the 2020 primary, time is running out (Sestak and Williamson have since ended their campaigns; Gabbard and Yang are polling in mid-single digits in New Hampshire).
Bonner says he might try to expand the series to campaign surrogates and wants to make "Shooting the Sh_t" at least a quadrennial occurrence. He hopes to get Republican candidates on the show, too. And the fact that at least one national outlet has copied the format is perhaps proof of concept.
"I'm probably going to live in New Hampshire for the rest of my life, and, as far as we know, the primary is going to continue to exist," Bonner said. "My whole thing is that I can literally play basketball with anybody."