Politics
Massachusetts Democrats accuse Charlie Baker of 'spinelessness' following Mitt Romney comments
"I wish I had the same respect for Governor Baker that he has for Mitt Romney."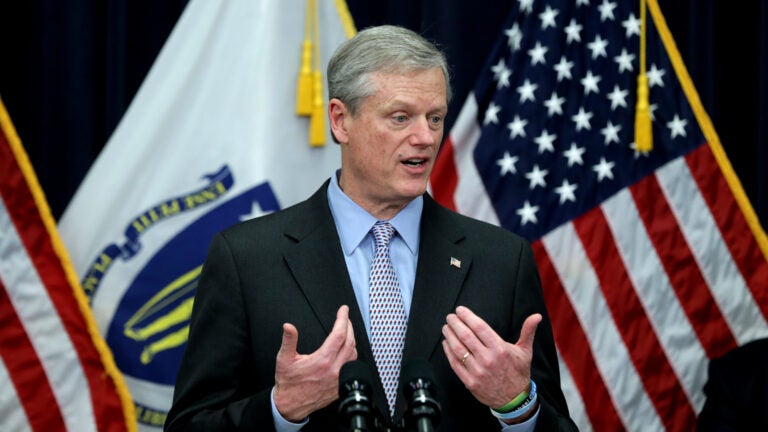 Gov. Charlie Baker says he respects the decision by Sen. Mitt Romney, a former Massachusetts governor, to vote to convict President Donald Trump in his Senate impeachment trial.
Massachusetts Democrats did not respect that response, accusing the Republican governor of "cowardice" and "spinelessness."
Baker, who has refused to say whether Trump's efforts to pressure Ukraine to investigate his political opponents constituted an impeachable offense, was asked about Romney's vote during an unrelated event Thursday afternoon.
"I've known Mitt Romney for a long time," he told reporters. "I have a tremendous amount of respect for him and I respect his decision."
Romney, who now represents Utah in the Senate, made history this week as the first U.S. senator to ever vote to remove a president from his own party from office. And while the Senate acquitted Trump on two impeachment charges, the 2012 Republican presidential nominee broke ranks to vote with the Democratic minority on one count, finding Trump guilty of abuse of power.
Baker noted Thursday that he also thought Trump's actions were "wrong," but declined to weigh in on whether he supported Romney's vote. The Swampscott Republican called the impeachment process a "partisan mess preordained from the beginning."
"And now it's going to be up to the voters to decide what they think about all this," he said.
In a statement responding to Baker's comments, Massachusetts Democratic Party Chair Gus Bickford said the governor's "default position" of not taking a position "shows his complete cowardice."
Bickford has consistently criticized the popular GOP governor — who has criticized Trump's policies and rhetoric at times but prefers to avoid national politics — for not taking a stronger stand against his party's divisive president. But in the wake of Baker's impeachment comments, the state party leader put his disapproval in particularly acerbic terms.
"For months, the impeachment proceedings have dominated the news and been an unavoidable topic of conversation for all of us," Bickford said. "Yet Charlie Baker has had nothing to say on the topic, until today when instead of condemning Donald Trump or sharing his thoughts on the Senate's vote to acquit, he simply offered vague criticisms of the process and indicated that he has respect for Senator Romney, who voted to convict Trump. Groundbreaking. I wish I had the same respect for Governor Baker that he has for Mitt Romney, but the Governor's spinelessness makes that impossible."
Alluding to Baker's decision to not vote for a candidate in the 2016 presidential election, Bickford sarcastically added that, headed into the 2020 election, "all we have to look forward to are months of Charlie Baker refusing to answer whether he will vote for Donald Trump." For his part, Romney has already declared he won't vote for Trump this November.
"Governor Baker is an incapable manager and a cowardly leader," Bickford said. "Perhaps it's time he just step aside."
Given the governor's persistent sky-high approval ratings in Massachusetts, that scenario appears unlikely.