Politics
A New Hampshire law sought to 'eliminate confusion' about voting. Instead, it created more of it.
Here's what you need to know.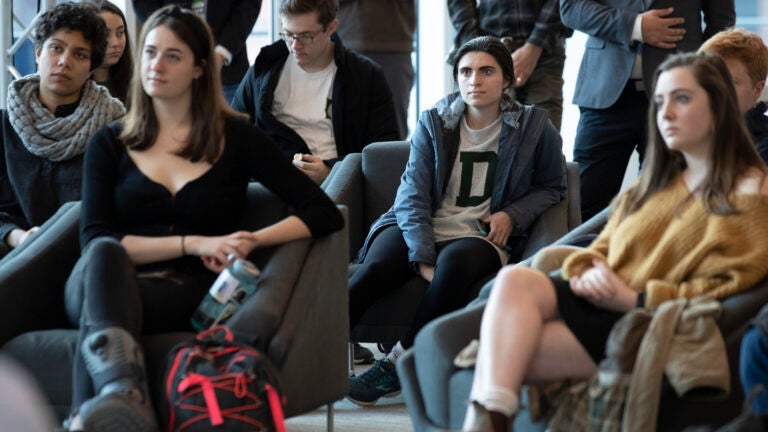 A recently passed law in New Hampshire purported to clear up confusion around the state's voting and residency laws.
But if anything, it appears to have had an opposite effect.
And as the Granite State's first presidential primary with the new rules approaches Tuesday, voting advocates want to make one thing clear, particularly to the out-of-state college students in New Hampshire.
"If you are domiciled in New Hampshire and a U.S. citizen and 18 years old and not currently incarcerated on a felony, you can vote," Henry Klementowicz, an attorney for the state chapter of the American Civil Liberties Union, told Boston.com.
However, the new rules have changed what it means to be "domiciled" in New Hampshire, and the exact consequences of doing so remain unclear.
What exactly change
In 2018, the state's Republican-controlled legislature passed H.B. 1264, which effectively ended the state's legal distinction between domicile and residency. According to Secretary of State Bill Gardner, New Hampshire had been"the only state in the country where you do not have to be a resident to vote," as individuals — typically, out-of-state college students — could say they were domiciled in New Hampshire for voting purposes, but retain residency in their home state for other purposes.
The bill was supported by Gardner, a registered Democrat, whose office argued it would "eliminate confusion" about the state's residency rules. However, it was primarily pushed by Republicans, who were disadvantaged by the influx of liberal-leaning students from other states who were allowed to participate in New Hampshire elections.
"If you're from Boston and you're up here eight months out of the year and you're registered to vote there, you shouldn't be able to vote here," state Sen. Dan Innis, a New Castle Republican, told Seacoast Online in 2016, when the effort was beginning to gain steam.
"It's not to disenfranchise anyone, it's to ensure we'll have a fair process," Innis said. "You shouldn't be voting in New Hampshire when you live in Mass. or Maine or Ohio or New York."
As NHPR reported at the time, the law simply struck just four words — "for the indefinite future" — from what the state said it meant to be domiciled in New Hampshire for voting purposes, aligning the definition with the residency requirements for getting a state driver's license or registering a car.
"House Bill 1264 restores equality and fairness to our elections," Republican Gov. Chris Sununu said upon signing the bill. "Finally, every person who votes in New Hampshire will be treated the same. This is the essence of an equal right to vote."
What are the consequences?
Democrats have accused Republicans of trying to suppress the Democratic-leaning vote of college students.
Sen. Jeanne Shaheen, the state's senior Democratic senator, sent a letter in April asking every Democratic presidential candidates to condemn the law — and  most of them did. Sen. Bernie Sanders called the law a "poll tax." Pete Buttigieg said it was an attempt to "intimidate young citizens out of voting." And in October, Sen. Elizabeth Warren's campaign's joined the ACLU's effort to block the law. Warren herself tweeted in May that H.B. was "nothing more than Governor Sununu's attempt to impose a poll tax on college students to make it harder for them to make their voices heard."
But the new rules don't actually change anything at the ballot box.
Students can even continue to register and vote on Election Day using an out-of-state driver's license or a valid New Hampshire student ID, along with other approved forms of photo identification (even without those documents, those who qualify can vote if they sign a voter affidavit beforehand).
"Our hope is that people aren't discouraged from voting by laws like this," Klementowicz said.
However, depending how it is enforced, it could spell consequences for certain voters down the line.
According to the Secretary of State's website, there are several ways of establishing domicile in New Hampshire, one of of which is registering to vote. And doing so could mean some out-of-state students (or new residents) would be required to.
An FAQ page on the state's website explains that anyone who votes and drives in New Hampshire must obtain a state driver's license (which costs $60) within 60 days of registering to vote (i.e. establishing their domicile). Similarly, anyone who owns a vehicle used in New Hampshire must register that vehicle in the state within 60 days. According to Klementowicz, the registration process can result in hundreds of dollars in fees.
There are some exceptions; of course, voters don't have to get a New Hampshire driver's license if they don't drive in the state. And they don't have to register their car (even if they drive it in New Hampshire) if it's owned by someone who doesn't live in the state.
Still, the repercussions for those who would be affected have raised alarms among Democrats and voting rights advocates — and confusion for some municipal officials. As NHPR reported last September, a town clerk in Hanover, where Dartmouth College is located, said she struggled to get information from state officials that she could pass on to students with questions.
"We cannot give bad information with something as important as registering to vote, and of course we know we're being watched by both parties in terms of how we react to people asking that question," Betsy McClain, the town clerk, told NHPR. "Without definitive guidance from the people that write the laws and the people that are going to be patrolling them, we're sort of stuck."
Klementowicz says the state doesn't appear to have any plans to systematically enforce the new law, though voters could potentially be cited after incidental traffic stops, if they are found to have not gotten a state license or registration within the 60-day period.
The Secretary of State's office redirected questions to the New Hampshire Attorney General's office, which hasn't released any specific plans for enforcing the rules.
"Each situation that might occur will be very fact specific and we cannot provide responses to hypothetical questions," Jill Tekin, a legal assistant in the office's election law unit, told Boston.com.
The ACLU' which has argued the law could also effect hospital residents and military personnel — had filed a court motion in November to block the rules before the Feb. 11 primary.
"There is an enormous amount of confusion about this law that will undoubtedly impact the voters affected by it," Klementowicz said at the time.
However, the case won't likely be resolved until later this spring; oral arguments are scheduled for March 10. In the meantime, they're trying to at least clear up the confusion.
"With the first-in-the-nation primary coming up in February, we must ensure that people know their rights and obligations when it comes to casting a New Hampshire ballot," Gilles Bissonnette, the group's legal director in New Hampshire, said when they announced the legal effort.