Politics
Here's what Elizabeth Warren said after her distant fourth-place finish in New Hampshire
"It is clear that Senator Sanders and Mayor Buttigieg had strong nights."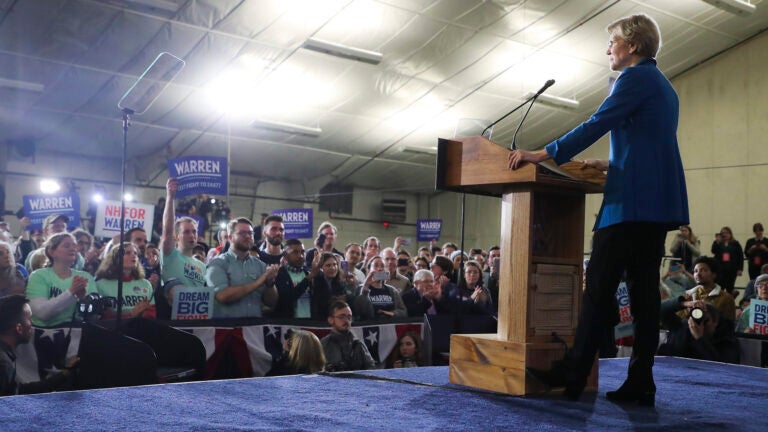 Sen. Elizabeth Warren took the stage at her New Hampshire primary night party in Manchester before even a third of the vote had been counted Tuesday night.
But one thing was already clear: It wasn't going to be her night.
With around 10 percent of the vote, the Massachusetts senator was in a distant fourth place in her neighboring state. Sen. Bernie Sanders, a fellow progressive populist, appeared poised to notch his second consecutive Democratic presidential primary victory in the Granite State with around 27 percent of the vote — followed by two more moderate candidates, Pete Buttigieg and Sen. Amy Klobuchar, whose late surge carried her to around 20 percent.
"It is clear that Senator Sanders and Mayor Buttigieg had strong nights," Warren told supporters at the Executive Health and Sports Center near the airport in Manchester. "And I also want to congratulate my friend and colleague Amy Klobuchar for showing just how wrong the pundits can be when they count a woman out."
For Warren, the results — with less than 15 percent support statewide and in both of New Hampshire's congressional districts — meant that she would leave with zero of the state's 24 pledged delegates, after earning eight from her third-place finish in the Iowa caucuses last week. Warren's vote total remained slightly ahead that of Joe Biden, who actually left New Hampshire earlier in the day Tuesday ahead of his own expectedly disappointing results.
While insufficient performances in the nation's first primary ended the campaigns of at least two other Democratic candidates Tuesday night, Warren gave no indication of letting off the gas. Her campaign says it has hired more than 1,000 staffers in 31 states. And the Cambridge Democrat noted Tuesday night that 98 percent of nominating delegates remain "up for grabs." Her campaign even sent out a memo Tuesday afternoon detailing their path forward and pointing out perceived weaknesses in her rivals' campaigns.
However, in her speech Tuesday night, Warren preached Democratic unity, predicting "another one of those long primary fights that lasts for months."
"The question for us, Democrats, is whether it will be a long, bitter rehash of the same old divides in our party, or whether we can find another way," she said. "Senator Sanders and Mayor Buttigieg are both great people and either of them would be a far better president than Donald Trump. I respect them both. But the fight between factions in our party has taken a sharp turn in recent weeks."
Warren alluded to the recent clash between Biden and Buttigieg, which featured a slashing online attack ad from the former vice president's campaign belittling the former South Bend, Indiana, mayor's record of accomplishments. She also referenced "supporters of some candidates shouting curses about other Democratic candidates."
"These harsh tactics might work if you're willing to burn down the rest of the party in order to be the last man standing," Warren said. "They might work if you don't worry about leaving our party and our politics worse off than how you found it. They might work if you think only you have all the answers and only you are the solution to all our problems."
Warren has recently begun pitching herself as the candidate who can best unify the Democratic Party's often-warring establishment and left-wing factions and said the party needs "a nominee that the broadest coalition of our party feels they can get behind" in order to generate the turnout needed to defeat Trump, as chants of "Warren" broke out in the audience.
Warren campaign manager Roger Lau argued in the memo released earlier Tuesday that "Warren is the candidate with the highest potential ceiling of support," and she echoed that message Tuesday night, even in the wake of the early results.
"Our campaign is best positioned to beat Donald Trump in November, because we can unite our party," she said.
Warren reiterated her message from the most recent Democratic debate about bringing the party together around ideas that "accomplish structural change for our broken government and our rigged economy." Warren's remarks, which included elements of her stump speech, also renewed her call for "ending corruption in Washington" to get government to work for the public, rather than special interests.
"I ran for office because I saw families were being squeezed harder than ever, and too many politicians were not getting enough done," she said. "I'm here to get big things done. Because here's the thing about politicians, whether they're offering vague platitudes or powerful rhetoric, they will ultimately face the same test: actually getting anything done in a Washington that is badly broken."
Warren referenced the influence of money in politics, repeating her largely correct debate claim that she and Klobuchar are "the only candidates in this race who are not billionaires or supported by Super PACs" and plugging her presidential campaign's renouncement of traditional, high-dollar fundraisers.
Warren also commended the Justice Department prosecutors who withdrew from the case against Trump's longtime friend Roger Stone on Tuesday, after senior officials at the agency intervened to recommend a more lenient sentence.
"Americans of all political stripes are gravely concerned about the corruption of a Trump Justice Department that abandons the rule of law to give sweetheart deals to criminals who commit their crimes on behalf of Donald Trump," she said. "Yes Roger Stone, I'm looking at you."
Warren finished her speech by returning to her core message, arguing that Democrats' best chance to defeat Trump was to nominate a candidate willing to "take on corruption in Washington and win.'
"This moment will not come our way again," she added.