Politics
Ed Markey hones his Green New Deal pitch ahead of first Senate primary debate
"The least that we should be able to say is that we tried."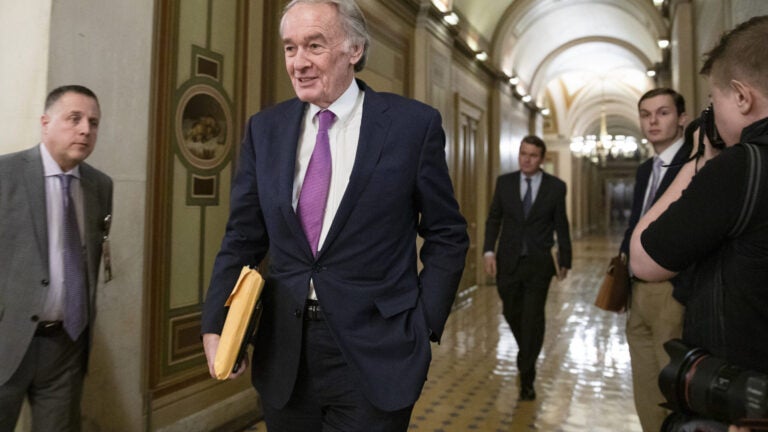 Sen. Ed Markey didn't have to do much convincing Thursday night in Somerville.
Just over a year since the Massachusetts senator and Rep. Alexandria Ocasio-Cortez introduced their Green New Deal resolution, Markey spoke about the ever-pressing need to take "transformative" action to address climate change in front of a friendly audience of 700 at Somerville High School.
And the feeling was mutual; after local elected officials spoke about the ongoing clean energy and sustainability efforts in the predominantly liberal city, Markey joked that Somerville was "becoming a second Green Monster."
What went virtually unmentioned during the town hall event was Markey's formidable Democratic primary challenger, Rep. Joe Kennedy III, who he will debate for the first time Tuesday night. After the town hall, the 73-year-old senator declined to point out any climate change-related policy differences between himself and his 39-year-old challenger, who has signed on to the Green New Deal. If anything, he indicated that his town hall Thursday was just a preview.
"I'm going to be talking about my leadership on those issues," Markey told Boston.com.
"The Green New Deal is a call for political arms to stand up and to fight, and that's what Alexandria Ocasio-Cortez and I began one year ago, and it's now the rallying cry for the whole country, especially young people," he said.
Markey's supporters have been more willing to tee off on Kennedy for challenging the longtime environmental advocate within months of his introduction of the agenda-setting resolution.
"This is such a critical time for climate," Craig Altemose, the executive director of climate action group 350 Mass Action, told Boston.com at the event Thursday night. "The [United Nations Intergovernmental Panel on Climate Change] says we've got 10 years to address this."
Kennedy has cited the "urgency" of addressing a number of problems for his Senate primary challenge, and his campaign has noted that the Newton Democrat has a progressive record of his own on climate and energy issues.
But according to Altemose, the congressman's timing — when Democrats should be focused on defeating President Donald Trump and flipping the Senate — is "unforgivable."
"Joe Kennedy is not out using his name and his resources to advance climate action," he said. "He's instead making us play a defensive action. Our organization now has to waste time defending Ed Markey. That is real, real harm to the movement."
During the town hall Thursday night, Markey's primary focus was the urgency of global warming, which the IPCC says could surpass dangerous thresholds as soon as 2030 if worldwide carbon emissions are not dramatically reduced. The Trump administration has even projected catastrophic impacts, from sea level rise to heat waves, by 2100 if emissions continue at their current pace. Markey also noted that climate change is considered a "threat multiplier," exacerbating refugee crises and regional conflicts.
Markey said the Green New Deal lays out a road map for a massive shift toward a green economy that would need to occur to combat that "existential threat," as well as protections for those most vulnerable to the changes. The resolution envisions a massive mobilization — coupled with an "economic bill of rights" — to achieve 100 percent net-zero carbon emissions in the United States in 2030.
Despite what he characterized as an existing "technological pessimism" around the subject, the Malden native touted how energy sources like solar and wind have already seen significant upticks over the last decade.
"But it's only a fraction of what could happen if we had real federal policy, if we had tax incentives and regulatory policy in every single state that matched the magnitude of the problem," he said.
The timeline is admittedly ambitious; Massachusetts has set a goal to achieve net-zero carbon emissions by 2050, which is as aggressive as any other state in the country.
However, Markey found a receptive audience Thursday night that a more urgent timeline was needed to effectively reduce emissions. 
The senator also cited a perhaps even more pressing issue: the upcoming election. Given the Trump administration's withdrawal from the Paris climate agreement and efforts to roll back vehicle efficiency standards, he said that a second term for the Republican president would amount to a "death sentence" for the planet.
"This is perhaps our last moment to really make a difference," Markey said. "If those tides are coming across Faneuil Hall, if Cape Cod is being destroyed, if Plum Island up in Newburyport is gone, the least that we should be able to say is that we tried."