Politics
Elizabeth Warren unveils bill in response to the Justice Department's intervention in the Roger Stone case
"This bill would use Congress' spending authority to protect the rule of law."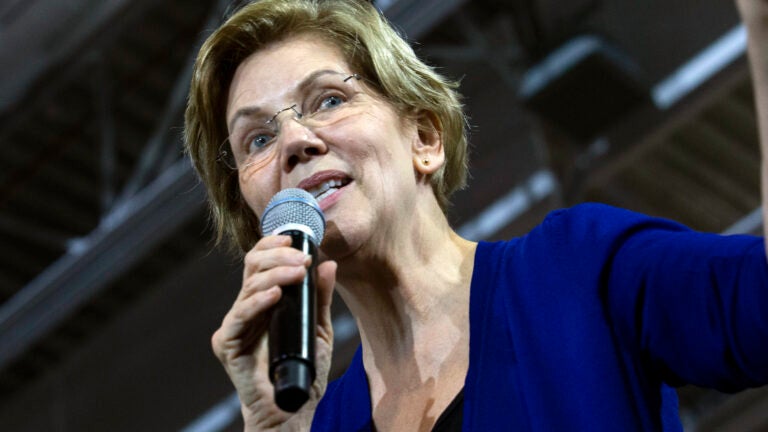 Sen. Elizabeth Warren isn't just calling on Attorney General William Barr to resign over the Justice Department's recent intervention in the Roger Stone case. The Massachusetts senator is also filing legislation Friday with two of her Democratic colleagues to block similar efforts in the future.
"Attorney General Barr's interference in Roger Stone's sentencing is not just unethical—it's corrupt, plain and simple," Warren said in a statement Friday afternoon.
Stone, a longtime ally of President Donald Trump, was convicted in November for lying and obstructing a congressional investigation into whether the presidents's 2016 campaign coordinated with the Russian government and is scheduled to face sentencing next Wednesday. Federal prosecutors had recommended seven to nine years of prison. However, earlier this week, after Trump called the proposed sentence "very horrible and unfair" on Twitter, the Justice Department overruled the recommendation in favor of an unspecific, lesser sentence.
The extraordinary move caused the four lawyers prosecuting Stone to quit the case and sparked outcry from Democrats, who accused the White House of political interference to help Trump's friend. And on Friday, Warren teamed up with other Democratic senators to file a legislative response.
Along with Maryland Sen. Chris Van Hollen and Hawaii Sen. Mazie Hirono, the Cambridge resident and Democratic presidential candidate unveiled a two-page bill that would block Justice Department funding for any involvement by a presidential appointee at the agency, including the attorney general, in a case or investigation that directly impacts the president, the president's family, or their campaign associates.
"This bill would use Congress' spending authority to protect the rule of law and prevent a corrupt Attorney General from protecting the President's buddies when they commit crimes to benefit the President," Warren said.
The trio behind the bill and six other Democratic senators also wrote a letter to Barr calling for his immediate resignation over the turn of events in the Stone case.
"It appears to show that you and other top DOJ officials intervened in a clearly political fashion to undermine the administration of justice at the President's behest in order to protect a well-connected political ally who committed a 'direct and brazen attack on the rule of law,'" the senators wrote in their letter. "It demonstrates that you lied to Congress during your confirmation hearing when you stated that you would 'keep the enforcement process sacrosanct from political influence,' and it reveals your unwillingness or inability to maintain the integrity of the DOJ and to uphold justice and the rule of law."
In an interview with ABC News this week, Barr denied that Trump had ever "asked me to do anything in a criminal case," though he added that the president's continued tweeting about such cases made it "impossible" to do his job and assure peers that "we're doing our work with integrity." And while he was "happy" Stone was convicted, Barr did say he believed the recommended seven-to-nine-year sentence was "excessive."
Barr added that he wouldn't be "bullied or influenced by anybody."
However, the senators' letter Friday asserted otherwise, arguing to Barr that the events this week made a "mockery of your responsibilities to seek equal justice under the law and reveal that you are unfit to lead the DOJ."
Warren had already tweeted Wednesday that Barr should "resign or face impeachment" over the Justice Department's intervention in the Stone case.
Congress must act immediately to rein in our lawless Attorney General. Barr should resign or face impeachment. And Congress should use spending power to defund the AG's authority to interfere with anything that affects Trump, his friends, or his elections.

— Elizabeth Warren (@ewarren) February 12, 2020
She also called for the second-time attorney general (who also served during President George H.W. Bush's administration) to resign last May over his efforts at the time to "suppress" special counsel Robert Mueller's report on Russian interference in the 2016 election.