Politics
3 big disputes from the first Senate primary debate between Ed Markey and Joe Kennedy
"It's hard for me to understand when a present vote is going to be a profile in courage."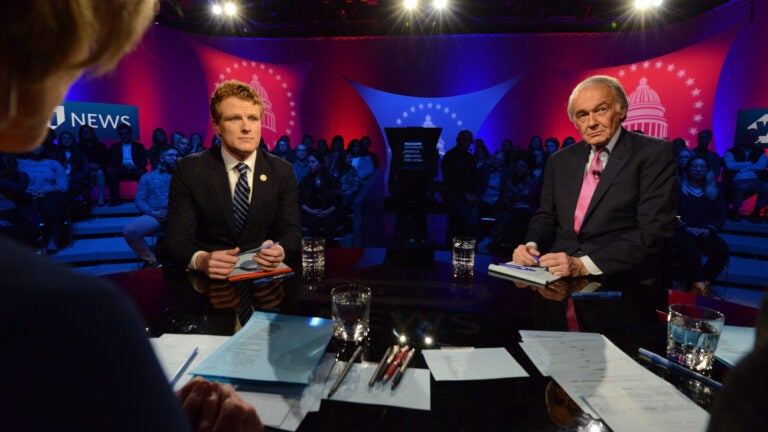 Sen. Ed Markey and Rep. Joe Kennedy III went head to head for the first time in their blockbuster Senate primary race Tuesday night.
In a debate hosted by WGBH News in Boston, the two Democrats — despite sharing plenty of common ground — clashed early and often over Markey's long record in Congress and Kennedy's rationale for challenging the incumbent Massachusetts senator. Simply put, Kennedy argued that he would be more able to leverage the power of the Senate seat, while Markey contended that his challenger wasn't fully appreciating the extent of his accomplishments.
Here were their three biggest disputes Tuesday night:
1. Markey is running on his record. So is Kennedy.
The perhaps biggest — and first — question of the debate for Kennedy was why he is trying to take down a fellow progressive with whom he agrees on most issues.
Kennedy said Markey has "absolutely" been a good senator. But in short, his argument was that the 73-year-old Malden native wasn't doing enough to advance their shared causes.
"This is not a swing state, and this is not a swing seat," the 39-year-old congressman said. "There is a special opportunity and obligation that comes with it, because voting the right way and filing the right bill — Mitch McConnell doesn't care."
Markey replied by rattling off a litany of bills — from energy efficiency to gun safety to Alzheimer's Disease research — that he authored and successfully passed into law. However, Kennedy diminished their significance, asserting that the last "meaningful" gun violence law was passed decades ago and that the last "transformative" federal environmental act was signed by President Richard Nixon.
"That's just not accurate," Markey shot back.
"The last meaningful gun safety legislation passed in the last week of December of 2019, when my bill was actually signed by Donald Trump," he said, referring to the $25 million that was included in this year's budget for the first federal research on gun violence in nearly 25 years.
Markey also plugged his work in the House that "doubled" fuel economy standards as the "single largest reduction in greenhouse gasses of any law that's ever passed in any country in the world."
"The law is on the books," he said.
Still, Markey is currently perhaps most well known for legislation that has yet to pass: the ambitious Green New Deal resolution he co-authored with progressive star Rep. Alexandria Ocasio-Cortez (whose name he plugged several times during the debate).
Kennedy also supports the Green New Deal and praised its goals and approach to combatting climate change with a focus on frontline communities. But he argued Democrats wouldn't be able to pass such transformative agenda items unless they enacted political reforms — like abolishing the Senate filibuster and Electoral College, which Markey also supports doing — and "leverage every ounce of power" of a Massachusetts Senate seat.
"I think I can do more," Kennedy told reporters after the debate.
A scion of the Kennedy family political dynasty, the Newton resident noted that he used his name recognition to campaign for Democrats across the country in 2018. Kennedy also noted that his Senate campaign has done 13 town halls across Massachusetts, including the state's first two Spanish-language campaign events. During the debate, he added that Massachusetts needs a "constant presence" in the state, a veiled reference to the fact Markey has residences in both Malden and the Washington, D.C., area.
"I think that's there's more that can be done in order to ensure people in the state know what is being done down in Washington," Kennedy told reporters. "Policy matters, but in this moment when so much is at stake, man, we've got to have folks who are doing everything they possibly can."
Asked about his opponent's insinuation, Markey returned to his record of legislative achievements, from millions in funding for harbor dredging in Boston, Plymouth, and New Bedford to pipeline safety legislation in the wake of the Lawrence gas explosions.
"I criss cross the state of Massachusetts on an ongoing basis," Markey told reporters — with a subtle jab at Kennedy's campaign mantra that he "shows up."
"I don't just show up, I stand up for these communities," Markey said, adding that "on each and every one of those issues, the difference is I have fought, I have led, and I have delivered. My bills are the law."
2. Kennedy rejects Markey's 'positive' People's Pledge
The debate Tuesday night was also the first time Kennedy got to press Markey in person on a subject on which his campaign has been dinging the senator from afar for months.
Kennedy and his team have been calling on Markey to sign onto a People's Pledge to restrict outside spending in the primary race.
Markey had been a supporter of the pact during his previous Senate races in 2013 and 2014. However, the senator — now poised to benefit from potential significant outside help from environmental groups — has proposed an alternative "updated" People's Pledge that would allow "positive" advertising from outside groups that disclose their donors.
During the debate, Markey made the case that Democrats shouldn't be silencing "positive" progressive voices in the era of Trump.
"That is an exception that swallows the rule," Kennedy countered, pointing out the subjective nature of allowing "positive" voices and questioning how such a rule would be effective.
Just as Markey's proposal would allow environmental groups to spend on the race, Kennedy's campaign has suggested that it could allow fossil fuel companies to run "positive" advertising in their own interests.
"You open the door to an absolute landslide of money coming in," Kennedy said Tuesday night.
Markey said that the "media would decide" what does and doesn't constitute a positive message. His proposal also calls for the candidates to hold a joint press conference condemning any ads that violate the pledge. Kennedy was unconvinced.
"After an ad is already cut, the media — the media — is going to come in and say it's not?" he asked, air-quoting the words "the media."
"So Fox News can say it is, but WGBH can say it's not?" he said. "There's no rationale to this whatsoever."
After the debate, Markey declined to elaborate on how his proposed pledge would be policed.
"As long as they're saying positive things about Congressman Kennedy or about myself, then I think they should be welcomed into the discussion," he said. "We should not be walling out all of this activist energy that has been created across the Commonwealth of Massachusetts."
3. Markey's war votes come under fire
One actual policy debate that did emerge was over foreign policy.
Both candidates said they supported withdrawing as many American troops as safely possible from the Middle East, but Kennedy took aim at two of Markey's past votes on military interventions in the region.
The first was Markey's vote in 2002 in favor of authorizing the use of military force in Iraq.
"He voted for it — without a sunset provision to say at a certain point you gotta come back and justify it, without a definition of success, without a question of what burden we're going to put on our men and women in uniform," Kennedy said. "And that authorization is being used 20 years later. … We still have no clarity as to what we're doing."
Markey pinned the blame for his vote on lies by President George W. Bush and his cabinet about Iraq having nuclear weapons.
"It was a false pretense to start a war," he said. "I'm still angry about that lie to the American people. I regret that vote. It was a mistake."
Markey said the lessons from that vote informed his current efforts to restrict Trump's war powers without congressional approval. Markey also noted that major anti-war groups have endorsed him in the Senate primary race, primarily citing his anti-nuclear proliferation efforts.
However, the senator was then asked about another controversial vote, which he blamed on incomplete information. Shortly after joining the Senate in 2013, Markey voted "present" during a Foreign Relations Committee vote on U.S. airstrikes in Syria. During the debate Tuesday, he said the vote was a "rush to judgment" without complete information being given to the committee.
"I protested that we weren't being given the information, and I said, 'I'm waiting until I get every I need to know whether or not we should be bombing Syria,'" Markey said, noting that he announced his opposition, after receiving more information, ahead of a Senate floor vote that never ended up happening.
Kennedy said that the lesson of the Iraq war was "that you do not go into another Middle Eastern country without knowing how you get out."
"And when confronted with that question, roughly 10 years after that vote, the senator voted present," Kennedy said. "Not no, not no, on a matter of war and peace, but present. And I think that record speaks for itself."
Markey argued that the additional information he demanded proved to be the "disinfectant" that helped defeat the Syria resolution, which President Barack Obama's administration pulled amid growing opposition. For his part, Kennedy expressed doubts that Markey's vote had swayed the decision.
"It's hard for me to understand when a present vote is going to be a profile in courage," he said.