Politics
Elizabeth Warren slams Mike Bloomberg over past allegations of sexism
"None of them accuse me of doing anything — other than maybe they didn't like a joke I told."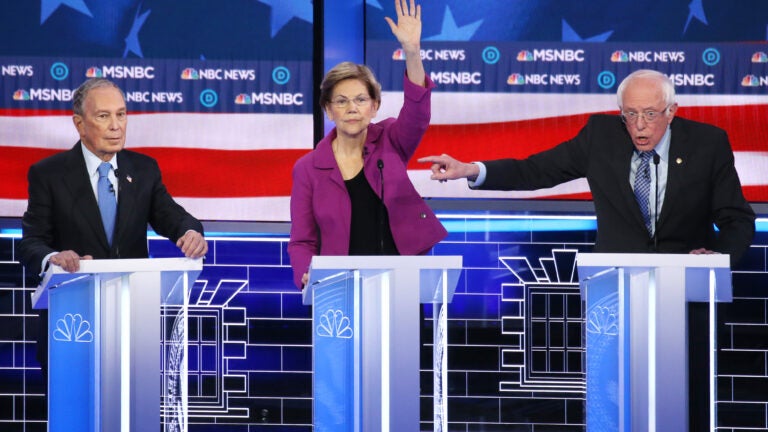 Sen. Elizabeth Warren wasn't the only candidate on stage to go on the offensive against Mike Bloomberg during the debate Wednesday night. But her broadsides against the former New York City mayor were early — and withering.
The Massachusetts senator's hand shot up after the first question of the debate, as Sen. Bernie Sanders criticized Bloomberg's past support of stop and frisk policing. Bloomberg, a Medford native, argued in response that the Vermont senator's support of a single-payer health care system would be a general election liability. Warren then chimed in to change the subject.
"I'd like to talk about who we're running against: A billionaire who calls women fat broads and horse-faced lesbians," she said.
Then came the twist.
"And no, I'm not talking about Donald Trump; I'm talking about Mayor Bloomberg," Warren said.
WATCH: Sen. Warren kicks off the #DemDebate by launching a direct criticism of Mike Bloomberg's previous comments about women. pic.twitter.com/x6RQvayWB4

— NBC News (@NBCNews) February 20, 2020
"Democrats are not going to win if we have a nominee who has a history of hiding his tax returns, of harassing women, and of supporting racist policies like redlining and stop and frisk," she continued. "Look, I'll support whoever the Democratic nominee is, but understand this — Democrats take a huge risk if we just substitute one arrogant billionaire for another."
Warren's remarks kicked off a series of early attacks against Bloomberg — who has tapped into his estimated $60 billion fortune to self-fund an unprecedented amount of money on his campaign — and specifically referred to a 30-year-old booklet written by employees of the businessman's firm Bloomberg LP, in which they recalled his most memorable quotes, including a number of sexist remarks. The Washington Post recently republished the book.
"The royal family — what a bunch of misfits — a gay, an architect, that horsey faced lesbian, and a kid who gave up Koo Stark for some fat broad," Bloomberg reportedly said in reference to the British royal family.
Bloomberg didn't immediately respond to Warren's initial criticism but was later asked by moderators about the history of sexual harassment and discrimination allegations at his company. The 78-year-old former mayor said he had "zero tolerance" for such behavior and noted that he has a history of hiring women to high-powered jobs. Bloomberg also said that his eponymous business information company was recently named the second best place to work in the country.
The moderators turned to Warren, noting that she had been critical of Bloomberg on the issue.
"Yes I have, and I hoped you heard what his defense was: 'I've been nice to some women,'" she said. "That just doesn't cut it."
Sen. Warren presses Bloomberg to address his history of treatment of women, and Bloomberg discusses non-disclosure agreements.

Warren presses Bloomberg to say number of women.

Bloomberg declines to release the women from agreements. pic.twitter.com/YoPGnQI0vJ

— NBC News (@NBCNews) February 20, 2020
Warren then pressured Bloomberg on her call for him to release former female employees who had signed nondisclosure agreements from the legal contracts preventing them from talking about their time at the company — garnering cheers from the debate hall audience.
"We have a very few nondisclosure agreements," Bloomberg said.
"How many is that?" Warren asked.
"Let me finish," he said. "None of them accuse me of doing anything — other than maybe they didn't like a joke I told."
Bloomberg added that the nondisclosure agreements were "between two parties that wanted to keep it quiet, and that's up to them."
"They signed those agreements and we'll live with it," he said.
But Warren, who made her name in the Senate grilling Wall Street executives, didn't let up.
"Some is how many?" she asked. "And when you say they signed them and they wanted them, if they wish now to speak out and tell their side of the story about what it is that they allege, that's now OK with you? You're releasing them on television tonight?"
Bloomberg demurred, saying it was a business decision. But Warren said he could still release them — pivoting back to undercut Bloomberg's core argument that he is uniquely able to beat Trump.
"This is not just a question of the mayor's character," she said. 'This is also a question of electability. We are not going to beat Donald Trump with a man who has who knows how many nondisclosure agreements and the drip-drip-drip of stories of women saying they have been harassed and discriminated against."
Joe Biden, the former vice president who clashed with Bloomberg before the debate, interjected to take Warren's side of the argument.
"It's easy," Biden said. "All the mayor has to do is say, 'You are released from the nondisclosure agreement.'"
Bloomberg maintained that the agreements were "made consensually and have every right to expect that they will remain private."
During the debate, Bloomberg's campaign recirculated supportive testimonials from his females colleagues on Twitter. However, Warren also broadened her criticisms to Bloomberg's past remarks linking the end of redlining to the financial crisis and his support of stop and frisk, which she said would also hurt his chances in a general election.
For the majority of the primary race, Warren refrained from attacking her Democratic opponents — but showed an early willingness to confront Bloomberg over his plan to "buy a nomination" through his self-funded campaign. Since launching his campaign three months ago, Bloomberg has spent hundreds of millions on campaign ads and staffing.
"It's a shame Mike Bloomberg can buy his way into the debate," Warren tweeted Tuesday, ahead of the former Republican's first appearance on stage. "But at least now primary voters curious about how each candidate will take on Donald Trump can get a live demonstration of how we each take on an egomaniac billionaire."