Politics
Why 'blood and teeth' has become an Elizabeth Warren campaign rallying cry
"Voters saw the return of the smart, passionate fighter they love."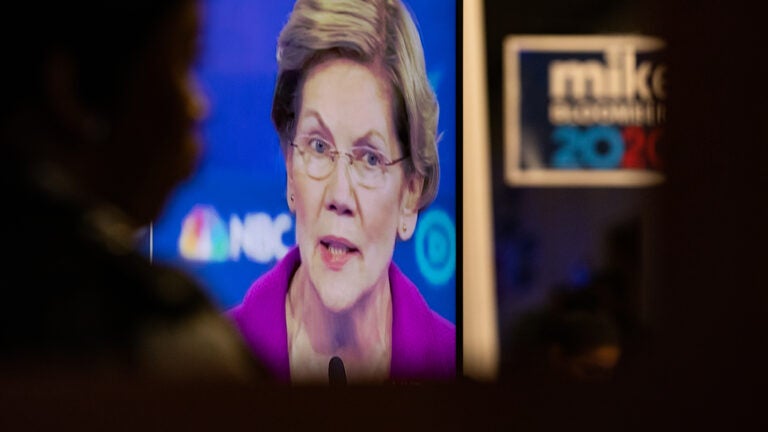 Sen. Elizabeth Warren's supporters were cheering her on, as always, during her dominant debate performance Wednesday night. But as the Massachusetts senator came out swinging early against her Democratic primary rivals, a common — if perhaps unfamiliar — rallying cry began to spread on Twitter among users with the Warren campaign's liberty green colors in their profile picture.
"Blood and teeth." Except in all caps.
BLOOD AND TEETH. https://t.co/8cDN0OER5n

— Natalie Montelongo (@natimontelongo) February 20, 2020
BLOOD AND TEETH https://t.co/VPHtQMtp2n

— Leidy Restrepo (@restrepolj) February 20, 2020
BLOOD AND TEETH https://t.co/ShbNpgiy0C

— Quinn Dunlea (@QuinnDunlea) February 20, 2020
The tweets are countless. And out of context, the unofficial slogan could sound unsettling to some.
But the phrase is rooted in one of the foundational moments of Warren's political rise. Back when she was a Harvard Law School professor during President Barack Obama's first term, the Cambridge Democrat conceived and helped establish the Consumer Financial Protection Bureau, a government watchdog focused on taking on deceptive practices in the financial services industry.
It wasn't easy; the effort to set up a strong, independent agency was met with stiff resistance from Wall Street, Republicans, and even business-friendly Democrats. However, Warren insisted that the CFPB should have independent authority and enforcement power. And in a 2010 interview with HuffPost, she colorfully outlined her willingness to fight for it.
"My first choice is a strong consumer agency," Warren said. "My second choice is no agency at all and plenty of blood and teeth left on the floor."
At the time, an opposing proposal in the Senate would have housed the CFPB within the Federal Reserve and given it relatively less independence and enforcement power, which Warren felt would rendered it feckless ("My 99th choice is some mouthful of mush that doesn't get the job done," she told HuffPost at the time).
In the subsequent decade, the "blood and teeth" quote has been sparingly mentioned in various profiles and articles on Warren and her background as a consumer advocate. However, it's seen a revival in recent weeks, just as Warren's campaign strategy has taken an apparent turn.
Following months of stagnant polls, Warren had pitched herself as a unity candidate who supporters of both Sen. Bernie Sanders and the race's more moderate candidates could coalesce around.
The short-lived strategy didn't help; Warren went on to finish third and fourth in Iowa and New Hampshire, respectively. And with her campaign on the ropes, Warren switched gears this week and began drawing more explicit contrasts between herself and her opponents.
Case in point was the debate Wednesday night in Las Vegas. In addition to her well-covered evisceration of former New York City mayor Mike Bloomberg over his record of alleged sexism, stop and frisk, and the financial crisis, Warren took early shots at the health care plans of her top rivals — Sanders, Pete Buttigieg, and Sen. Amy Klobuchar — and was willing to point out the differences between her platform and others throughout the debate.
For her supporters, it was an energizing return to form for the senator, who has long branded herself as a fighter and made headlines for her fiery interrogations of bankers on Capitol Hill.
"Voters saw the return of the smart, passionate fighter they love," Maria Langholz, the press secretary of the Progressive Change Campaign Committee, a PAC supporting Warren, told Boston.com.
"Blood and teeth" didn't just reemerge Wednesday night. Warren staffers started increasingly referencing the phrase in the wake of the New Hampshire primary (a low point for the campaign) and in the days leading up to the debate, during which Warren forecasted her plans to go scorched earth on Bloomberg. At least one campaign staffer even showed off a blood-and-teeth-inspired tattoo earlier this month.
"My first choice is a strong consumer agency. My second choice is no agency at all and plenty of blood and teeth left on the floor." –@ewarren pic.twitter.com/acDVTMPiqg

— Stephanie 🩸🦷 (@stephanixmedina) February 6, 2020
But the debate did bring a surge in the newfound mantra's usage, as Warren campaign staffers — from lower-level organizers to senior aides — and supporters flooded Twitter with exclamatory "blood and teeth" messages. While it's unclear whether the debate will be enough to significantly boost Warren in the upcoming Nevada caucuses and beyond, Langholz said her performance shouldn't be surprising.
"Elizabeth Warren has a long history of defending working people when massive corporations, banks, Wall Street investors, and yes, billionaires seek to rip them off," Langholz said. "She is the unity candidate because what unity has always meant for Elizabeth Warren is that voters across the Democratic Party are inspired by the feisty fighter who challenges power, fights corruption, names villains, and holds corporations accountable."
After the debate late Wednesday night, the Warren campaign's official account tweeted a shorter message.
https://twitter.com/TeamWarren/status/1230362053501689856