Politics
The Democratic presidential primary race descends on Elizabeth Warren's home turf
"Our momentum in the Bay State only continues to grow."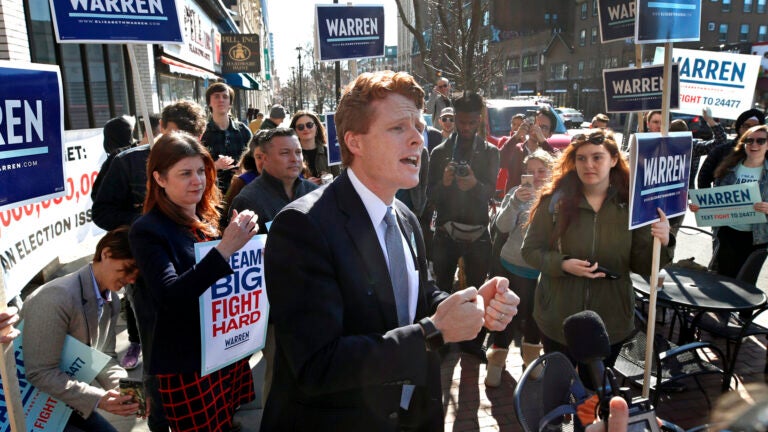 CAMBRIDGE — Rep. Joe Kennedy III remembers being first in line outside of Sen. Elizabeth Warren's office as a Harvard Law School student, waiting for the then-professor to get off the phone so he could ask her about "some crazy complexity in the bankruptcy code."
According to Kennedy, it became apparent that Warren was trying to get whoever was on the other end of the line off the phone. And as the conversation wore on, he realized who it was.
"It was Harry Reid," the Massachusetts congressman recalled Monday. "And she was getting the Senate majority leader off the phone as they were talking about her oversight of the Troubled Asset Relief Program (the 2008 bank bailout that Reid appointed Warren to oversee) to talk to a law student about the bankruptcy code."
Kennedy says it was a small but emblematic example of Warren's commitment to working to take on structures that lead to societal inequities, from teaching her students about contract law and the bankruptcy code to setting up the Consumer Financial Protection Bureau to "leading the fight against Mitch McConnell on the floor of the United States Senate."
"She did it because she believed that her students could perform and understanding that parts of this stuff were hard, but we all had the potential to get there," he said. "I see that same Elizabeth Warren in the way that she's approached this campaign."
That campaign has now arrived on Warren's home turf.
While all the Democratic presidential candidates may be in South Carolina this week, their campaigns have been ramping up their operations in Massachusetts, which is one of 14 states that votes on so-called Super Tuesday, March 3 (early voting in Massachusetts began Monday). And following Warren's third-place finish in Iowa and consecutive fourth-place finishes in New Hampshire and Nevada, rival campaigns see an opening to pick up delegates in the Bay State.
Warren's campaign is projecting strength — with "thousands" of volunteers and 55 canvassing events over the past weekend, featuring high-profile names like Attorney General Maura Healey, Rep. Jim McGovern, and Rep. Lori Trahan (Rep. Ayanna Pressley, who has also endorsed Warren, is stumping for her this week in South Carolina). In addition to the campaign's national headquarters in Charlestown, they also have a state office in Cambridge.
Kennedy, who met his wife, Lauren, in Warren's class at Harvard, was back in the senator's hometown Monday for an early voting kickoff event.
"This is probably far more personal than it is professional," he told a group of more than 50 Warren supporters outside a coffee shop in Central Square.
Kennedy was joined by Cambridge City Councilors Alanna Mallon and Marc McGovern, who offhandedly alluded to the local inroads made by Warren's longtime progressive ally and 2020 rival, Sen. Bernie Sanders, whose campaign announced the endorsements Monday morning of two fellow councilors, Jivan Sobrinho-Wheeler and Quinton Zondervan.
"The Cambridge City Council is supporting — most of us are supporting Elizabeth," McGovern said. "Let's remember where we are. We're in Cambridge. We're the bluest city in the bluest state."
Sanders, who narrowly lost the Massachusetts primary in 2016, is now leading the 2020 field in primary delegates. And over the past month, his campaign has opened offices in Boston, Lowell, and Holyoke and held a similar statewide door-knocking launch over the weekend, led by surrogates including Sunrise Movement founder Varshini Prakash and Ben & Jerry's co-founders Ben Cohen and Jerry Greenfield. The campaign also announced that Sanders will visit the state for a rally Friday night in Springfield.
"Our momentum in the Bay State only continues to grow," Trip Young, the Sanders campaign's state political director, said in a statement Monday announcing a new slate of endorsements bringing their local elected supporters up to 24.
The Vermont senator's state campaign also recently announced an all-day "festival of music and door-knocking" Friday through next Tuesday in Worcester — dubbed BERNIEPALOOZA — which urged supporters to "commit every second of your free time to the Sanders campaign."
"The Democratic primary may well pivot on MA," Daniel Moraff, the Massachusetts field director of the Sanders campaign wrote in a since-deleted description of the event. "A surprise victory in MA would fundamentally alter the dynamics of the campaign."
The Sanders campaign isn't the only one hoping to compete in Warren's home state.
Joe Biden's campaign has opened an office in Quincy and claims 90 endorsements from Massachusetts elected officials and activists, including former Secretary of State John Kerry, Rep. Stephen Lynch, Rep. Seth Moulton, former Sen. Paul Kirk, and former Rep. Bill Delahunt. The former vice president's campaign says they've had Massachusetts staff on the ground since early last fall.
Former South Bend, Indiana, mayor Pete Buttigieg's campaign announced last week that it has on-the-ground organizers in Massachusetts, in addition to 3,700 volunteers.
And former New York City Mayor and Medford native Mike Bloomberg has hired 56 paid staffers and opened six offices in Massachusetts — part of the billionaire's businessman strategy to leverage his vast wealth. Chaired in the state by former Boston police commissioner Ed Davis, the campaign even dispatched actor Michael Douglas to Bloomberg's hometown over the weekend to campaign on the candidate's behalf.
"I think on the issues Mike is closer to most of the people I know than the senator," Davis told the Boston Herald, when asked about Bloomberg's chances in Warren's home state.
Only time will tell.
Polling in Massachusetts has been sparse. And while earlier polls showed Warren with a lead, a survey released last week by the University of Massachusetts Lowell found a neck-and-neck race between Sanders and Warren. Although, given the poll's plus-or-minus 6.1 percentage-point margin of error, virtually every top candidate from Sanders at 21 percent through Sen. Amy Klobuchar in sixth place at 9 percent was actually in a statistical tie.
For his part, Kennedy refused to entertain the notion Monday that Warren might lose in Massachusetts.
"I think she's going to do great," he told reporters.
"This is Senator Warren's home turf," the Newton congressman added. "I think people here are excited to support her. They have supported her. They know her."
Warren's campaign has publicly downplayed the results of the three early contests, noting that the vast majority of delegates remain up for grabs and that a lot can change between now and Super Tuesday. Supporters have also pointed to evidence that her debate performance last week in Nevada appeared to give her a boost; Democrats will debate again Tuesday night in South Carolina.
"February 24th to March 3rd is an eternity," Kennedy said.