Politics
While everyone piled on Bernie Sanders during the debate, Elizabeth Warren did something different
The Massachusetts senator is trying to make a more subtle case against her left-wing ally.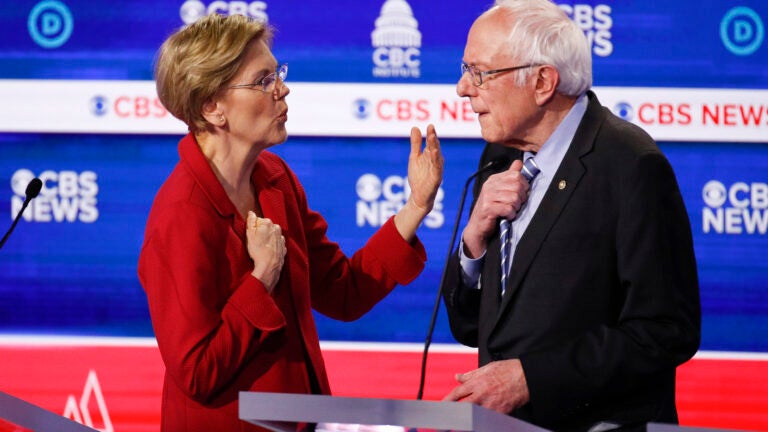 Elizabeth Warren had a fine line to walk Tuesday night in South Carolina.
The Massachusetts senator needed to make an argument for why she would be a better Democratic presidential nominee than Sen. Bernie Sanders, the primary race's current leader. At the same time, Warren could not alienate the progressive voters on which both she and the Vermont senator depend.
So while every other candidate on stage attacked Sanders's agenda as too expensive and politically risky during the 10th Democratic primary debate, Warren took a different approach.
"Bernie is winning right now because the Democratic Party is a progressive party, and progressive ideas are popular ideas, even if there are a lot of people on this stage who don't want to say so," the Cambridge Democrat said.
Was the strategy going to be to stand in unison with Sanders, as she did during the debates last summer? Not quite.
"Bernie and I agree on a lot of things, but I think I would make a better president than Bernie," Warren said. "And the reason for that is that getting a progressive agenda enacted is going to be really hard, and it's going to take someone who digs into the details to make it happen."
.@ewarren makes her case over fellow progressive @berniesanders: "Progressives have got one shot and we need to spend it with a leader who will get something done." #DemDebate https://t.co/66AoqN1Jh4 pic.twitter.com/X3azbJdgcE

— CBS News (@CBSNews) February 26, 2020
In the weeks following the New Hampshire primary, Warren has begun making the argument that she would be more effective at passing the proposals that she and Sanders both support. Outlining their broad agreements, Warren pointed Tuesday night to her record setting up the Consumer Financial Protection Bureau and her plans released last fall to transition to and pay for Medicare-for-All, the transformative single-payer health care vision championed by Sanders.
"Bernie's plan doesn't explain how to get there, doesn't show how we're going to get enough allies into it, and doesn't show enough about how we're going to pay for it," Warren said in perhaps her most direct barb of the night at her longtime ally.
While the Sanders campaign has released plans to transition to and, more recently, pay for Medicare-for-All, his financing proposals wouldn't cover the estimated $30 trillion cost of the government-funded system over 10 years. During the debate, Warren also noted that her Medicare-for-All funding plan, which has also come under scrutiny, "doesn't raise taxes on middle-class families." Sanders has acknowledged his plan would raise some middle-class taxes (though he emphasizes that average Americans would end up saving money through the elimination of premiums and other private health care costs).
"I dug in, I did the work, and then Bernie's team trashed me for it," Warren said Tuesday night, referring to the criticism she received after releasing her Medicare-for-All plan.
"We need a president who is going to dig in, do the hard work, and actually get it done," the senator added. "Progressives have got one shot. And we need to spend it with a leader who will get something done."
While she didn't join the big pile-ons Tuesday night against Sanders over his so-called electability or his foreign policy views, Warren elaborated on the theme during a later debate exchange about gun control. While other candidates, like former Vice President Joe Biden, aggressively went after Sanders over his previous, decades-old positions on gun control, Warren didn't. Instead, she subtly pointed out the candidates' differing positions on the Senate filibuster, which Warren cited for the lack of action of gun safety reform — among other things. 
"Understand this, many people on this stage do not support rolling back the filibuster," Warren said. "Until we're ready to do that, we can't have real change."
While she didn't specifically name anyone, Sanders, Biden, and Sen. Amy Klobuchar have not joined the calls for eliminating the 60-vote threshold to pass most legislation in the Senate; Warren and Pete Buttigieg have. And the former mayor of South Bend, Indiana, followed up by taking Warren's point directly to Sanders.
"This is not some long-ago bad vote that Bernie Sanders took, this is a current bad position that Bernie Sanders holds," Buttigieg said. "How are we going to deliver a revolution if you won't even support a rule change?"
Sanders defended his position by suggesting that his political revolution ultimately relies on mobilizing the public to pressure lawmakers to act.
"At the end of the day we need to rally the American people," he said.
Still, questions remain about the "tension between Sanders's revolutionary rhetoric and his more institutionalist approach to Senate rules," Vox's Ezra Klein wrote after the debate. Even if Democrats are able to reclaim control of the Senate, the chances that the party will have a filibuster-proof 60-vote majority are virtually zero, meaning Republicans could block most legislation.
On the campaign trail last weekend, Warren did call out Sanders by name, describing his filibuster position as the "big diff" between the two candidates. While she didn't specifically press Sanders on the subject Tuesday night, Warren's supporters were more forceful.
Asked about Sanders's early-state success, Rep. Ayanna Pressley echoed the argument that Warren would be the "most effective president" in an interview Tuesday with CBS News. The Progressive Change Campaign Committee, a PAC supporting Warren that has highlighted her "effectiveness" case, added after the debate that "Bernie cannot effectively get a progressive agenda done," referring to his filibuster stance.
"Bernie oddly had no answer," Adam Green, a co-founder of PCCC, said in a statement. "Why on earth is an anti-establishment revolution wedded to the old-school filibuster that gives Mitch McConnell a veto even if we retake the majority?"
Amid the the increased criticism, Sanders hasn't directly countered Warren — at least not verbally. The campaign did however recently announce two upcoming rallies in her home state of Massachusetts, as he aims to extend his delegates lead in next week's Super Tuesday elections.