Politics
Charlie Baker says he's 'disappointed' by a state House transportation funding package
"I don't believe you need to raise taxes to fund transportation at this point in time."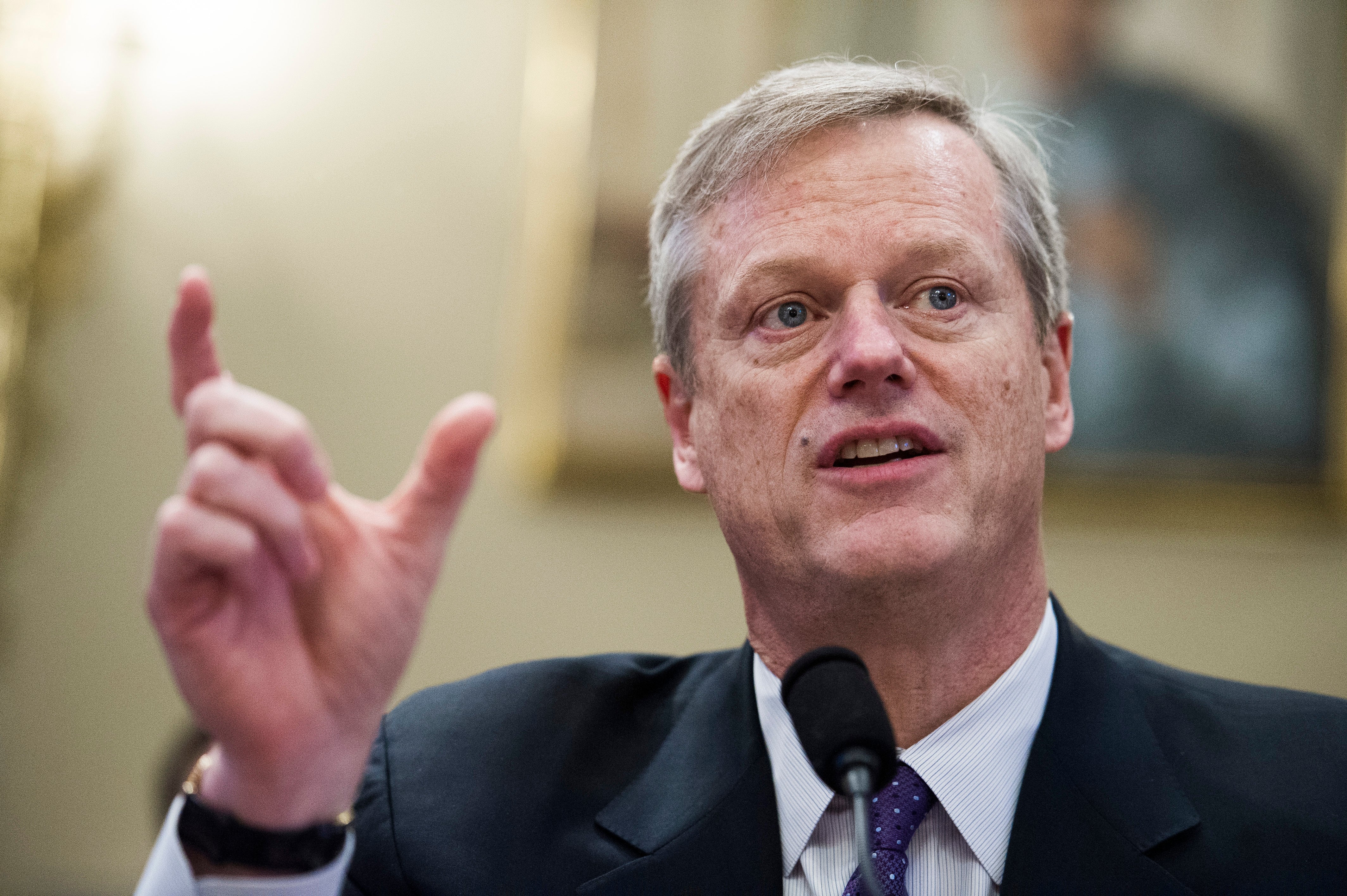 Gov. Charlie Baker says he's disappointed with a tax package state House leaders unveiled this week to increase transportation funding in Massachusetts.
The bill would hike up the state gas tax from 24 to 29 cents per gallon, with a 9-cent-per-gallon total increase on diesel fuel, as well as higher fees on trips by ride-sharing companies and the corporate minimum excise tax, among other proposals.
Altogether, the changes would bring in between $522 million and $612 million annually, which lawmakers say would help the MBTA fund repairs for the transit system and the state cover the cost of road and bridge maintenance.
Democrats also say the new revenue is needed so the state can afford Baker's $18 billion transportation bond bill, the State House News Service reports.
Lawmakers will put forth their own $14.5 billion bond bill next week.
But Baker — who's long been opposed to hiking up the gas tax and says he's against increasing the excise tax — said Thursday his plan is "absolutely" affordable without raising taxes, according to the news outlet.
"I don't believe you need to raise taxes to fund transportation at this point in time," the Republican governor said.
Under the House plan, fees on non-shared Uber and Lyft rides would jump from 20 cents to $1.20 per ride, with luxury rides growing from $1 to $2.20 per ride. The 20-cent shared ride fee would remain stagnant.
Lawmakers say the bill would mandate that the companies cannot foot their passengers the fees.
Changing up the state's tiered corporate tax system, the bill also sets a maximum annual fee of $150,000 for businesses that bring in over $1 billion in annual sales. Companies with fewer than $1 million in annual sales would see no change.
According to the news service, Baker's budget for next year outlined $200 million for the MBTA, while the tax bill establishes a new, $27 million fund for the T and puts forth a $160 million operational subsidy.
The number could potentially rise in April when the House Ways and Means Committee chairman files his budget, the outlet reports.
"I was disappointed that somehow the House actually funds less public transportation than we did in our budget," Baker said. "And we obviously want to have a conversation with them about that, because I believe what we proposed was the right amount of money to support not just the daily operation of the MBTA and the rest of our public transportation assets, but also the accelerated capital investment program."
Baker added he also doesn't believe officials can discuss transportation issues "unless you're also talking about housing and about climate change."
"From my point of view, we have proposals pending on all three of those items, and I would like to see them dealt with together," he said.
Baker met with Administration and Finance Secretary Michael Heffernan Thursday, where he asked Heffernan to gather "the sources and uses on our bond bill and get it to the Legislature," the news service reports.
Elder Affairs Committee Co-Chair state Rep. Ruth Balser said the House's proposal aims to raise money that will address issues people are concerned about.
While Baker has championed the Transportation Climate Initiative — a regional approach to curb greenhouse gas emissions — Democrats like Balser say Massachusetts officials "have no reason to assume it's going to happen."
Other states have expressed their own concerns with the TCI.
Balser herself was also disappointed by Baker's stance against raising the corporate minimum excise tax, she said.
"It's disappointing that the governor doesn't want employers to contribute their fair share," Balser said. "It's certainly in the interest of the employers that their workers get to work on time."
Debate over the bill is slated to kick off next Thursday.
Material from the Associated Press was used in this report.