Politics
Susan Collins isn't saying who she voted for in the Republican presidential primary
In 2016, the Maine senator said she would vote for Bill Weld if he were a presidential candidate. Now, he is.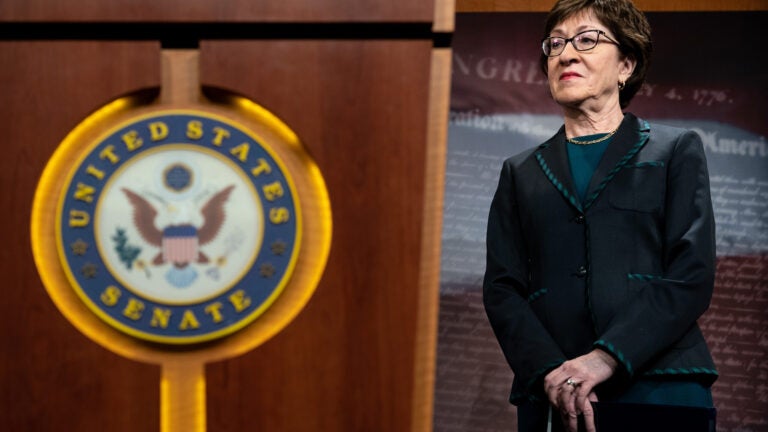 Massachusetts isn't the only New England state voting on Super Tuesday this week; Maine and Vermont residents will head to the ballot box, too.
And while most attention is on the Democratic presidential primary, the Republican race has forced a few local moderate GOP elected officials into a precarious position.
Maine Sen. Susan Collins, the region's only Republican senator, told the Portland-based NBC affiliate WCSH in an interview Friday that she voted by absentee ballot ahead of the primary election Tuesday.
For whom? Collins didn't say.
The 67-year-old senator, who is facing her most formidable reelection challenge this year, has at times broke GOP ranks to speak out against President Donald Trump, perhaps most memorably to help block the repeal of the Affordable Care Act. But she has also faced criticism from liberal constituents for not doing so enough.
In 2016, Collins said she wouldn't vote for Trump, calling the then-Republican nominee "unworthy" of the presidency. She even said she would have voted for the Libertarian presidential ticket, if the party's vice presidential nominee, former Massachusetts Gov. Bill Weld, was leading the ticket.
"If the Libertarian ticket were reversed … I would vote for the Libertarian ticket because I know Bill Weld well and I respect him a great deal," Collins said at the time.
Ironically, Weld is now in fact a presidential candidate, leading a ticket against Trump in the Republican presidential primary. However, Collins hasn't voiced support for his long-shot bid.
"I'm just not going to get into a discussion of presidential politics until 2020," Collins told CNN last April, after Weld announced his candidacy, calling such a discussion "premature."
Now, even after casting a ballot, Collins is still mum.
"I'm focused on my job and also on my own campaign and I'm just not going to get involved in presidential politics," she told WCSH, noting that her Democratic challenger Sara Giden, the Maine House speaker, also has not declared support for a candidate in her party's more competitive presidential primary.
Collins's campaign did not immediately respond to a request for comment.
Her position is eerily similar to that of her fellow Trump critic and Senate colleague Mitt Romney, a former Massachusetts governor and Republican presidential nominee in 2012, who now represents Utah, which also holds its presidential primary Tuesday. In 2016, Romney said he too would vote Libertarian, if only Weld was leading the ticket.
"I wish Bill Weld were at the top, because I knew Bill Weld as the governor of my state, Massachusetts, and he was a terrific governor," Romney said at a conference in the summer before the election. "I think he would be a great president."
When asked about Weld's run in April, Romney — like Collins — told CNN that it was "way too early for that." In February, he became the first U.S. senator to ever vote to remove a president of his own political party during Trump's impeachment trial. And yet, Romney hasn't publicly voiced support for Weld; a spokeswoman said Monday that they had "nothing for share," when asked about his vote in Utah's primary.
After voting for his wife Ann during the 2016 general election, Romney told The Atlantic last month that she will "probably get [a] second vote."
The approaches of the current Republican governors in New England have been a bit more mixed.
Massachusetts Gov. Charlie Baker, who has called Weld a "mentor," hasn't said who he will vote for Tuesday, but says it won't be Trump.
"As I've said many times, I didn't vote for the president last time, and I'm not going to vote for him this time," Baker told reporters last week.
Vermont Gov. Phil Scott, a fellow moderate Republican and frequent Trump critic, became the first sitting governor to endorse Weld earlier this month. Meanwhile, New Hampshire Gov. Chris Sununu has largely stood by Trump and his administration's policies.