Politics
Elizabeth Warren and Ayanna Pressley urge Trump to release certain inmates vulnerable to coronavirus
"People in prisons, jails, and detention facilities must not be overlooked during this crisis."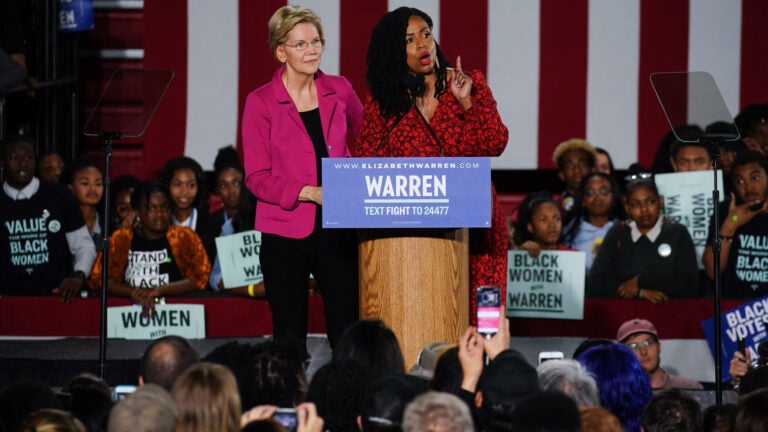 Sen. Elizabeth Warren and Rep. Ayanna Pressley are calling on President Donald Trump to use his authority to reduce the federal prison population amid the coronavirus pandemic and release low-risk inmates who are vulnerable to the infectious disease.
"Preventing the rapid spread of COVID-19 is the country's top priority and ensuring the safety and wellbeing of people in prisons, jails, and detention facilities is a critical part of that effort," the two Massachusetts Democrats wrote in a letter Friday to the Republican president.
"As we prepare to defeat this virus, it is the duty of every elected leader at every level of government to use their power to prevent COVID-19 from claiming lives," they wrote. "As President, that duty and responsibility falls even more squarely within your purview."
Warren and Pressley expressed concern that the often-crowded conditions in the prison system could "exacerbate the spread of COVID-19," as occurred in China. Federal prison staffers in both New Hampshire and Texas reportedly tested positive for coronavirus this week.
The letter specifically urged Trump to commute the sentences of three types of inmates, if they did not pose a "current and substantial" public safety risk: elderly individuals, medically vulnerable individuals, and individuals with one year or less remaining on their sentence (it also called for "streamlined procedures" to release those in pre-trial detention who have not been convicted of any crimes, noting that many can't afford bail).
As @CDCgov urges #socialdistancing, millions of incarcerated people are confined in overcrowded and unsanitary facilities. As part of the effort to combat #coronavirus, @SenWarren and I are calling on this administration to prioritize #decarceration now. https://t.co/DGr90XyhP6

— Congresswoman Ayanna Pressley (@RepPressley) March 20, 2020
The letter noted that 20 percent of federal prisoners are over the age of 50, a demographic that is both disproportionately at risk for suffering complications due to COVID-19 and increasingly unlikely to reoffend upon their release from prison. According to the Bay State lawmakers, nearly 40 percent of the general inmate population also have underlying health conditions.
As WGBH reported Thursday, six district attorneys in Massachusetts have already begun working to identify sick and elderly inmates who may merit early release. And a recent poll showed that 66 percent of likely voters support potential measures to reduce overcrowding in prisons and jails in response to the coronavirus outbreak; releasing elderly inmates and prisoners with certain underlying conditions received 58 percent and 53 percent support, respectively.
"People in prisons, jails, and detention facilities must not be overlooked during this crisis," Warren and Pressley wrote. "We still have time to prevent more devastating outcomes, but we must act quickly."
<hr>
<h2>Your 60-second guide to social distancing during the coronavirus outbreak</h2>