Politics
Here's why Seth Moulton withdrew his support of a resolution condemning China's coronavirus response
"I've heard this from many friends and colleagues, particularly members of the Asian-American community, who were hurt at a time when their community is under assault by racists in our own country."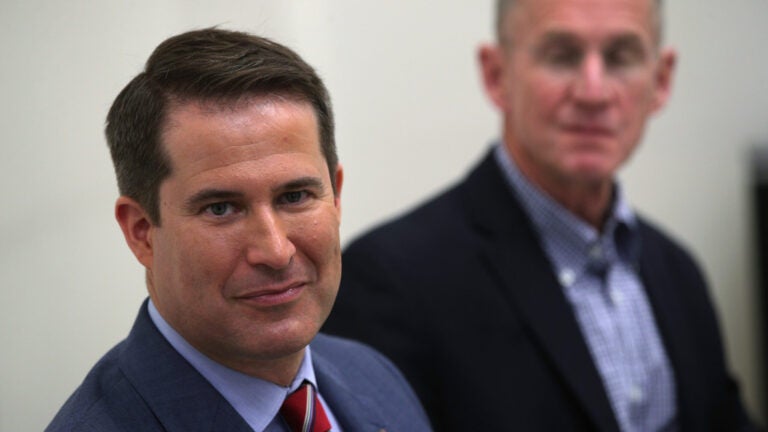 Rep. Seth Moulton is apologizing and withdrawing support from a proposed House resolution condemning the Chinese Communist Party's handling of the coronavirus outbreak, following criticism that it played into President Donald Trump's attempts to blame China for the global pandemic.
Moulton, who was an original sponsor and sole Democrat backing the resolution, said his intention was to call out the authoritarianism and propaganda efforts by the CCP. However, the 6th District congressman said the "substance" of the resolution was "overshadowed by President Trump's divisive, xenophobic attempts to deflect from his administration's abysmal response to this virus."
"I've heard this from many friends and colleagues, particularly members of the Asian-American community, who were hurt at a time when their community is under assault by racists in our own country," Moulton said in a statement Thursday. "I apologize for that, and I am withdrawing my support for the resolution."
The Salem Democrat had joined Indiana Rep. Jim Banks  and 17 other Republican members of Congress to introduce the resolution Tuesday (20 other House Republicans have since signed on in support).
The resolution states that China's sole, ruling political party, the Communist Party of China, "made multiple, serious mistakes in the early stages of the COVID-19 outbreak," which originated in the country's Wuhan province this past November. The resolution goes on to blame the Chinese government for heightening "the severity and spread of the ongoing COVID–19 pandemic," listing its initial efforts to spread misinformation and downplay the risks of the virus, including the censorship of doctors and journalists.
Last week, China announced it was expelling journalists from three major American newspapers, and had previously forced out Wall Street Journalist reporters in retaliation for a critical opinion piece last month (the Trump administration responded earlier this month with new rules to effectively expel dozens of Chinese media members from the United States). After several years of trade tensions, the two superpowers have recently turned to trading blame for coronavirus; Trump administration officials, led by the president, have dubbed the disease the "China virus" and the Chinese government has promoted unfounded rumors that the American military brought the virus to their country last year.
The resolution backed by Moulton, who is self-quarantining after experiencing symptoms of the disease, cast blame squarely on the Chinese government. And it called on the country's leaders to "publicly state that there's no evidence that COVID-19 originated anywhere else but China," denounce conspiracy theories stating otherwise, and revoke its expulsion of American journalists, as well as end its detainment of Muslim Uighurs and other forced labor camps.
However, critics said the resolution was, at the very least, poorly timed — and contributed to a growing strain of anti-Asian-American sentiment and harassment in the midst of the coronavirus outbreak.
"It's lazy scapegoating, hateful fear mongering, & just flat out dangerous," Roger Lau, the former campaign manager of Sen. Elizabeth Warren's presidential bid, tweeted Tuesday in response to the resolution, scoffing at the notion that Moulton's sponsorship gave it "bipartisan" legitimacy.
"Asian Americans have been victims of hate crimes that have been incited by ignorance like this," Lau wrote. "This is a global crisis & we're all in this together. We're better than this!"
Oh, and ONE Democrat signing onto a resolution does not make it a "bipartisan coalition." pic.twitter.com/Avdx2eaWuL

— Roger Lau (@RogerLau) March 24, 2020
Several of Moulton's fellow House Democrats also criticized the resolution for inciting racism, including California Rep. Judy Chu, the first Chinese-American woman elected to Congress, who publicly urged her colleagues against signing it. According to Politico, several Democrats said they were bewildered that Moulton chose the back the resolution.
"I am fighting to stop the racist attacks on AAPIs – that must include fighting rhetoric that directs anger and fear at Chinese people," Chu tweeted Tuesday.
As Chair of @CAPAC, I am fighting to stop the racist attacks on AAPIs – that must include fighting rhetoric that directs anger and fear at Chinese people, per @CDC's guidance. https://t.co/DYmmFdkVIS

— Judy Chu (@RepJudyChu) March 24, 2020
Chu told the HuffPost that she made that message clear to Moulton, who initially "insisted" on backing the resolution.
"I told him in very clear terms that introducing this resolution now, as emotions are so high and fear and anxiety are spiking at the highest rates, and as anti-Asian American hate crimes are on the rise, would be extremely harmful," she said. "He insisted he had to speak out against China in this moment."
As the Salem News reported Wednesday, it didn't take long before Moulton's primary challengers in the 6th District also piled on, arguing that the congressman should be focused on slowing the spread of the disease in the United States, as opposed to casting blame on a foreign government. In response, Moulton said it was important to criticize the Chinese government's actions in order to "hold President Trump accountable when he takes a page out of their playbook," echoing an earlier statement criticizing the Republican president's attacks on journalists.
My statement on the House resolution condemning the Chinese government's response to COVID-19. pic.twitter.com/WGCfTIW69L

— Seth Moulton (@sethmoulton) March 24, 2020
"A number of colleagues who have reached out have said they don't disagree with anything in resolution, they've just expressed concerns about the time, but the facts are what they are," he told the Salem News.
Moulton subsequently signed onto a Democrat-backed resolution Wednesday condemning all forms of anti-Asian sentiment related to COVID-19. The resolution referenced guidance by federal health officials that said Trump's efforts to name the coronavirus after China perpetuated a harmful stigma; one recent study reported more than 400 cases of anti-Asian discrimination related to the virus.
And those facts eventually consumed the "substance" of Moulton's resolution.
"As someone who has spoken in stark terms about racism in America and the dangerousness of Trump, the way the resolution has been used is unacceptable to me," he said Thursday.
Moulton has repeatedly said China is one of the biggest geopolitical threats to the United States, and said he signed onto the resolution in the belief that it was better when "both parties can address national security challenges together."
"I know that many of my colleagues on the other side of the aisle do not support the President's racist rhetoric and are able to look at the issue of China through a substantive lens, and I will continue to try to find ways to work with them in the future," he said.
Chu also thanked Moulton for reversing course on the resolution and for taking the time to talk to her about the Americans it impacted.
Thank you @sethmoulton for taking the time to talk to me about this resolution and the Asian Americans who it impacted. I look forward to continuing our work together. https://t.co/bN3bLPQlah

— Judy Chu (@RepJudyChu) March 26, 2020
---
Get Boston.com's e-mail alerts:
Sign up and receive coronavirus news and breaking updates, from our newsroom to your inbox.