Politics
Donald Trump defends federal response to Massachusetts orders for more coronavirus gear
"We're dealing with the governor very strongly."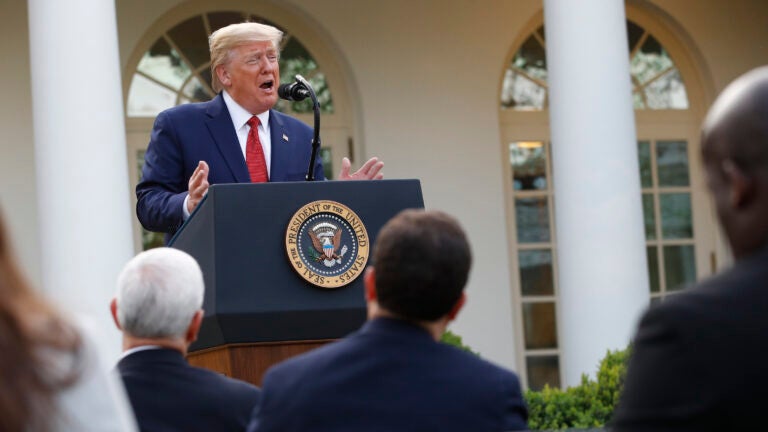 Massachusetts health care workers say they are in dire need of more protective equipment to treat the state's growing number of coronavirus patients.
However, while Florida has had 100 percent of its orders from the federal government's National Strategic Stockpile fulfilled, Gov. Charlie Baker's administration says only 17 percent of its requests for personal protective equipment, or PPE — like respiratory masks, gloves, and gowns — have been filled.
According to President Donald Trump, his administration is working to send the Bay State more equipment as soon as possible.
Asked about the discrepancy between Florida and Massachusetts in fulfilling requests from the depleted emergency stockpile during a press briefing Sunday evening, Trump said the country's governors were "happy with the job we're doing."
"Florida has been taken care of and Michigan has been taken care of," the Republican president said, referring to another state hit hard by the pandemic.
"Massachusetts — we're dealing with the governor very strongly and we're trying to get things to Massachusetts as rapidly as possible," he added.
Trump added that Florida was "very aggressive in trying to get things," but never explained the difference in fulfilled orders during his briefing Sunday. As the Washington Post reported Saturday, federal officials says the allocation of PPE is "focused on meeting future demand models where patient levels are expected to strain state and local medical conditions in coming weeks."
However, the president's remarks Sunday drew a quick response from Sen. Elizabeth Warren.
"No, President Trump, Massachusetts is not happy," Warren, a former Democratic presidential candidate, tweeted Sunday night. "The Commonwealth has received a fraction of its requested supplies. Your administration has outbid or seized our direct purchases. Health workers' lives are at risk and people are dying."
No, President Trump, Massachusetts is not happy. The Commonwealth has received a fraction of its requested supplies. Your administration has outbid or seized our direct purchases. Health workers' lives are at risk and people are dying. pic.twitter.com/atEF0tMdL0

— Elizabeth Warren (@SenWarren) March 30, 2020
Baker, a Republican, has also expressed frustration with the federal government. Trump has urged states to independently procure PPE, rather than solely relying on the stockpile. However, in their efforts to do so, Baker says his administration has been repeatedly outbid by the federal government, which is also trying to buy up supplies to replenish its stockpile, which is then redistributed back to states. After raising the predicament with Trump earlier this month, Baker publicly vented Thursday that officials were "killing ourselves" trying to get more gear, only to have "confirmed" orders swiped away by the feds.
<hr>
<h2>Baker: Federal delays in delivering medical gear 'enormously frustrating' (March 26)</h2>
<hr>
"I can't tell you how frustrated governors, including this one, are about the issue associated with landing the order," he said. "It's happened to us. It's happened to many governors across the country."
Marylou Sudders, the secretary of health and human services for Massachusetts, who is also leading the state's coronavirus response, recently told The Boston Globe that the state has had orders for more than 3 million masks effectively impounded by the federal government for the stockpile. And when they've attempted to make orders from the stockpile, only a fraction of their requests have been fulfilled, per the Globe:
On March 5, the state made a request for 4.5 million pieces of equipment, including 750,000 N95 respirators, the masks that offer the fullest protection against contagious respiratory illnesses; 750,000 pairs of gloves; and 750,000 gowns.

As of [last] Monday, the state had received roughly 750,000 pieces in total: 125,000 N95 respirators, 300,000 masks, and 210 coveralls, which weren't part of the initial request, according to a breakdown provided by the Baker administration.
Baker also wrote a New York Times opinion piece Friday with New Jersey Gov. Phil Murphy calling on the Trump administration to "support states' efforts to secure personal protective equipment and lifesaving items like ventilators."
"The government must boost private-sector manufacturing of these critical supplies now and get out of the way of states when we seek private-sector suppliers and release more materials from the national stockpile to meet our pressing needs," the two governors wrote.
"Our current state resources have not only been stretched to their limits; with our economies currently at a standstill, there are no new revenues coming in to support their continuation," Baker and Murphy added. "And with no idea when this emergency will end — pandemics are stubbornly ignorant of calendars — we cannot risk the collapse of the systems our residents are relying on to maintain their homes and feed their families."
---
Get Boston.com's e-mail alerts:
Sign up and receive coronavirus news and breaking updates, from our newsroom to your inbox.