Politics
Ed Markey is pushing the federal government for expanded grocery store guidelines
"The limited existing guidance is failing our essential workers and consumers."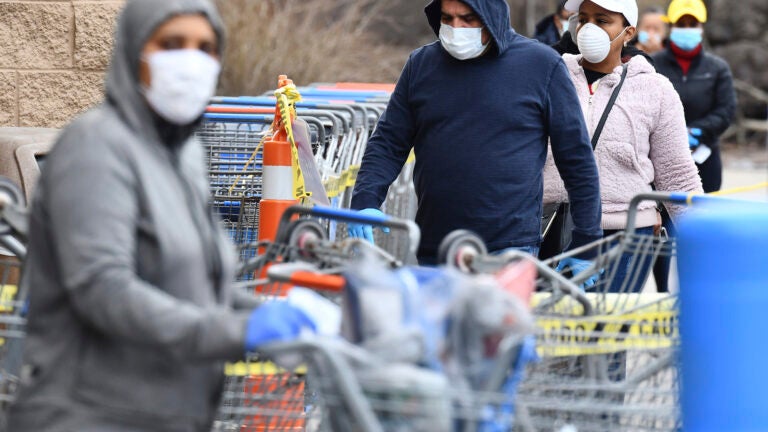 Major supermarket chains and food retailers still need to hire thousands of new employees to meet a growing demand while, at the same time, dealing with a current workforce that wants more pay and better protections to safeguard them against jobs that can literally cost them their lives during the coronavirus pandemic.
Employees in food retail have said, repeatedly, that they need safer workplaces to continue to meet the rising demand of Americans who are stuck at home with mouths to feed, and these workers have been willing to walk off the job to prove their point. But retailers, whether Instacart or Walmart or Whole Foods, have insisted they are already protecting workers. Supermarkets and other food retailers have adopted new procedures (checking employees' temperatures, maintaining six feet of space in checkout lines) and/or modified their physical properties by installing plexiglass barriers between consumer and worker.
<hr>
Grocery store workers protest outside of Whole Foods in Boston
<hr>
Yet the fact that there are still clashes between employee and employer over coronavirus safety tells Sen. Ed Markey, D-Mass., almost everything he needs to know: There are not clear guidelines from government agencies on how to protect workers – and customers – during the ongoing pandemic. On Tuesday, Markey sent a letter to the heads of the Food and Drug Administration and the Centers for Disease Control and Prevention to "issue and promote clear guidance for workers in the retail food industry and their customers."
As the coronavirus outbreak continues to alter life in the United States, Markey has focused his attention more on front-line workers. He doesn't limit his definition to those in health care, transportation and postal services. His idea of front-line workers includes, among others, grocery employees, restaurant workers, delivery drivers and anyone who provides "an essential or key public service." Last week, Markey sent a letter to the White House and the Federal Emergency Management Agency, arguing that these workers need personal protective equipment (masks, gloves, hand sanitizer), even though there's a widespread shortage of PPE (and a cache of federal supplies apparently still waiting to get into the right hands).
"Many of these workers have numerous close contacts with other employees, customers and the public, putting them at higher risk for coronavirus infection," Markey wrote in his letter to the White House and FEMA. "Without the ability to conduct proper physical distancing and PPE, these workers face significant danger."
The senator's letter to the CDC and FDA notes, "As we enter an extended period of social distancing during the coronavirus pandemic, best practices governing interactions in grocery stores and during food delivery are more important than ever." He writes that the federal agencies have provided some guidance, for the food industry and consumers, but that they don't go far enough.
"The guidance ultimately leaves decisions on the feasibility of worker protections to retail food establishments themselves," Markey wrote. "The limited existing guidance is failing our essential workers and consumers."
Markey has been one of numerous lawmakers encouraging President Donald Trump to implement all Defense Production Act powers to scale up the manufacture of respirators, gloves and other PPE, but he says a personal encounter at the supermarket opened his eyes to the threats faced by these workers.
"There was a woman at the cash register," Markey told The Washington Post in an interview Tuesday. "She was just working hard, but without any protection whatsoever. I felt that she was probably more exposed than almost anyone outside our medical community to hundreds of people a day, any one of which could have coronavirus. At the same time, she or her co-workers could transmit it back to the people who are coming through that checkpoint. I said to myself, 'This doesn't make any sense at all.' "
"These workers are risking their lives every day to provide essential goods to their customers," Markey added. "We should be doing everything in our power to ensure these essential workers have the resources and support they need to feel safe doing their jobs."
In his pursuit of more-comprehensive guidelines, Markey in his letter asked the federal agencies to answer the following questions by April 17:
"Please describe any measures the CDC and FDA have taken to address coronavirus-related safety concerns for workers in the retail food industry. How do the CDC and FDA plan to improve and promote that guidance?
"Please identify any guidance that the CDC or FDA has issued for consumers on how to protect themselves from the coronavirus while shopping for food or receiving food deliveries? Does the CDC or FDA plan to issue any expanded or additional guidance in these areas? If so, when? If not, why not? Please describe all efforts to promote this guidance to the public.
"The FDA has noted that social distancing may not be possible in certain food industry facilities. What steps are the CDC or FDA taking to safeguard workers who cannot abide by the social distancing guidance?
"What steps are the CDC or FDA taking to ensure that food retailers and delivery services are complying with guidance on protecting worker and consumer safety?"
Markey says he wants guidelines that would be more than recommendations. "I would like it to be something which has to be adopted across the entire industry," he said. "From my perspective, they should be mandates. We know that these are the best practices, and the only way we're going to defeat an enemy as strong as coronavirus is by adopting the best practices."
But how do you allocate PPE to retail food workers and delivery drivers when there are not enough for health-care workers?
"I think that at a minimum, [agencies] should provide better guidance on the types of PPE to use and when," Markey said. "I think they should leave it less up to employers so that workers are better protected, and I think they should actually take steps to make sure companies are complying with the guidance. But at a minimum, there should be some kind of PPE that is provided to protect the workers."
Asked whether he would be willing to allocate money to help these companies buy PPE equipment to protect their workers, Markey replied, "Where appropriate."
"But I think many of these companies right now are still doing a good business," he said, "and a part of doing business at this time is to provide workers with protections."