Politics
Ayanna Pressley urges Charlie Baker to rescind guidelines for potentially rationing COVID-19 care
The Massachusetts congressman says the state's point system "devalues the lives of individuals with disabilities and people of color," which is what the Baker administration hoped they would prevent.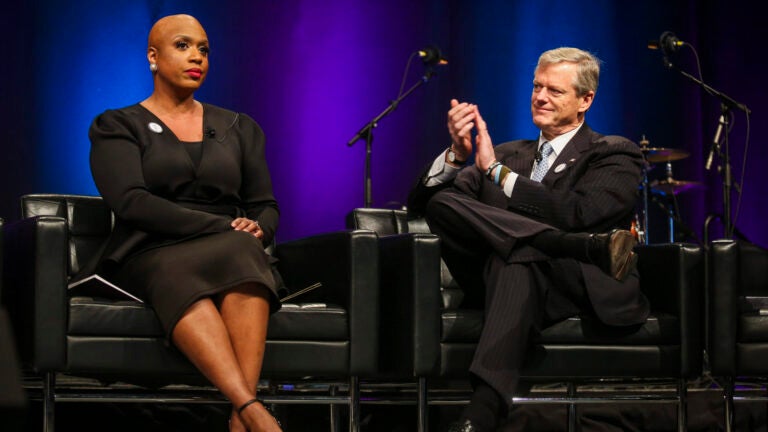 Rep. Ayanna Pressley is calling on Massachusetts Gov. Charlie Baker to rescind the state's crisis care standards, amid concerns that the recommendations for how to ration medical equipment if the coronavirus outbreak takes a turn for the worse would disproportionately harm communities of color.
The voluntary guidelines — which were developed by a group of local physicians and bioethicists and released by the Baker administration last week — advise hospitals on how to allocate things like ventilators and intensive care units if the number of critically ill patients is more than the supply. The standards also explicitly stress that characteristics like race, gender, and disabilities should not play a factor in those "tragically difficult" decisions.
However, in a letter to Baker released Monday night, Pressley said the standards would "exacerbate existing health disparities and disproportionately impact communities of color and individuals with disabilities" in more subtle ways.
The reason is that the standards use a point system to score and prioritize patients based on "saving the most lives" and "saving the most life-years" — meaning that healthier, younger people would generally be given preference.
The second half of the system is based on the presence of "life-limiting" co-morbidities, which refers to when a patient has another, preexisting condition or disease that could limit their long-term life expectancy. Patients are assigned up to four points based on the severity of the condition. They're also assigned between one and four points based on their prognosis for short-term survival. Those two scores are then added up and the patients with the lowest cumulative score get priority.
"Patients who are more likely to survive with intensive care are prioritized over patients who are less likely to survive with intensive care," the guidelines say. "Patients who do not have serious comorbid illness are given priority over those who have illnesses that limit their life expectancy."
But as Pressley notes, communities of color are more likely to suffer from co-morbid conditions like diabetes, asthma, and hypertension that heighten the risk of COVID-19 hospitalization and death, following centuries of racial discrimination in the United States.
"The legacy of structural racism and inequality has resulted in unequal access to affordable health care, safe and stable housing, and quality schools and employment," the Massachusetts congresswoman wrote, adding that the standards would also have a negative effect on people with disabilities.
"This crisis will force our physicians and frontline healthcare workers in hospitals, clinics, and community health centers to make difficult decisions that affect the lives of Massachusetts residents," she added. "But these decisions cannot be guided by a set of standards that devalues the lives of individuals with disabilities and people of color."
Preliminary data on COVID-19 released by the Baker administration (as well as in the city of Boston) suggest that Blacks and Latinos had disproportionately higher rates of infection. Pressley applauded the state for collecting the data, but said it was "only as good as the policy it informs."
"We must use it to prevent even worse outcomes from taking hold in our most vulnerable communities," the Boston Democrat wrote. "It is for this reason that I strongly urge you to rescind the MADPH Current Crisis Standard of Care guidelines."
Pressley isn't the first to express these concerns; Rep. Joe Kennedy and state Rep. Jon Santiago urged the Baker administration last week to abandon the point system, similarly arguing that the prioritization of patients without comorbidities "inevitably ranks people of color lower than others " as a result of deep-seated racial disparities. And as The Boston Globe reported Sunday, more than 250 frontline health-care workers recently called on the administration to reconsider the point system.
Asked for comment Tuesday morning, Baker's office pointed to comments made during a press briefing Monday afternoon by Health and Human Services Secretary Marylou Sudders, who is leading the state's coronavirus response.
Sudders noted that the guidelines were voluntary and that some hospitals in Massachusetts already have their own standards in place. She said a core reason for developing the standards was to combat "unconscious bias in making critical medical decisions during a pandemic" across a range of different social and economic factors at the facilities that did not.
"Frankly, if we had no ethically based guidelines for the fair distribution of scant resources of care, inequities would occur," Sudders said.
Still, she did acknowledge people of color, people with disabilities, and other marginalized groups were more likely to have preexisting conditions and, as a result, were most vulnerable to the virus.
"We must work to mitigate these longstanding institutional barriers, in order to improve equitable access to care and treatment," Sudders said.
Sudders also noted New York City, which has become an epicenter of the global pandemic, has not had to utilize its crisis care guidelines. The Baker administration has been racing to address a shortage of ventilators and build hospital bed capacity in the hopes that Massachusetts won't need to, either.
"We've been planning, and continue to plan, for the worst scenario, with the fervent hope that these guidelines are never used," Sudders said.