Politics
What we know about the multi-state effort Massachusetts joined to eventually reopen the economy
While President Donald Trump has called the pact a "mutiny" by governors in the midst of the coronavirus response, Gov. Charlie Baker says that not coordinating with neighboring states "would just be a bad idea."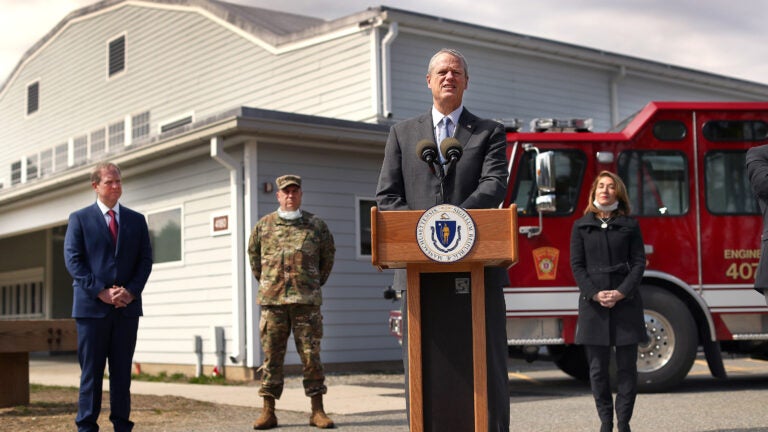 President Donald Trump suggested Tuesday that the agreement between several states, including Massachusetts, to eventually coordinate a reopening of the economy when the coronavirus outbreak subsides amounts to a "mutiny."
Gov. Charlie Baker says it's the only sensible approach.
"For Massachusetts to forge ahead here without presuming that we're going to have conversations with states that are around us about what they're up to and what we're up to so that we make sure nobody does anything that creates harm unwittingly for somebody else would just be a bad idea," Baker told reporters Tuesday afternoon, a day after Massachusetts joined the multi-state pact.
The plan with New York, New Jersey, Connecticut, Rhode Island, Pennsylvania, and Delaware — as well as a similar West Coast pact —  was announced Monday and consists of creating a council that includes a health expert, economic development expert, and the chief of staff from each state. Given their inherently connected economies, the states said the group would work together to gradually lift the economically devastating shutdown orders, while minimizing the risk that the deadly virus could rebound.
"This is not a light switch that we can just flick on and everything goes back to normal," New York Gov. Andrew Cuomo said in a statement. "We have to come up with a smart, consistent strategy to restart the systems we shut down and get people back to work, and to the extent possible we want to do that through a regional approach because we are a regional economy."
The timing and details of the coordinated reopening have to be released; experts say that the easing of restrictions will likely come in phases and that some social distancing measures could continue for over a year. All of the governors in the Northeast agreement also stressed that states need to continue to build up testing, contact tracing, and treatment capacity in the near term. Massachusetts and most other neighboring states have already extended school and business closures into May.
However, the multi-state pact comes as Trump has expressed increasing eagerness to lift stay-at-home orders and reopen nonessential businesses — reportedly as early as May 1. During a press conference Monday, the Republican president dubiously claimed that he had the authority to lift states' shutdown orders, even though they were imposed by governors through special emergency powers.
Trump, who says his administration plans to release federal guidelines on reopening the economy, went so far Tuesday as to suggest the "Democrat Governors" planning regional approaches were revolting against him, invoking the 1962 movie "Mutiny on the Bounty."
"A good old fashioned mutiny every now and then is an exciting and invigorating thing to watch, especially when the mutineers need so much from the Captain," he tweeted, alluding to the fact that states have been getting shipments of needed medical supplies from the federal government's stockpile.
Tell the Democrat Governors that "Mutiny On The Bounty" was one of my all time favorite movies. A good old fashioned mutiny every now and then is an exciting and invigorating thing to watch, especially when the mutineers need so much from the Captain. Too easy!

— Donald J. Trump (@realDonaldTrump) April 14, 2020
Asked about Trump's tweet during a press conference Tuesday afternoon at a Cape Cod field hospital being set up to potentially treat coronavirus patients, Baker said his administration is "a lot more interested in the work than we are in the noise."
As the sole Republican governor in the multi-state agreement, Baker warned against "reversing course too soon" on the restrictions (Massachusetts has ordered nonessential businesses to close their workplaces and advised residents to stay at home as much as possible).
"Opening up before we're ready … will only make matters worse," he said.
Stressing the importance of testing and contact tracing, Baker said there was still "a lot of work to do"  before a plan to reopen the economy could be set in motion.
He also noted that Massachusetts is "in a different place in terms of our surge" compared to other states. While the states New York believe the "worst" of the outbreak may be over within their borders, officials in Massachusetts believe the state is just entering its peak in coronavirus cases. The Department of Public Health reported Tuesday that the number of coronavirus cases in Massachusetts has climbed above 28,000. Baker said the next several weeks will be a "very difficult period" for the state and its health care system.
At the same time, Baker emphasized the importance of planning how to get back to the "typical routines of life."
"We know everyone's anxious to talk about how we get back to something like normal, and I can promise you that I am, too," said the governor, who has emotionally noted that this past weekend was the first time in 50 years that he had not spent Easter with his 91-year-old father, due to social distancing precautions.
Given how intertwined the Massachusetts economy is with its neighboring states (with more than 200,000 out-of-state commuters, in addition to other regular trade and travel), Baker said it would be a "mistake" to not coordinate with others in the region.
The governor said he also talks "all the time" with Vermont Gov. Phil Scott and New Hampshire Gov. Chris Sununu, two fellow Republicans whose states are not currently part of the official council. Baker said he also speaks with Maine Gov. Janet Mills "quite a bit as well."
"We share a lot of commerce, a lot of travel, and a lot of people with the states that are around us," Baker said. "What we do has an impact on them. What they do has an impact on us."