2020 Election
Elizabeth Warren cites Joe Biden's post-Boston Marathon bombing speech in endorsement
"I've seen the vice president help a community heal."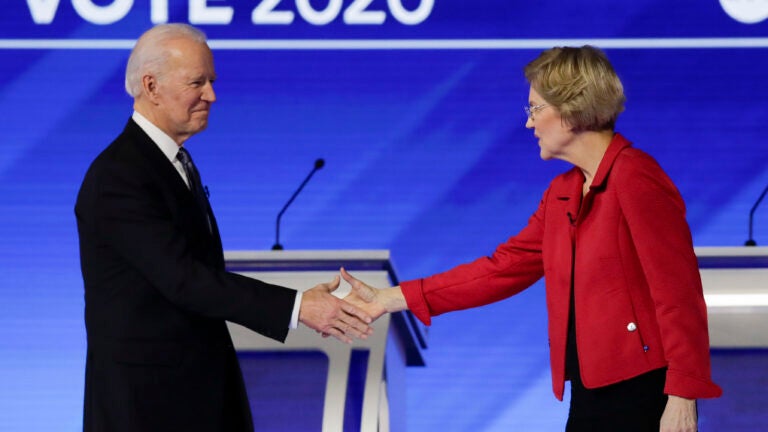 Following a hard-fought primary race, Sen. Elizabeth Warren endorsed her former 2020 rival and the presumptive Democratic nominee, Joe Biden, for president Wednesday morning, citing the former vice president's public service experience and character.
"Empathy matters and, in this moment of crisis, it's more important than ever that the next president restores America's faith in good, effective government," Warren said in a video released Wednesday morning.
In this moment of crisis, it's more important than ever that the next president restores Americans' faith in good, effective government—and I've seen Joe Biden help our nation rebuild. Today, I'm proud to endorse @JoeBiden as President of the United States. pic.twitter.com/VrfBtJvFee

— Elizabeth Warren (@ewarren) April 15, 2020
The Massachusetts senator referred to Biden's work overseeing the 2009 stimulus package, as well as his visit to Boston following the 2013 marathon bombing, as evidence that he could help rebuild and heal a "bitterly divided" country following both the coronavirus pandemic and presidency of Donald Trump.
"I've seen the vice president help a community heal," Warren said, referring to Biden's moving "We own the finish line" speech in 2014.
"Six years ago today, one year to the day after the Boston Marathon bombings that tore up bodies and tore at our sense of safety and community, he was right here," she continued in the video shot from her Cambridge home. "People who'd been hurt, people who were afraid — he gave them peace, he gave them grace. I watched it up close."
The endorsement comes nearly six weeks after Warren suspended her own presidential campaign, as Democrats now close ranks around Biden. Former President Barack Obama and Vermont Sen. Bernie Sanders, the runner-up in the 2020 primary race, also endorsed Biden earlier this week.
During her endorsement video, Warren acknowledged her long-standing differences with some of Biden's more moderate, business-friendly stances. But she also applauded the Delaware Democrat for being willing to change his mind.
"When you disagree, he'll listen — not just listen, but really hear you —  and treat you with respect, no matter where you're coming from," Warren said. "And he has shown throughout this campaign that when you come with new facts or a good argument, he's not too afraid or too proud to be persuaded."
For example, after Warren dropped out of the race, Biden endorsed her bankruptcy reform plan, among other recent efforts to appeal to unenthused progressives. The plan would repeal a bankruptcy law for which Warren fiercely criticized Biden in the early 2000s when she was still a Harvard law professor.
In the new video Wednesday, Warren fondly remembered how Biden acknowledged their past tension when he swore her in as a U.S. senator in 2013, and signalled how he had no hard feelings.
"He swore me in. And when he did, he said, 'You gave me hell! And you're gonna do a great job,'" Warren said. "Because that's the thing about Joe: He wants you in the fight with him."