Politics
Harvard poll finds that a staggeringly low number of young Americans think the government is working as it should
"There's a general anxiety that government isn't addressing our problems."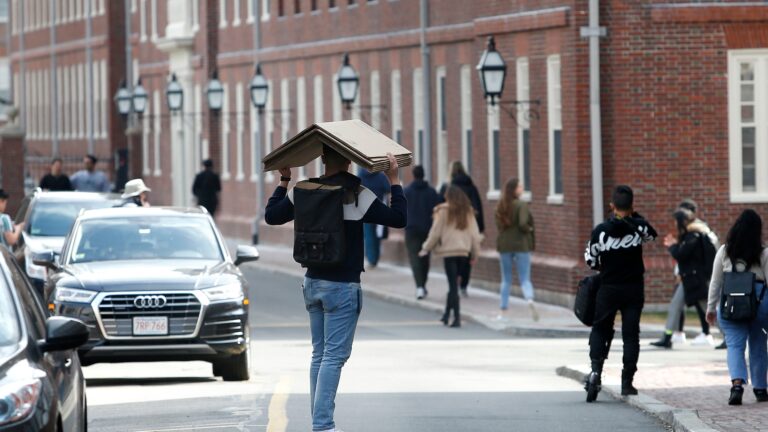 The federal government has rarely scored high in the realm of public opinion. But according to a new Harvard poll released Thursday, the youngest generation of voters has a particularly dismal view of the current political system.
The semiannual poll of the nation's 18-to-29-year-olds by the Kennedy School's Institute of Politics found that just 8 percent of likely voters say the "government is working as it should be," while 90 percent said the existing system should be reformed or replaced.
For a generation that has grown up with the impacts of a historic recession, rising gun violence, and now a pandemic, the results were "unsurprising," according to Justin Tseng, a sophomore at the Cambridge university and member of the Harvard Public Opinion Project, which conducted the poll. Tseng said the results were reflective of the student group's anecdotal experiences interacting with friends and classmates on campus — even at an elite university.
"There's a general anxiety that government isn't addressing our problems," Tseng said during a conference call Thursday, ticking off other stress-inducing issues like the costs of health care and housing.
"The more people are concerned about these issues, the more they tend to be for more radical forms of change," he said. "People are literally sick and tired."
The poll, which has a margin of error of plus-or-minus 2.78 percent, surveyed more than 2,500 young Americans from March 11 to March 23, a time when the coronavirus outbreak was just beginning to escalate in the United States.
When asked to name the most personally concerning issues, a 19 percent plurality of respondents named the virus, while health care was a close second at 17 percent, which was a two-fold increase compared to the results of the previous poll last fall.
"Well before COVID-19 struck, we knew this to be a generation anxious about their future, John Della Volpe, the polling director for the Institute of Politics, said in a statement. "The pandemic brought these anxieties into focus."
Respondents also reported preexisting struggles with economic insecurity; more than a quarter of those in the 25-to-29-year-old age cohort reported being burdened by some form of debt to the degree that it was affecting their life decisions. The cost of housing was also a concern for a majority of those polled across all racial, gender, educational, and political subgroups.
According to the poll, 51 percent of likely voters aged 18 to 29 said the problems could be solved through "reforming the institutions we already have," while 39 percent said "we need to replace and create new institutions to address those challenges."
While the poll suggested that left-leaning voters prefer more aggressive action, the disillusionment with government transcended party lines. Just 11 percent of self-identified Republicans and independents said the government was working properly; that number plummeted to 4 percent among self-identified Democrats. A majority of young Democrats (51 percent replace, 44 percent reform) also said government institutions should be replaced, while a vast majority of Republicans (68 percent reform; 19 percent replace) and a plurality of independents (49 percent reform, 38 percent replace) said they preferred reforming existing institutions.
Tseng said that while the message of former Democratic presidential Bernie Sanders may have resonated with progressive, the results of their poll showed that young conservatives and young moderates were also disillusioned with the political status quo. The 2020 presidential election "will be about which candidate speaks to this feeling," he added.
Interestingly, despite the enthusiasm generated by the Sanders campaign among young voters, the Harvard poll found that presumptive Democratic presidential nominee Joe Biden's advantage over President Donald Trump was similar to the general election advantage that the Vermont senator would have if he had won the primary race.
The poll — taken before Sanders suspended his campaign — found that 62 percent of likely voters from age 18 to 29 would vote for Sanders in a hypothetical race against Trump, while 31 percent said they would vote for the Republican president; 6 percent said they would be undecided.
In the now-likely race between Biden and Trump, 60 percent said they would vote for Biden, 30 percent said they would vote for Trump, and 10 percent said they were undecided. While Democrats and Republicans mostly fell in line behind their presumptive nominees, young independents broke towards Biden over Trump at a more than two-to-one rate, 56 percent to 25 percent.
Two thirds, or 66 percent, of likely young voters said they disapproved of Trump's performance in office.
While young Americans have consistently voted at a lower rate than older age groups, Della Volpe pointed to the 2018 election, which saw significantly higher youth turnout than previous midterms, as evidence that younger voters may be increasingly giving voice to their anxieties at the ballot box.
"I'm hopeful we see that in this cycle as well," he said.