Politics
Local officials are asking state lawmakers to put a cap on fees delivery services charge restaurants during COVID-19
"We believe that it is necessary to do so as quickly as possible."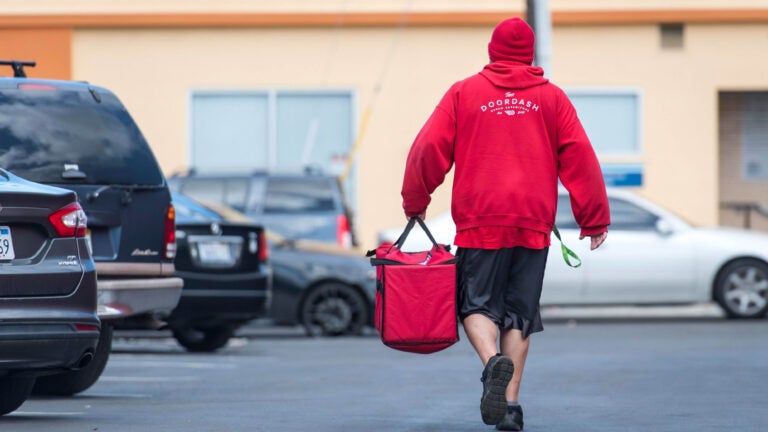 Local elected officials across Massachusetts are urging state legislators to cap the fees third-party delivery services charge restaurants until after the coronavirus state of emergency is over.
"We have heard many troubling first-hand accounts of the enormously detrimental effects that such fees can have on local restaurants," the 29 officials from 11 cities and towns wrote in a letter Friday to State House leaders and members of the Joint Committee on Labor and Workforce Development. "We believe that swift action by the Legislature to limit these fees would provide a desperately needed financial lifeline for many local restaurants struggling to survive. We look to you as state leaders to help our local businesses and the many people that they employ."
As the state's restrictions amid the coronavirus pandemic have banned dine-in service at restaurants, local eateries have become solely dependent on takeout and delivery service for revenue.
While fees vary across platforms, third-party delivery companies such as Grubhub, DoorDash, Uber Eats, and Postmates may charge restaurants between 10 and 30 percent per order for commission, according to local officials, who say the charges have become a major hurdle for restaurants already struggling to stay in business.
With four large companies making up much of the marketplace, restaurateurs face challenges in negotiating rates, which is why legislators need to step in, they say.
But delivery platforms say such a cap would hurt the businesses it seeks to protect. Limiting fees would lower order volume to local restaurants, who would face higher costs if they operated their own, in-house delivery service, they say.
"Any cap on fees, regardless of duration, will result in damaging, unintended consequences for locally-owned businesses as we've already seen in other markets and unintended consequences for delivery workers, diners, and a local economy," Amy Healy, senior director of public affairs at Grubhub, told the Boston City Council last week as it weighed mandating a cap. "In fact, it will result in the exact opposite of what the legislation is trying to accomplish, and we believe that any cap on fees represents an overstep by local officials and will not withstand a legal challenge."
Last month, an emergency order in San Franciso capped fees at 15 percent, while the New York City Council moved to do the same earlier this month.
In Cambridge meanwhile, officials have capped commissions at 10 percent. Though Boston councilors have discussed the issue, any potential plans to impose a limit are still in the works.
City councilors in Somerville have also backed the concept of a cap, although individual municipalities do not have authority when it comes to putting one in place, according to Councilor Ben Ewen-Campen.
"The issue is that here in Massachusetts, individual cities, we do not have the legal authority to get in between two parties and a contract, such as a restaurant and a delivery app," Ewen-Campen said during a May 14 meeting. "So unfortunately we're not in a position to just set a cap. But I believe that this is still something that we can do, which is to not only lend our support to statewide legislation … but the second thing, I think this is an issue we can play a role just spreading the word."
🍴NEW🥄A growing list of local elected officials in MA has signed onto our open letter urging the State Legislature to support local restaurants by capping the fees charged by third-party delivery apps. Pleased to work w/ @PattyNolan1, @MattOMalley & others on this issue. (1/) pic.twitter.com/3I7AtEGK63

— Ben Ewen-Campen (@BenForWard3) May 22, 2020
In their letter to state lawmakers, Ewen-Campen and other officials urged the Committee on Labor and Workforce Development, Gov. Charlie Baker, Senate President Karen Spilka, and House Speaker Robert DeLeo to set a cap, pointing to a pending bill filed by state Rep. Michael Day, a Stoneham Democrat.
If passed, the bill would limit fees to 10 percent of the total cost of an order. The measure would remain in effect until 45 days after the commonwealth's state of emergency for the coronavirus pandemic is lifted. Violators would be fined up to $100 and would be required to reimburse the restaurant for the fees it wrongly collected.
As of Friday, the proposal had over 50 co-sponsors.
"We are grateful for the many critical actions that the Governor and Legislature have taken throughout the COVID-19 pandemic, and we respectfully encourage you to prioritize action to support local restaurants by capping third party delivery fees," the letter says. "We believe that it is necessary to do so as quickly as possible, as many beloved local restaurants which are the heart and soul of neighborhoods and which employ a large number of vulnerable workers face an uncertain future."