Politics
Charlie Baker says he was 'outraged' by video of George Floyd's death
"I can't imagine why people wouldn't want to get out on the streets and make a point about it."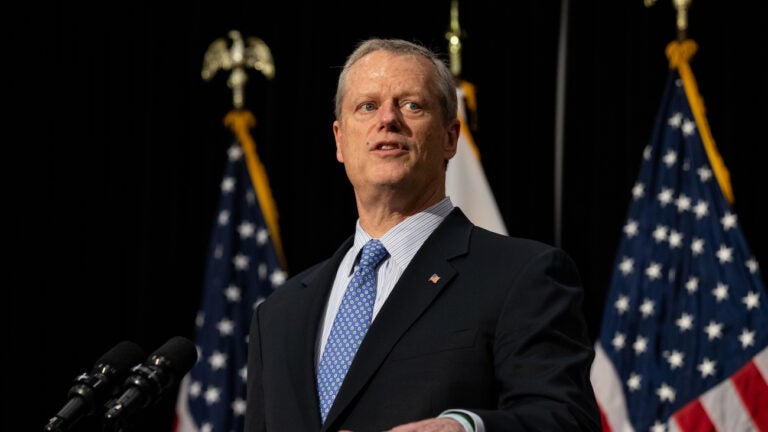 Gov. Charlie Baker said Friday that he was outraged by the video showing the death of George Floyd, the Black man who died in Minneapolis police custody earlier this week after pleading with officers that he couldn't breathe.
"I don't know how anyone could watch that video and not be just outraged by it. I know I was," the governor told reporters. "And I say that as somebody who knows a lot of folks in law enforcement, and I believe in the important and critical role that law enforcement plays in keeping people safe."
Baker's remarks came during his daily press conference on updates to the state's coronavirus pandemic response. The Swampscott Republican was asked whether he'd reached out to Minnesota Gov. Tim Walz.
Baker said he had not, but added that he spoke with local leaders and officials within his administration to ensure people in Massachusetts have the ability to protest, should they choose to do so.
"We hope people protest peacefully, but honestly, it's — a moment like that and an event like that, I can't imagine why people wouldn't want to get out on the streets and make a point about it," he said.
Baker also referenced how recent recipients of the George L. Hanna Memorial Awards, the state's highest honors in recognizing the bravery of law enforcement around the commonwealth, were awarded the accolades based on their ability to de-escalate tense moments through following protocols they were trained to use.
"They were in a tough, difficult, tense environment, and they used their training to do the things they needed to do to de-escalate the situation so that nobody got hurt," he said.
Floyd's death has triggered violence in Minneapolis and nationwide protests in recent days.
Authorities announced Friday that Derek Chauvin, the now-fired officer seen on video kneeling on Floyd's neck as he pleads that he can't breathe, was arrested and charged with third-degree murder and manslaughter. Officials, who said additional charges are possible, are continuing to investigate three other officers who were at the scene and have also since been fired.
https://www.youtube.com/watch?time_continue=1721&v=SYu8dLOpe0c&feature=emb_logo