Politics
Ayanna Pressley urges focus on movement, legislation in wake of violence in Boston
"We can't allow those destroyers, who seek to distract, to derail, to undermine, to co-opt this movement."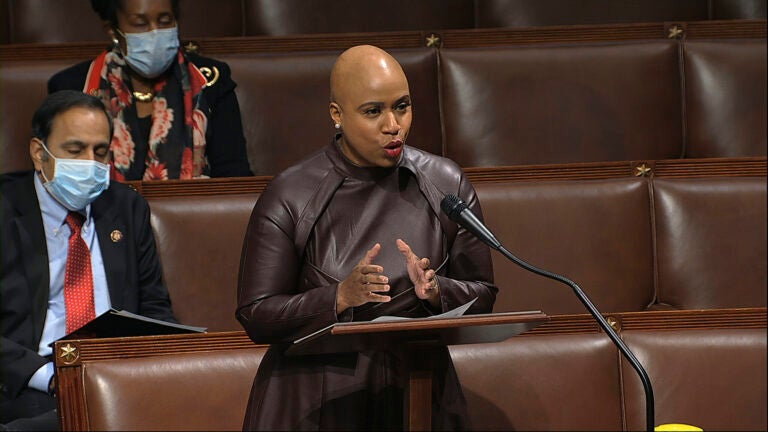 The morning following the violence that erupted after peaceful protests against police brutality in Boston, Congresswoman Ayanna Pressley said that "destroyers" cannot be allowed to derail the movement for justice.
"People are gutted. They are exhausted. And they are peacefully protesting and demonstrating, of course, for justice for George Floyd, but (also) on the broader issue of police brutality and really social justice at large," Pressley said during an interview on WGBH's "Boston Public Radio" Monday. "And I would just like to make this one (point) that community organizers are community builders. They are not destroyers, and it is deeply painful that there are forces at work to infiltrate and undermine the good work, the vigilant work of people who are committed to peace and justice in earnest, despite how slow coming that has been."
The 7th District Democrat said her husband and several of her staffers were at the protests, and what they saw were "community builders and people committed to peace and justice until the end."
"But we can't allow those destroyers, who seek to distract, to derail, to undermine, to co-opt this movement," she said.
According to police, more than 50 people were arrested and at least nine officers were injured Sunday night as demonstrators clashed with police. The violence started around 9 p.m. following peaceful protests that included thousands of people voicing outrage after Floyd's death in Minneapolis police custody last week.
On Friday, Pressley and U.S. Rep. Ilhan Omar, who represents Floyd's district, introduced a House resolution condemning police brutality, racial profiling, and excessive force.
The resolution @Ilhan & I are introducing today aims to ensure that those responsible are held accountable and calls for systemic reforms at all levels of government to end the scourge of police brutality in our society. #SaveLivesNow https://t.co/8vlMiY4j83

— Congresswoman Ayanna Pressley (@RepPressley) May 29, 2020
The measure also calls to reform policies in local, state, and federal governments by improving oversight of investigations to hold individual law enforcement officers and agencies accountable, and by creating all-civilian review boards to investigate alleged police misconduct, among other changes.
Pressley said she never loses hope, but activism and awareness must go beyond social media hashtags. The country needs laws, she said.
"The Black Lives Matter movement is a continuation of the work of many Freedom Riders and activists that came before us, and they married their activism and their protest with the pursuit of legislation because we know that … every inequity and injustice that we see still playing out was put into play by legislation," Pressley said Monday. "So in the same way that we have through draconian laws, through discriminatory laws (that) codified hurt, we can codify healing. And that is why I have introduced this congressional resolution."
WGBH host Jim Braude, pointing to Pressley's reference of the Freedom Riders — the cohort of Black and white activists who were attacked while rallying against bus terminal segregation in 1961 — remarked how her words were used by those in the civil rights movement decades ago.
"What does that say about the ability of this country to confront what your resolution would force us or urge us to confront?," he asked.
After a long pause, Pressley answered: "I'm just trying to keep it together honestly, you know. This is just…
"You know, I serve in Congress with one of those Freedom Riders, John Lewis, and my family and I, not too long ago, were in Montgomery to walk that Edmund Pettus Bridge where so many people almost lost their lives. And this is just a traumatic deja vu," she added, her voice strained. "And it just has to end."