Politics
Mass. officials react to Trump's vow to use military force against violent protests if local governments don't act
"It would be the act of a dictator."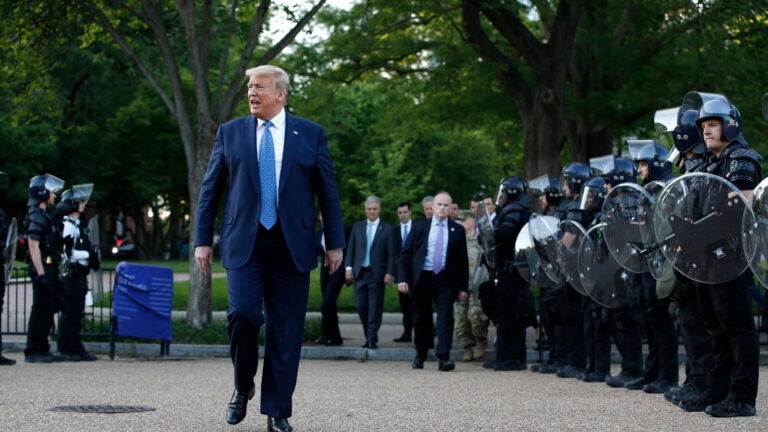 Massachusetts elected officials swiftly condemned President Donald Trump's threat to use military force against violent demonstrations protesting police brutality if state governors did not quell the incidents themselves.
Trump's remarks came as police acting under federal command used tear gas to to disperse peaceful protesters outside the White House so the president could walk to a nearby church to have photos taken of himself with a Bible.
"I have strongly recommended to every governor to deploy the National Guard in sufficient numbers that we dominate the streets. Mayors and governors must establish an overwhelming law enforcement presence until the violence has been quelled," Trump said Monday evening. "If a city or state refuses to take the actions that are necessary to defend the life and property of their residents, then I will deploy the United States military and quickly solve the problem for them."
Here's how Massachusetts lawmakers and officials have responded:
State Attorney General Maura Healy
No. The President cannot unilaterally deploy the United States military into Massachusetts streets to stop peaceful protests.

— Maura Healey (@MassAGO) June 2, 2020
Sen. Elizabeth Warren
The President threatened to take over cities and towns with military force. Peaceful protesters were tear-gassed so he could get a photo-op.

We will fight for justice for Black lives in America, even if our racist Commander in Chief tries to stand in the way.

— Elizabeth Warren (@SenWarren) June 2, 2020
Sen. Ed Markey
"It would be the act of a dictator," Markey told The Boston Globe. "It would be un-American. It would be an attempt by the president to further foment dissension in our country, rather than bringing us together. I think it's the act of a desperate man who continues to play to his right-wing base, and I will fight him every single step of the way to make sure that he cannot militarize his campaign in order to try to secure votes for his re-election."
Congressman Joe Kennedy III
"This is an individual that cannot seem to comprehend in any sense of the word the moment that we are in," Kennedy told the Globe.
"What is taking place in cities across our country, including in Boston, is a scream of anguish and a desire for recognition and a hearing," he added. "Drafting a military response to somehow crush that anguish is not going to be successful at creating the dialogue that we need to create."
Congresswoman Ayanna Pressley
The Occupant of the @WhiteHouse tear gassed peaceful protestors for a photo opp.

Horrifying.

This man is dishonoring his oath, inciting violence & failing the nation.

— Ayanna Pressley (@AyannaPressley) June 2, 2020
Congresswoman Katherine Clark
The President's response to our nation's pain and plea for justice is to threaten us with violence.

This is not a drill. Great nations do fall.

We cannot be silent. We cannot rest until this coward is removed from office.

— Katherine Clark (@RepKClark) June 2, 2020
Congressman Seth Moulton
"We are a nation founded in dissent, birthed in freedom, committed to equality, and yet regularly reminded that we struggle to achieve all three," Moulton said in a statement. "The president has made it clear that the fight for these Constitutional principles is a fight against himself.
"We must therefore, with every ounce of conviction, every commitment to peace, and every glimmer of hope, join in lawful protest to overcome his tyranny.
"And if he chooses to abuse the military as a tyrant would do—to stifle dissent, suppress freedom, & cement inequality—then I call on all our proud young men & women in uniform, as a veteran & a patriot, to lay down your arms, uphold your oath, & join this new march for freedom.
"Be on the right side of history: the side of patriots, of our Constitution, of our flag, and of our freedom."
Material from the Associated Press was used in this report.