Politics
Michelle Wu wants to 'get specific' about how to demilitarize Boston police
The Boston city councilor at-large plans to seek information regarding the Boston department's equipment inventory and military-style tactical training and deployment.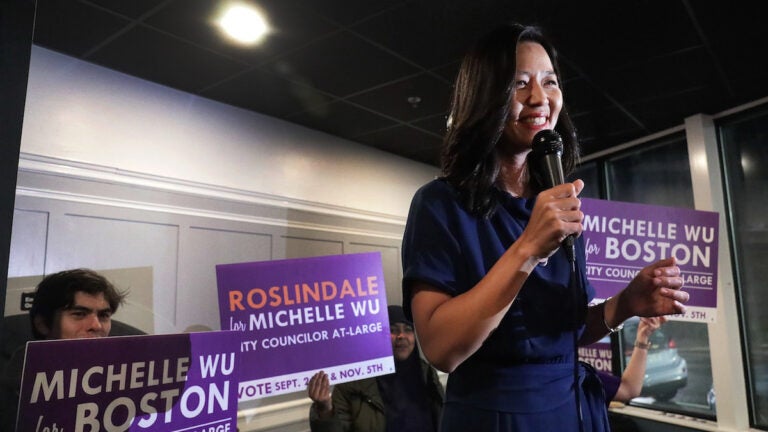 Boston City Councilor Michelle Wu, following through on her remarks last week expressing the need to demilitarize the city's police force, filed an order recently that, if passed, would require Mayor Marty Walsh to provide information on the department's heavy-duty equipment and how it was deployed during recent protests.
"We should be moving toward demilitarized law enforcement," Wu told the Boston Herald Sunday. "It's a push to rethink what we are prioritizing and looking to bring about strong stable communities."
Wu's order, slated to be formally introduced during Wednesday's council meeting, asks Walsh to provide information about the police force's equipment inventory and military-style tactics through a section of the city charter that mandates the mayor provide specific information to the council when requested.
According to the Herald, such requests require the full backing of the 13-member body. Walsh would have one week to supply the information, if the order is approved.
Specifically, Wu is seeking the administration provide a "comprehensive inventory of all Boston Police Department equipment and resources that could reasonably fall under the definition of 'militarized.'" This includes armored vehicles, flash bang grenades and grenade launchers, assault rifles, sniper rifles, submachine guns, and SWAT and Rapid Response Team, or RRT, resources, among other items.
Let's get specific about how to demilitarize Boston Police. Filed this for Wednesday's @BOSCityCouncil meeting: https://t.co/7rtHaaFw8p pic.twitter.com/BkGJmMzYtt

— Michelle Wu 吳弭 (@wutrain) June 8, 2020
The at-large councilor is also seeking the cost behind each piece of equipment and information on how they were obtained and when. Wu's order additionally asks Walsh to provide a breakdown of any "formal and informal" training materials and guidance for how officers learn to use military-style tactics and weapons, particularly when used for policing protests, rallies, and public demonstrations.
Among the nine points listed in the order, Wu is looking to obtain documents regarding how those tactics and rubber bullets, tear gas, and other crowd-control equipment were used since May 25. Furthermore, the order seeks information on Boston police requests for support from regional law enforcement councils and for cost reimbursement requests stemming from the public demonstrations during the same timeframe.
The filing also seeks "any and all records on disciplinary actions taken or presently contemplated against police officers for breaches of department protocol and guidance in deployment of the same equipment and tactics" during the recent demonstrations against racism and police brutality in the wake of the death of George Floyd, the Black man killed by Minneapolis police last month.
Several city councilors have voiced the need for widespread change in city policy and systems, from housing laws to law enforcement, to address racial equity disparities in Boston as the protests have continued.
On Thursday, as cities across the country have begun to consider funneling police funding into public health efforts and violence prevention initiatives, councilors took a sharp look at the department's budget — particularly requests that usually receive the green light without hesitation, according to The Boston Globe.
And as Walsh pledged to make the city a national leader in combatting racism last week, councilors of color pushed for action to support his words.
"Aspiration isn't good enough," Wu said in a series of tweets Friday, including one expressing the need to demilitarize the police force. "We need action and plans. We need a budget that reflects our priorities."
In her order, Wu also requests information extending beyond police involvement at the recent protests, including all records related to serving "no knock" warrants — warrants that allow authorities to enter a property without notice — and all related "after-action reports or other written communication" in the past decade.
Other records requested in the filing include reports for SWAT and RRT deployment, and the results of Internal Affairs Division investigations of "citizen and department-initiated complaints related to use of force, judgment and conduct, rude and disrespectful behavior, or other allegations" since 2010.
"Studies are clear that militarized police departments are more likely to kill civilians," Wu wrote in a tweet last week. "We don't need that equipment; we need resources for community-building & peace."