Politics
Mitt Romney marched against police brutality. What will he do to address it?
Ayanna Pressley wants the former Massachusetts governor to do more.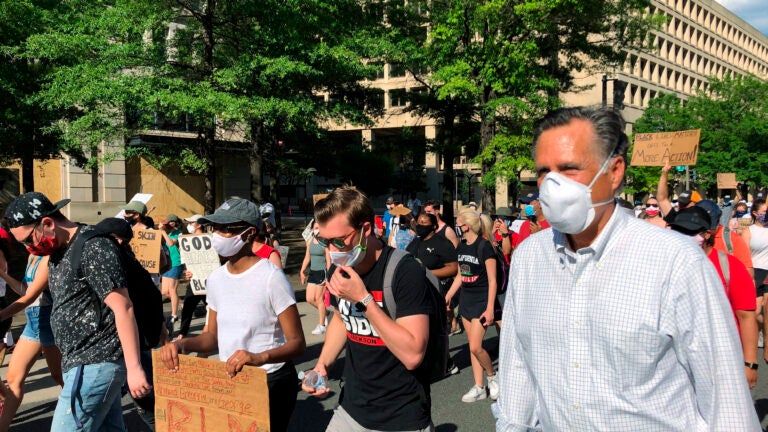 Sen. Mitt Romney says he joined a march Sunday protesting the police killing of George Floyd to "make sure that people understand that Black lives matter." The Utah Republican, who became the first GOP senator to join the police brutality protests, even followed with a tweet reiterating that point.
But for Rep. Ayanna Pressley, the former Massachusetts governor's act of protest begged the question: What will he do next?
In a tweet Sunday night, Pressley publicly asked Romney if his symbolic act meant he would support her recent proposal with Libertarian Rep. Justin Amash to end qualified immunity, the legal doctrine that often protects police officers from being sued for misconduct.
So will you support a bill to end qualified immunity @MittRomney?

cc @justinamash https://t.co/QqykywYbfA

— Ayanna Pressley (@AyannaPressley) June 8, 2020
Romney's office did not immediately respond to requests for comment Monday about whether he was open to such legislation.
The exchange occurred hours before Democrats in both the House and Senate unveiled a sweeping legislative package Monday in the wake of the recent protests against police brutality against Black people. The sweeping reform bill includes a provision to reform the qualified immunity protections so that it's easier for individuals to sue officers for allegedly violating their civil rights.
But that doesn't necessarily mean eliminating qualified immunity is a strictly partisan issue. Kentucky Sen. Rand Paul, a libertarian-leaning Republican, recently said the Senate should address qualified immunity. And according to Politico, some Republicans, including the GOP's sole Black congressman, Texas Rep. Will Hurd, have signaled potential support for legislation to "reform" the qualified immunity threshold.
Republican Sen. Mike Lee, who represents Utah in the Senate with Romney, has also said he would like to review the full slate of Democratic proposals.
The standalone bill introduced by Pressley and Amash would effectively cancel the court precedents set over the past half-century establishing the qualified immunity doctrine, which shields law enforcement and other government officials from legal liability except in clearly established cases of abuse. In a statement, the Massachusetts Democrat said "there can be no true accountability with qualified immunity."
The bill was introduced with 16 other Democratic co-sponsors, and Pressley's office said they were continuing to talk with lawmakers in both parties about supporting the legislation. According to Politico, the bill goes further than what some members say they could get behind.
Pressley's response to Romney's participation in the Washington, D.C., march Sunday was representative of the reactions of many Democrats, who view the former Republican presidential nominee's defections from the party line under President Donald Trump with skepticism.
Romney was the only Republican to vote to remove Trump from office following his impeachment trial earlier this year. He has also been a notably vocal critic of the Republican president's hardline immigration policies and inflammatory rhetoric — particularly on race — dating back to the 2016 primary race.
Over the weekend, Romney tweeted a photo of his father, Michigan Gov. George Romney, participating in a civil rights march in the 1960s, which some perceived as a veiled rebuke to Trump's response to the recent police brutality protests (for his part, Trump posted a sarcastic — and somewhat confounding — tweet Monday morning in response to Romney's "Black lives matter" comments).
"Force alone will not eliminate riots," Romney wrote Saturday, quoting his father, a Republican civil rights ally who stood up to President Richard Nixon to aggressively enforce a fair housing law. "We must eliminate the problems from which they stem."
Still, for liberals like Pressley, the younger Romney's words — and criticisms of Trump — ring hollow until they are followed by meaningful action. According to FiveThirtyEight, Romney votes in line with Trump's position about 80 percent of the time, which is the sixth lowest rate among the 53 Republican senators. Romney has voted in line with Sen. Chuck Schumer, the Democratic minority leader, about 31 percent of the time, according to ProPublica.
While he has proposed several compromise bills in response to the COVID-19 crisis, Romney's hasn't yet outlined his preferred legislative response to systemic racism in policing. In a newsletter Friday, he said the country's "shock and outrage" over Floyd's death "must grow into collective determination to extinguish forever such racist abuse."
"Peaceful protests underscore the urgency of addressing injustices," Romney wrote. "I believe we can keep our communities safe and begin to rebuild trust in each other if we act with morality and kindness. Our elected leaders at every level have a responsibility to set the tone and help our country face its flaws and heal."
While he did not mention more specifics, some Democrats said Romney was at least taking steps in the right direction Sunday.
"Good for him, right?" California Sen. Kamala Harris said during an appearance Monday on "The View." "He understands this is a matter of justice, and any one of us denied justice means we are all denied justice. So I am hopeful."