Politics
Ed Markey rips Joe Kennedy as 'progressive-in-name-only' in heated debate
The two Massachusetts Democrats clashed in by-far their most contentious debate of the high-profile primary race.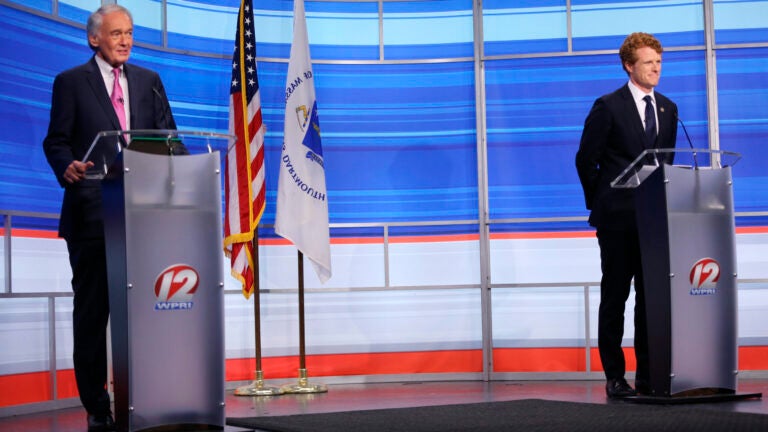 Last week, when Sen. Ed Markey and Rep. Joe Kennedy debated in their in the first face-to-face — though socially distanced — meeting in months, it was Kennedy who largely went on the attack, while Markey focused on his record.
One week later, the dynamic was very different.
The two Massachusetts Democrats met again for a debate Tuesday night that was originally scheduled at UMass Dartmouth but relocated to the WPRI studios in Providence (yes, in Rhode Island). And this time, it was Markey who went on the offensive, attacking Kennedy on everything from his post-college career choices to his voting record in Congress.
"Congressman Kennedy is a progressive in name only," he said.
With less than three months until the Sept. 1 primary election, the heated debate comes as Kennedy has tried to undermine Markey's progressive image, highlighting the former longtime congressman's past votes in favor of NAFTA, the Iraq War, and the 1994 crime bill, which most elected Democrats now denounce for increasing mass incarceration. During the last debate, Kennedy repeatedly suggested that Markey needed "better judgement."
The first question of the debate Tuesday night went to Markey — about that crime bill. While the bill included a federal assault weapon ban and addressed domestic violence, Markey acknowledged that it also created sentencing guidelines that were "totally wrong."
"We have to ensure that we correct that," he said.
Markey then made a hard pivot.
"Let me also say this, that when Congressman Kennedy became a lawyer, he decided to go to work for the most conservative, Republican, right-wing district attorney in Massachusetts in a generation," he said, referring to Cape and Island District Attorney Michael O'Keefe, who made a name for himself in the largely Democratic state by standing up against progressive-minded reforms.
"I don't think it was a good judgement for the congressman to go to work for that right-wing Republican district attorney," Markey said.
Kennedy said he had "big differences" with O'Keefe, for whom he worked for two years as a prosecutor after graduating from Harvard Law School. The congressman added that he found it "surprising" that Markey appeared to be suggesting that "you shouldn't have progressive prosecutors work in offices."
"No one has done enough," he said. "Have I done enough? No. Has Senator Markey? No."
Reiterating his argument that Markey hadn't done enough to redress his old policy positions, Kennedy reached back even further to highlight the 73-year-old Malden native's opposition to busing to desegregate the Boston Public Schools when he was a newly elected congressman in the 1970s.
"There hasn't been a deliberate effort to actually address those structural challenges that he helped codify into law," said the 39-year-old Newton congressman, adding that the structures and laws behind institutional racism in the United States were "deliberate."
"You might be known for some things in your time in office, Senator," he later added. "Racial justice and criminal justice is not one of them."
In response, Markey noted that he had voiced earlier support for Medicare-for-All, as an original cosponsor of the 2017 bill that was introduced after the proposed single-payer health care system gained mainstream popularity among Democrats during the 2016 presidential campaign of Sen. Bernie Sanders. Kennedy didn't sign onto the House version of the bill until 2019, after raising concerns about reproductive rights, long-term disability care, and funding for regional hospitals.
Still, Markey — who noted that Kennedy also voiced concerns about paying for Medicare-for-All and publicly doubted it could pass in 2017 — said the delay was telling.
"It took Congressman Kennedy two years to sign on to Medicare for All," he said. "That's not progressive leadership."
Markey also ripped Kennedy's vote in 2014 against an amendment to prohibit the Department of Defense from sending excess military equipment to local law enforcement agencies. The congressman's 2018 response to President Donald Trump's State of the Union address also never mention the words "climate change." As the cosponsor of the Green New Deal resolution, Markey took note.
"Congressman Kennedy is a progressive in name only," Markey said. "When he [got] a chance to lead on Medicare-for-All, on climate change, on the militarization of the streets of this country, he was not a progressive leader."
Later in the debate, Kennedy noted that Medicare-for-All legislation had been introduced in the House for 13 years before Markey voiced support for it.
The two also squared off over their respective evolutions on the subject of marijuana legalization, as the industry gets off the ground in Massachusetts. Kennedy was a notable holdout on legalization due to health and safety concerns, until announcing that he changed his mind on the day the state's first recreational pot shops opened in November 2018, citing the racially disparate impact of prohibition.
Markey's position had been less clear. While he had publicly supported medical marijuana, it wasn't until just a few days after Kennedy officially entered the primary race that he came out in support of legalization for recreational purposes. Markey said for the first time Tuesday that he voted for the 2016 legalization ballot measure in Massachusetts and even claimed that he made his position public before Kennedy, though there appears to be no record of him doing so.
Kennedy acknowledged his well-know "reservations" about legalizing marijuana, but said "the status quo has failed."
"The difference here is that I've been clear about that position," he added.
Kennedy was also pressed about a ranking by the University of Virginia and Vanderbilt University, which found he was the second-least effective lawmaker in Massachusetts during the last session of Congress — and slightly below Markey's respective score. The congressman argued that it was hard to pass bills during his first six years in Congress, when Democrats were in the minority in the House. But he said he worked to change that, campaigning in nearly 20 states in 2018 to flip the chamber.
"When you compare my record about going out and trying to create the change that is necessary, I was in all those states," Kennedy said. "Senator Markey was in zero."
For his part, Markey noted that he had 580 laws on the books, including an increase to vehicle fuel economy standards, which he said resulted in the "single greatest reduction in greenhouse gases of any law in the world."
'That's my law," Markey said.
Markey also rattled off several other legislative accomplishments, from a spending bill provision last year to fund federal research into gun violence to a decades-old law against insider trading to an influential (for better or worse) overhaul of telecommunications rules in 1996.
Kennedy suggested that Markey was overstating the impact of some of his laws, noting that the country was still dealing with long-standing issues like climate change and gun violence. Markey, however, has happy to compare accomplishments.
"The congressman has been in office for eight years at this point and we are still waiting for a major piece of legislation," he said.