Politics
What you need to know about registering to vote in Massachusetts
Including how to register, when to vote, and the latest COVID-19 election updates.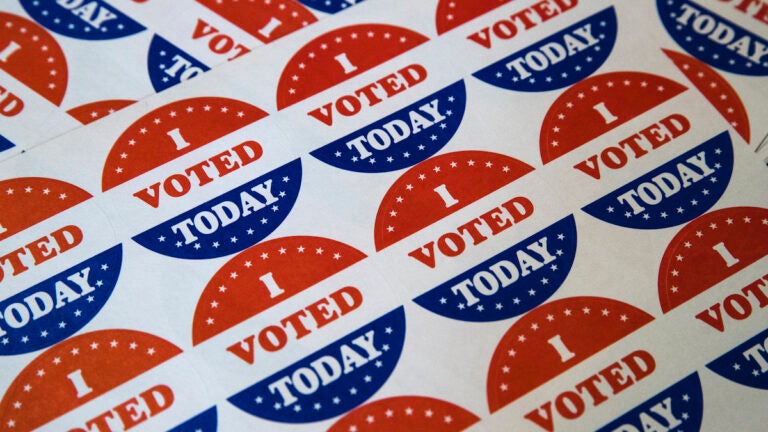 Following the killing of George Floyd, the Black man who died in Minneapolis police custody on May 25, people are calling for change. Thousands have taken to the streets to protest in Massachusetts and across the country, and many more are making donations, signing petitions, and contacting their representatives to demand an end to police brutality and racist policing. One of the best ways to raise your voice is by casting your ballot. But you won't be able to vote if you aren't registered in time. Below, find out what you need to know about voting in the Bay State.
Who can register or pre-register to vote?
If you're a US citizen, age 18 or older, and not currently serving time for a felony conviction, you're eligible to register to vote. If you're 16 or 17 years old, you can pre-register, which means you'll be added to the list of registered voters automatically when you turn 18.
How can I register to vote?
First, check that you are not already registered to vote in Massachusetts. If not, there are four ways to register. The easiest is automatic voter registration; if you're a citizen and you apply for or renew your driver's license or state ID at the Registry of Motor Vehicles (RMV), or apply for health insurance through MassHealth or the Commonwealth Health Connector, you will be automatically registered to vote.
If you have a signature on file with the RMV (a state ID or a Massachusetts driver's license), but aren't registered to vote, you can register online.
If you don't have a signature on file with the RMV, you can register to vote by mail. Download and print a voter registration form (available in 9 languages), and mail it to your local election office.
You can also register to vote in person. Forms are available at any local election office, the Elections Division of the secretary of state's office, the RMV, and certain public assistance agencies. Due to the coronavirus pandemic, the secretary of state's office is encouraging online or mail-in registrations. Not all offices are open to walk-in registrants, so call ahead before you go to find out how to make an appointment. Boston residents can schedule an appointment online using this form.
What are the upcoming registration deadlines?
The voter registration deadline for any election is 20 days prior to the election date. This year, you must register to vote by Wednesday, Aug. 12 for the state primary election and Wednesday, Oct. 14 for the general election. Contact your town clerk for local election registration deadlines.
When and where do I vote? 
Local elections: Several towns that postponed their elections from the spring have upcoming elections this month. Contact your town clerk for more information.
Massachusetts state primary election: Sept. 1, 2020
Massachusetts general election: Nov. 3, 2020
Find your poll location here.
I don't feel safe going to the polls during a pandemic. Can I vote early by mail?
No answer yet. Secretary of State Bill Galvin filed legislation last month to expand mail-in and early voting options for both the state primary and general elections. Any updates will be posted on his office's website.
I moved or changed my party affiliation. Should I update my voter registration?
You need to submit a new voter registration form if you've moved or wish to change your party enrollment. State law allows to to vote from a previous address for up to six months after you have moved, as long as you have not registered elsewhere.
Do I need to bring ID with me when I vote?
Yes. You may be asked to show ID, which should show your name and the address at which you are registered to vote; for example, a driver's license, state-issued ID card, recent utility bill, rent receipt, lease, or a copy of a voter registration affidavit.
I'm a student from out of state living in Mass. Where should I register to vote?
You get to choose. If you're registered in your home state, you can request an absentee ballot; if you maintain a permanent or temporary residence in Massachusetts, you can register to vote here instead — you just can't do both.