Politics
School says cops who gotta go have got to go
"This should not have happened, and going forward, it will not happen again."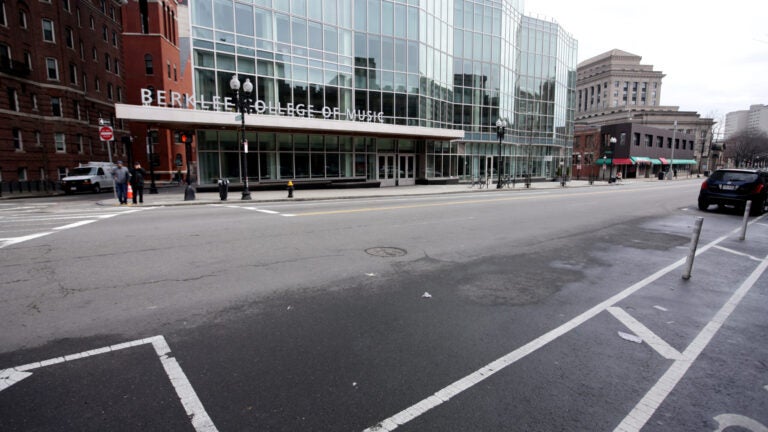 Berklee College of Music says it is "deeply sorry" for allowing Boston police officers to use the school's restrooms, following the downtown protests on May 31 in the wake of the killing of George Floyd.
And the school says it will not happen again.
In a joint statement Wednesday night, Berklee President Roger Brown, chief financial officer Mac Hisey, and public safety chief David Ransom said the college had heard expressions of anger and betrayal from their community, after giving Boston police officers, who were staged at the intersection of Massachusetts Avenue and Boylston Street, access to the Back Bay school's restrooms.
"Boston Police of course have jurisdiction over the roads and other public spaces around our campus, but not inside our buildings," Berklee officials said. (Like many colleges, Berklee has its own public safety department.)
"The decision to allow them into our facilities was ours," the statement continued. "This was not a formal decision by the institution, but an informal one, made on the spot."
https://www.instagram.com/p/CBPGX7UFpi_/
Brown, Hisey, and Ransom added that they had heard "hurt and anger" from the community in response to the decision, especially at a time when their facilities remain closed for students and other members of the public due to the COVID-19 pandemic.
The Berklee Public Safety Department had released a previous statement Sunday clarifying that the school's facilities were not being used to house or stage Boston police activity. However, the disclosure that they allowed officers inside to use the restrooms was met with accusations that the school was providing "special treatment."
"Are you allowing Berklee protestors to use the bathrooms?" one commenter asked.
A petition to ban Boston Police from Berklee facilities also garnered 500 supporters this week.
"Allowing police officers into the space was in no way meant to undermine Berklee's support for Black Lives Matter," Brown, Hisey, and Ransom said Tuesday. "We understand that many members of our community feel betrayed. We are deeply sorry for the impact this had on our community and for perpetuating feelings of oppression, silencing, and marginalization. We will make a more concerted effort to consider the effects of our actions."
The statement concluded: "Let us assure you, this should not have happened, and going forward, it will not happen again."
Hours after the incident occurred, Brown and other school leaders had released a statement pleading to "accelerate our various efforts to create a healthier and more just environment at Berklee College of Music and Boston Conservatory at Berklee.
"We invite all of our faculty, staff, students, and alumni to join with us to recommit to our core values, to ensure that everyone within our community is treated with dignity and respect, and to do the hard work of dismantling the racism ingrained within our larger society and on our campuses."
Still, as news of apology spread Wednesday, the decision was panned by conservative commentators on social media. Dennis Glavin, the president of  the Massachusetts Association for Professional Law Enforcement, argued that Berklee's response would only hurt community relations with police.
"If the object here is to improve policing, that statement is completely irrational," Galvin told the Boston Herald. "Some people want to make war with police. This letter is just playing to people's emotions."